Lady Killer 2 #1
Written by: Joëlle Jones
Illustration by: Joëlle Jones
Colors: Michelle Madsen
Publisher: Dark Horse Comics
Review by Ryan M. Holt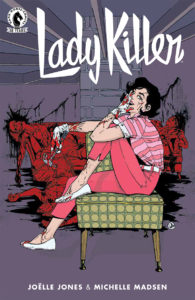 Lady Killer 2 is the follow up to the five issue mini-series Lady Killer published by Dark Horse Comics throughout 2015. The original series is a shining example of creator owned work, and the sequel looks to follow in the bloody footsteps. The story takes place in the 1950's and follows Josie Schuller, a bounty under the guise of a housewife, and the struggles to balance her work while keeping her family safe and cover intact.
Throughout the initial mini-series Josie received her hits from a non-descript company, but after falling out of good favor and fighting off a hit on herself she decides to go into business for herself. Her live-in-mother discovered Josie's secret job as a contract killer in the final issue of Lady Killer, but has yet to let her clueless husband in on the secret.
Lady Killer 2 starts with the Schuller family happily relocated to sunny Florida, and Josie is already in full swing with new clients she can call her own. The story takes beats from 1950's tropes and turns them on their head in very cleaver ways that are a treat to read. Josie herself is incredibly persistent in her work and it leads to some great moments and internal speeches that readers will grin at while reading. The ending page is adds the perfect layer of mystery to the story, effortlessly setting the stage for issue 2 without spoiling what's to come.
The biggest accomplishment of the book though is that Joëlle Jones wrote and drew every panel, with amazing color work by Michelle Madsen. Madsen brings the full brutality of Josie's actions to life in a flat no-shading style that makes Lady Killer 2 look truly unique. The color palette is incredibly well used and contributes to the feel of the hot Florida afternoons and humid late nights. Thanks to Jones' writing the characters all feel real and tactile, even if you are just waiting for Josie to exact justice on them.
Lady Killer 2 #1 will be in comic shops on August 3rd. Use ComicShopLocator to find a local comic book store to pre-order the issue from, or pre-order a copy from Dark Horse.