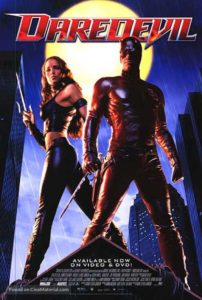 I don't know why I'm so enamoured with the 2003 Daredevil film that I needed to not only podcast about it recently but I also needed to then go dig up a ton of facts and weird tidbits about it.
I love trivia. Like, a lot. So knowing a bunch of random things about random things is kind of my jam. I'm like the Quiz Master… except not. Okokokokokokokok, let's get started with this thing.
While shooting the film, Ben Affleck was really blind due to wearing heavy-duty contact lenses that blocked out most of his vision.
After Affleck completed filming Daredevil, he vowed to never again take on a superhero role saying "by playing a superhero in "Daredevil," I have inoculated myself from ever playing another superhero. Wearing a costume was a source of humiliation for me and something I wouldn't want to do again soon." but of course, in 2013 Affleck would sign on to play Batman in DC's Batman vs. Superman: Dawn of Justice.
During Matt and Elektra's playground fight scene (arguably one of the most ridiculous fights ever…), Jennifer Garner accidentally kicked Ben Affleck so hard in the head that he briefly blacked out. Injuries aside, the scene took four days for them to shoot.
Ben Affleck was originally eyed for the role of Bullseye, NOT Daredevil, but the role instead went to Colin Farrell who got to use his native Irish accent for the first time in an American movie. Alternatively, Farrell was being considered for Daredevil.
Matt Damon also turned down the role of Daredevil as he lacked faith in the director and script. Guy Pearce and Edward Norton were other candidates for the lead role.Similarly, Stan Lee took a dislike to the film for being "too tragic".

It took 7-8 months for the production team to get the Daredevil costume right.
When Elektra is stabbed by Bullseye during the film, the blade doesn't pierce the back of her outfit (something that was driving me nutty during my most recent rewatch of the film). This was an intentional nod to Daredevil #181 where the scene takes place in the comics. Because of the Comics Code Authority (CCA), Marvel was unable to show a blade piercing a body but the artists worked around this by showing the blade pushing against the back of her outfit and leaving the sight of the actual stabbing to the imagination of the readers.
The woman that Matt mistakes for Elektra at the end of the film is actually Jennifer Garner's stand-in.