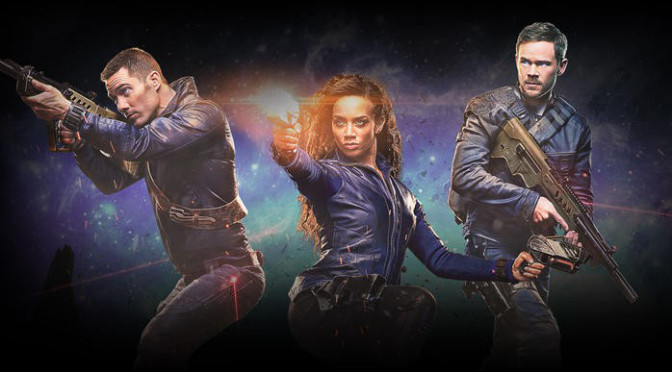 Good sci-fi TV is hard to come by. In the last 10 years or so, the standard we hold things to tends to be the rebooted Battlestar Galactica and not a lot has lived up to it. To be fair, not a lot of shows have been given the opportunity. Many sci-fi shows don't find their footing until it's too late and we don't get to see a show live up to its full potential.
Over the last few years, sci-fi is back on the rise with shows like Orphan Black making waves around the world with critics and fans alike. It's helped production teams faith that the time, effort and cash won't go to waste. Thus more sci-fi shows are springing up and getting noticed by wider audiences.
In 2015, a TV series from the brilliant brain of Michelle Lovretta made its debut That show was Killjoys, starring Hannah John-Kamen, Aaron Ashmore, and Luke Macfarlane. Killjoys are a nickname given to intergalactic bounty hunters in this world. They pick up contracts on behalf of the government and carry them out. Hannah John-Kamen plays Dutch, the leader of a high-ranking team that's comprised of her and Aaron Ashmore's character, John Jaqobis. John is well trained in the field but is more of the tech guy who gets things down from behind a computer while Dutch has been trained since she was a child to be a lethal killing machine. She's Nikita meets Inara from Firefly. Dutch is trained to be an elegant, composed lady on the outside but she'll just as soon turn on you to take you down.
In the first season, Dutch is trying to piece together some of her past and find answers to who she is and how she became to be that person. Along the way, John and Dutch acquire a third team member, D'avin, a dysfunctional soldier who also happens to be John's brother. The three of them use their unique skill sets to become an even better team and find more pieces to the puzzle, which as it turns out, connect to the bigger picture (because duh).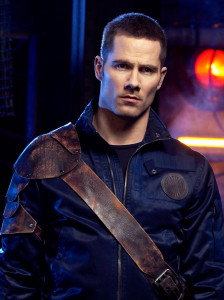 Killjoys is a phenomenal TV series, not just in the sci-fi realm. Michelle Lovretta has crafted these fully fleshed characters that bring you in and get you fully invested in the show. You're interested in everyone's past, present, and future at all times. That's not to say that you always like the characters, but part of writing a great character is having moments when you dislike them or a choice they make and bringing you back (or not). Real people make mistakes and make tough choices and while the setting and story are purely fictional, having characters that you can relate to and get into the mind's of is the key to making fiction feel real to the audience.
Sci-fi seems to be the genre where non-stereotypical strong female characters go to thrive and if you need one for your roster, Dutch is up there with the best of them. Her male cohorts are amazing too and as far as diversity goes, Hannah John-Kamen is a WOC and Luke Macfarlane is an openly gay actor.
The special effects are on par with Battlestar Galactica and Firefly so if you enjoyed those shows, you'll like what they do with Killjoys. It's made for TV so you have to forgive a bit but nothing along the lines of Doctor Who and ridiculous alien costumes and concepts. Killjoys characters are humans from a variety of different places but human nonetheless. I'm not sure if that was something they did deliberately going into things or they did because that was just how they felt the story went. Either way, it works well and despite not having aliens, as The X-Files and such portray them, it's still a space action series, through and through.
Have I mentioned that Dutch is so freaking awesome? Because she is. I attended the Killjoys panel at Toronto Comicon back in March and it gave me such a huge appreciation for everyone involved with the show. I haaaaaate the whole thing where women wear heels in movies and TV and then run around, fight and do these super impractical things in them.
Hannah John-Kamen spoke to this exact point and addressed the fact that her character is expected to be a certain way at times in the story. She has to dress up, wear heels and act the part of a lady. While the dress and heels make things more difficult, Dutch is that much stronger because she doesn't let those things become a handicap to her. She's one of the best Killjoys in the galaxy and that's despite having these things hinder her. The men get to wear clothes and shoes that are more appropriate and while that's how I feel the women should dress too (in my heart of hearts), I loved hearing how being just as much of a badass but in heels (if not moreso) made Hannah feel super empowered.
Lovretta and the cast talked about what's to come in Season 2 and it already feels a bit like how I felt with Orphan Black: things never slow down, they just keep going and keep getting more and more awesome. The momentum never stops, in the best possible way. I'm excited to see where the writers take the characters this season and what things are in store for them.
If you aren't watching Killjoys, you still have time to get caught up before the second season begins airing. Season 1 is 10-episodes long and you'll fly through them in no time with the amazing story that's put in front of you. If you already watch Killjoys, let me hear your theories for Season 2 in the comments below and we can be excited for the future of the show together.