Sometimes I go searching on Twitter for new or exciting projects taking place. In this instance, the new and exciting project found me!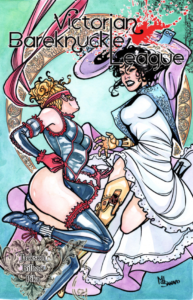 I had a new follower on my account, so I was curious to see who this new person was. Turns out my new follower is Carl Jackson, the writer for a new comic book he is starting up titled, Victorian Bareknuckle League. Now what the hell is a Victorian Bareknuckle League? Well, you have the exact same question that I did.
The Victorian Bareknuckle League is about a young girl named Millicent. Millicent witnesses the brutal murder of her lover at a bareknuckle bout and becomes hellbent to get revenge. With the help of the world's greatest detective, she sets out to find who is responsible before she becomes as violent and ruthless as those she is fighting against. People from all walks of life participate in the Victorian Bareknuckle League. Some look for glory, some are looking for redemption. Rest assured, whatever they are looking for, pain is going to come along with it!
The book is written by first time comic book writer, Carl Jackson. Jackson is a music teacher from the U.K. He has had these characters in the back of his mind for quite a few years and has now decided to put them on paper. Jackson describes it as a steampunk version of Mortal Kombat and the influence is clearly on display when you see the characters.  I think they look like a mix of both Mortal Kombat and Street Fighter. The art is done by Jake Bilbao, who has done work for both Marvel and Dynamite. The artwork is very eye-catching, I like the way the characters are designed and the colors by Pika, a Romanian artist, do a wonder job of bringing them to life. This book looks very interesting and a lot of fun!
The Victorian Bareknuckle League is a kickstarter, so you know there are some rewards for donating to the project. They range from getting a PDF copy of the book, a physical copy of the book signed by Jackson, a postcard set, variant covers, getting yourself drawn in the book, and the top prize being that you get to choose the winning fighter's finishing move! This really does look like a great concept to me!
So if you are a fan of the Victorian era, along with some good ole fashion ass beatings, then go over to Kickstarter and throw some money this way to get the Victorian Bareknuckle League off the ground! Only nine days are left!