EVERYTHING IS GOING WRONG: Comics on Punk & Mental Illness
Category: Comics Anthology
Editors: Mark Bouchard, Megan Rae
Goal Date: May 16, 2018
Currently Funded: $4,759 of $12,771 goal
Campaign Type: All or Nothing
EVERYTHING IS GOING WRONG: Comics on Punk & Mental Illness is a rad full-color anthology that brings comic creators and punk bands together for a raw, open exploration of their experiences with mental illness. It's such an important topic that needs as many voices discussing it as possible, and this anthology seeks to elevate and destigmatize that conversation by giving a talented creative roster the means to contextualize difficult and sometimes uncomfortable experiences.
From the Campaign:
"Editors Mark Bouchard and Megan Rae sought to shine a light on the intersection of punk and mental illness in order to contribute to the destigmatization of the latter while highlighting the work done by the punk community. EiGW accomplishes this by offering nearly 30 autobio pieces, fictional stories, and firsthand accounts.
We've got a rad lineup of creators who work all across comics— from zines, comics criticism, and webcomics to established publishers, and retailers. We've also paired with some bands from all facets of punk for essays and comics."
Recommendation:
The creative lineup behind this kickstarter is absolutely solid, and I'm in love with Marie Enger's amazing cover that channels the chaotic, punk aesthetic of artists like Jim Mahfood. There aren't many other teaser pages to get a sense of the finished product, but the artistic talent behind this project all but guarantees some top quality comics. The kickstarter promises a collection of uncensored essays and comics that will tap into the punk scene to address some hard truths about mental illness, and it feels even more genuine knowing that the sales proceeds will go towards The Trevor Project and MusiCares.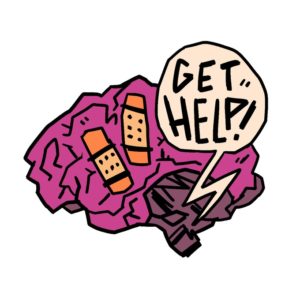 On top of that, the contributors for Everything is Going Wrong are taking a significant hit on their rate per page (with stretch goals hoping to ease that shortfall), and so this really feels like a worthwhile project to back at a higher level where you can. Plus, hitting their first two stretch targets will add even more comics to the anthology!
Initial recommendation would be to support them at the $15 level to get a physical softcover trade along with the digital copy, but I would consider bumping up to the $27 level for a cool enamel pin to raise awareness (I'm a sucker for pins!), or one of the 30$ levels to snag an art print or a softcover trade of another comic by one of the contributors.
For more details on the project and the rewards, check out the EVERYTHING IS GOING WRONG kickstarter page.