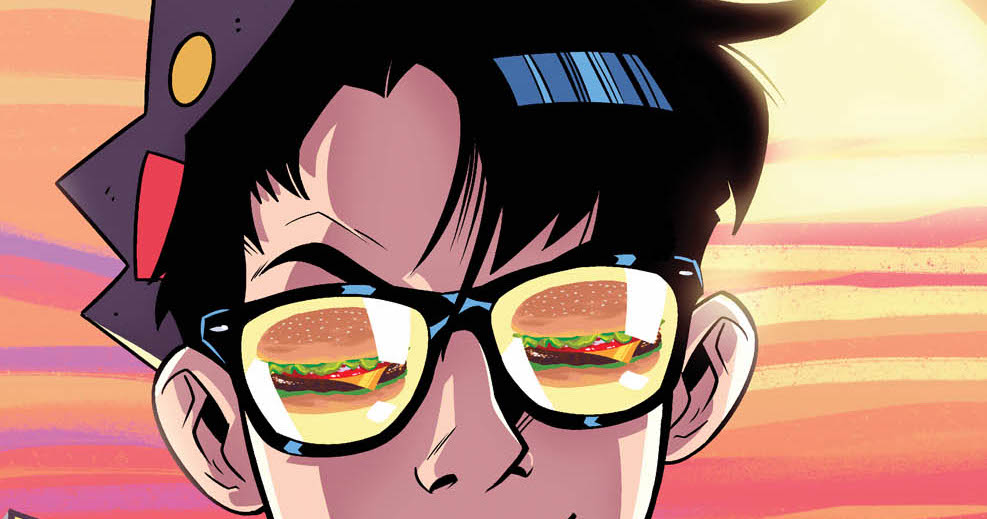 Jughead #7
Archie Comics
Cover by: Derek Charm
Writer: Chip Zdarsky
Artist: Derek Charm
Letters: Jack Morelli
Review by Insha Fitzpatrick
The summer is pretty daunting for a teenager, especially a teenager like Jughead. One of our favorite Archie characters spends the start of his summer playing video games, but his dad wants him to get off his lazy butt and make something of this summer. Reluctantly, Jughead tries to find himself some sort of pleasure, but he needs his best friend Archie and a little place away from home to make that happen. The great outdoors isn't as friendly as it seems. Archie and Jughead deal with a woods full of their worst enemy, a secret agenda and getting lost on a nature hike. Oh boy…
Jughead #7 carries us into a new arch for Jughead and friends. We see Chip Zdarsky movie Jughead from fighting a secret agency from taking over the school to him just hanging out for the summer. It's such a smooth and necessary transition, showing that time really doesn't stop for Jughead, no matter how lazy he can be.  
The very first thing we have to talk about is Derek Charm's character design of Jughead. He takes over the art from Erica Henderson, who ushered in the rebirth of Jughead. Charm gives Jughead a new boyishly handsome look while keeping the hilarious faces that he mixes and the ever so charming way about him. I'll miss Erica on Jughead, but this is a wonderful transition of art to usher in a new story and I couldn't enjoy it more.
Chip continues to shine with his witty and hilarious story. His dialogue between Jughead and anyone he comes across absolutely slays and if it doesn't make you laugh, it most definitely will make you smile. He knows Jughead from inside out now. There is no man on earth better suited for the job and can pull off this character's outrageous and hilarious personality than Chip.
Verdict:
BUY IT! Since this is a start of a new arc there are way more goodies in store for the gang and you can tell this is only just the beginning. If you haven't caught up with Jughead #1-6, make sure you do. Jughead is a great standing character and even greater as his story fully comes into focus in Archie Comics. I'm excited to see where the new team between Chip and Derek will take us for Jughead next. I'm also excited to see many more characters in Jughead as they begin another new exciting story.