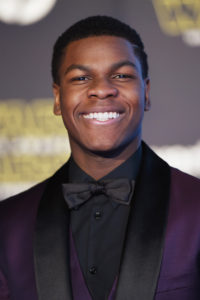 PACIFIC RIM 2 LIIIIIIIIIVES. I keep having these arguments/friendly debates with people who think that the film has died. To that I say, "SHUT YER DAMN MOUTHS!" but with love and also, don't jinx my most anticipated sequel.
Guillermo del Toro has been posting little bits and pieces about the film, letting fans know subtly that the project is alive and well and today we got a little more of a reassurance when Legendary Pictures announced that Star Wars: The Force Awakens star John Boyega (more like BOO-YEAAAAH-GA!) would be starring in the film.
WHAT WHAT WHAT. Excuse me while I hyperventilate at work.
Boyega (or as Melissa Grey coined, John Bojaeger) will be playing the son of Stacker Pentecost (Idris Elba) and it seems like given that tidbit of information, the movie will follow the events of the first film. I have mixed feelings about this. I am super excited because OMG PACIFIC RIM 2 but also, I really wanted to see a prequel with a lot of the characters we didn't get nearly enough of in the first film such as the Russians (I am SOOOOooooOOO on Team Cherno Alpha for life) and the triplets.
"I am very proud and happy to welcome John into a fantastic sandbox. The Pacific Rim universe will be reinforced with him as a leading man as it continues to be a multicultural, multi-layered world. 'The World saving the world' was our goal and I couldn't think of a better man for the job." said del Toro regarding the casting.
I AM VERY EXCITED ABOUT THIS. What are your thoughts?