Joe Golem Occult Detective: Flesh and Blood #2
Writers: Mike Mignola, Christopher Golden
Artist: Patric Reynolds
Colorist: Dave Stewart
Letterer: Clem Robins
Publisher: Dark Horse
Review by Frank Lanza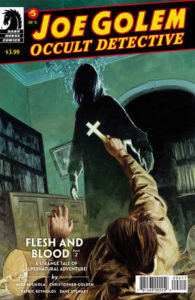 Sometimes I read a comic and I get this funny feeling. Kind of like I'm missing some essential element that would have tied the story together in a way I'm just not getting. Unfortunately, Joe Golem Occult Detective: Flesh and Blood #2 was definitely that book for me.
While Joe Golem Occult Detective: Flesh and Blood #2 is indeed the second part of this mini story arc, it is actually the fifth in a five part series. After I read this book and it's predecessor, I realized that I was missing a whole bunch of story, but for the sake of this review I only read this arc and not the entire series, which was to my detriment.
Thankfully this isn't my first foray into the Joe Golem universe, I had read Joe Golem and the Drowning City graphic novel a couple years ago. Joe is an actual golem turned human and suffers internal conflicts due to his evolved nature. He and his partner Mr. Church are detectives that inevitably find themselves drawn into the middle of supernatural mysteries as Joe tries to solve his own mysterious existence.
This mini arc finds Joe and Father Ryan investigating what seems to be a case of possession or split personality. Madeline alternates between fits of rage, confusion and harlotry. Meanwhile, Mr. Church desperately tries to convince Lori to keep the secret of Joe's nature as a golem from him. The book builds to a crescendo as Joe and Father Ryan prepare for an exorcism but discover Madeline is possessed by something much more complicated than just a spirit…
I can't say I didn't enjoy this book. It's a Mignola creation after all. However, for me, the pacing slowed my enjoyment of it all to a crawl. The characters aren't terribly interesting or likable either. Joe is the biggest mystery of the book and you feel terrible for him, all the people around him know his secret but won't allow him to know his origins. And I hate to say it, but Joe comes across as Hellboy Lite. Mignola writing another paranormal detective isn't blunted as much as it needs to be by Golden's assistance. I could close my eyes and picture Hellboy voicing nearly all of Joe's lines.
The artwork by Reynolds is perfectly pulpy for this kind of noir detective story. His characters are angular and edgy, there's nothing smoothed over and beautiful about them or the drowned city they live in. His heavy outlines and use of shadow are great and does do a nice job of setting Joe Golem apart from the majority of the other Mignola verse books. Additionally, Stewards always-expert colors are put to good use here yet again, the tones are muted and shift towards gray, reflecting the city and the nature of the Golem.
Mignola and Golden continue to weave an interesting tale with Joe and the gang, albeit one that is grossly overshadowed by Hellboy and most of the other Mignolaverse books. Just based on these two issues, I don't see enough here to set Joe Golem apart in the comics world from his other stable of books.
Verdict: Wait and See.
Joe Golem Occult Detective: Flesh and Blood #2 probably works fine as a comic tale unto itself but this story arc is not the place to jump on. I'd recommend reading Joe Golem and the Drowned City before tackling these comics counterparts, and then read the full five issue mini-series to get the full story here. Shame on you Dark Horse for misleading me into thinking this was actually #2!