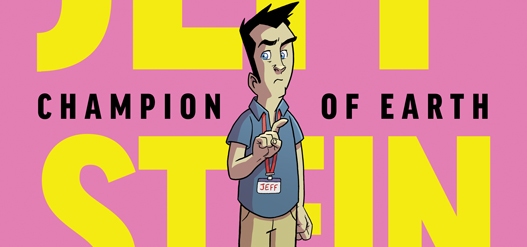 Jeff Steinberg Champion of Earth #1
Written by: Joshua Hale Fialkov & Tony Fleecs
Artist: Tony Fleecs
Color: Luigi Anderson
Lettering: Simon Bowland
Publisher: Oni Press
Review by Gregory Brothers
At some point in your life you have seen a movie or read a book that is about the earth finally being visited by Alien life forms. In most of those versions the Aliens show up, the people of Earth all overcome their differences and work together in order to try to vanquish the invaders. Now imagine instead of just attacking the earth the Aliens allowed the humans to prove their worth and strength by judging one of earths greatest heroes through a series of challenges and you get, Jeff Steinberg Champion of Earth #1.
Jeff Steinberg is a simple man with a simple life and simple problems. He lives in a small apartment with two other roommates. He works at a video rental store that is within walking distance of his apartment. He has a girlfriend who may or may not be faithful to him. In addition to all of that he and his friends and co-workers have mundane conversations and make stupid bets. So when he is chosen by the invading Aliens through a series of unfortunate events to be the representative of Earth, and will be responsible for either Earths destruction or its membership into a coalition of planets friends, foes and strangers alike are a bit surprised.
Fialkov and Fleecs story telling through hits all the right notes that you would want in a Sci-Fi comedy. The jokes hit more on the low-brow sides of things, but are not so low that you feel dirty for snickering and laughing at them. The conversations between Jeff Steinberg and his roommates and co-workers are mundane and boring and absolutely perfect for the type of person that he is. As I was reading it, I remembered back to Seinfeld episodes where just the smallest conversation could be turned into an entire episode, but at the end you were totally entertained. Of course if we are talking possible Alien invasion then the worlds leaders are going to have to get involved, which means a series of panels involving United States President Barack Obama. The panels involving Obama and several of the other worlds leaders steal the show in my opinion as they discuss their options and their opinions. Being a comedy book makes it harder to hit the right tone when it comes to the Alien invaders, and Fialkov and Fleecs do a excellent job of hitting that tone here. The Aliens are menacing and have a evil plan, but their execution is flawed and missing some of the intensity you might get out of a more violent group.
Fleecs art is fun, yet subdued at the same time, which is perfect for a story like this. Nothing stands out about Jeff Steinberg, just a normal looking guy who isn't buff, but who isn't obese either. His blue polo, with kaki pants and short black hair makes him just blend in. The facial expressions however that Fleecs uses throughout are especially great and really give you the emotions that the characters are feeling. The Aliens are drawn in a way that have the elements of being a menacing group, but the use of colors allow a lighter and less aggressive tone to their demeanor. The traditional panel to panel flow, with some splash pages thrown in make it an easy read that anyone should be able to follow with little to no backtracking.
Verdict:
Buy It! Coming in at about 50 pages allows Jeff Steinberg Champion of Earth to introduce the characters and tell some funny jokes without sacrificing the overall plot of the book. The book has some legitimately funny parts to it, assuming you are not offended by some low-brow humor. By the end you feel as if you know all of the major players that will be involved going forward without tipping their hand as to what their role will be. If you think that to many dark books exist in the comic book realm and you are looking to laugh a bit, this is the book for you.