Anelise Farris and I recently got the chance to reach out to the writer and artist of one of the best books coming out of the Young Animal imprint, Shade the Changing Girl. We asked Cecil Castellucci (writer) and Marley Zarcone (artist) about working on the book, coming up with the beautifully complex characters, the art, the colours and more.
It's a hard series to not get completely entranced by, with incredible art by Zarcone, mindblowing colours by Kelly Fitzpatrick and not to mention how brilliant and smart the writing by Castellucci is (sidebar: if you haven't read her comic Soupy Leaves Home, you definitely should check it out). Shade the Changing Girl is easily one of the most well put together and most interesting comics out there at the moment and you don't want to miss it.
Let's get started with our Q&A…
NOTE: answers by Cecil Castellucci will be marked after the initial question by CC and answers from Marley Zarcone will be marked with MZ.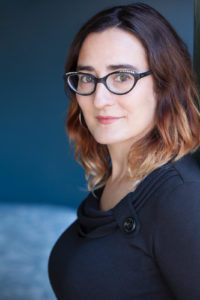 Rogues Portal: What drew you to the character of Loma? How did you connect with her and begin building the story?
Cecil Castellucci: When Shelly Bond first called me and said that it was an alien who possessed the body of a 16 year old human girl who was a bully, I was hooked. It married two things that I love: Young protagonists and aliens.
RP: What was the inspiration behind making madness a physical object/vehicle (the vest)?
CC: Well, that wasn't me. That was Steve Ditko. He created the character Shade, the Changing Man in the 1970s and he created the M-Vest. In the late 80's Peter Milligan rebooted Shade and changed it into a cool ass looking coat. In talking with Gerard Way when we first were spitballing about this reboot, it was always the plan to keep the madness coat.
RP: Was there ever a moment in the first arc where you thought about giving mean girl Megan a happy ending?
CC: Nope. She's pretty horrible. And pretty vindictive. She's got a long way to go before happy. And honestly, even if we gave her a happy ending, I don't know that she'd be able to hang with it. I don't think she feels happy ever.
RP: Shade has an incredibly visual component (outside of the norm for comics), what was it like seeing your vision for the story come to life with the amazing team on the book?
CC: It's amazing. I really wanted to try to push narrative off the page and to give Marley a scaffolding to be able to push. I think we found a good balance. The best thing about comics is seeing the images that spring forth from your words. It's pretty magical. When you add madness and color to it, it's extra wonderful.
RP: What is one of Loma/Shade's personality traits that you feel you share?
CC: I think it's either her cluelessness or her I don't care what the hell are you talking about-ness. But honestly, I think I have more in common with Lepuck, in that I have certainly loved someone where it is true but hopeless.
Marley Zarcone: Loma is super expressive, and I imagine she's pretty loud too. Definitely guilty of both of those things!
RP: As with a lot of science fiction (the good stuff anyway!), Shade the Changing Girl is complex and philosophical. Are there any central questions or themes that this series is interested in exploring?
CC: For me, I was interested in exploring humanity through the eyes of an alien. I think that you can really take a hard look when you are trying to see it through alien eyes. That's the great thing about writing Sci-Fi or Fantasy. It gives you a psychic distance. Also, it was interesting to equate the parallels of being an alien and being a teenager. Teenagedom is a time when your body feels alien to you and that was real fertile ground for exploration. I think it interests me in all of the work that I do.
MZ: A lot of time exploring what it is to be an earthling, especially what it is to be a female.
RP: Were there any directions (in the writing and the art) that you wanted to potentially go in for the book but ultimately decided against and why?
CC: The interesting thing is that when you are writing a novel or a comic, what and where you think you are going to go ultimately change through the actual writing of it. More so with a monthly comic book because the story is told in chunks and things just fall to the wayside a little bit because other things come forth and present themselves. I was really fond of the synchronized swimming team and would have loved to explore that team / friendship dynamic a bit more. But hopefully that will get stitched in a little bit more at some point.
MZ: Not so much for the art. It took me forever to nail down that first issue, but there haven't been any complete U-turns.
RP: What's your favourite issue and panel from the series to date?
CC: I love love love so many panels from this book. And issues. But I'm going to say that I really love issue 10 when she goes to Los Alamos to try to find Honey.
MZ: It's hard to choose! Page 17 of the first issue is when I started to get more comfortable with Shade's world. Also page 13 in issue five is a personal fave. Favorite complete issue is probably Issue 10 in Los Alamos! Curiosity, hope, disappointment, atomic bombs and battling!
RP: What has been the most challenging part of working on this series so far?
CC: I have one million ideas and only twenty-two pages an issue.
MZ: Keeping narrative balance when I decided to jump into the madness. It's a great challenge, and I love it, but it definitely takes a good amount of planning. Sometimes I have to sit with the script for a couple days, and imagine different ways I can interpret it. I want it to be new and interesting, but I don't want to lose the reader either.
RP: A lot of the panels here are crazy beautiful and filled with all sorts of visual treats for readers. What was it like building this new world for Shade, artistically speaking
MZ:I've had a blast drawing Shade's world. The material has a lot of flexibility, so I get to spend a lot of time experimenting with page layouts. Which is my absolutely favorite part of comic making!
RP: What was working on Shade like compared to other books? Did you need to tap into a different part of your creative mind for this or was it something like an exciting challenge?
MZ: I definitely had to get into a different head-space for this title. I've dabbled in odd material for past books, but it's still worlds apart from the material in Shade. It's cool challenge translating how the madness of emotions can alter reality.
RP: Your pages for Shade were coloured by the amazing Kelly Fitzpatrick. What was it like seeing your work once Kelly finished pages?
MZ: It's really fun! We kind of collaborated a little on the palette in the beginning, but she immediately took off after the first issue. She makes some very spectacular color and texture choices!
---
Check out more of Cecil and Marley online and make sure to read Shade the Changing Girl as it hits stands. While the book is on a mini hiatus at the moment, Shade the Changing Girl will be back in a bit with Issue #13 and Volume 1: Earth Girl Made Easy is available now in trade paperback.
If you haven't had to chance to read any of it yet, now is the perfect time to get caught up. Volume 2: Little Runaway is expected in early February.
If you want even more of Shade the Changing Girl, take a listen to the official Spotify playlist from the creators behind the series as they play songs that they associate with the book.