Insha & Michael's Best Under-Seen Films of 2018
Every year there's an issue that's arguably more important than which films are the "best." It's frustrating when a movie bombs in the theatres, or is released to streaming or VOD with little fanfare, or just generally happens to fall through the cracks. We think that the hidden gems of years past often end up being more important and entertaining than the agreed upon canon from that stretch of months.
So we've decided to save you some searching and collect together a list of the Best Under-Seen Films of 2018!
We've collected a pretty varied bunch, with only one or two crossovers on our list. That's the beauty of these kinds of movies, they generally don't break through with a wider audience, but they mean a hell of a lot to the people who actually click with them.
---
Insha's List
10. The Rachel Divide
Listen to me very carefully. I LOATHE this documentary. I had the pleasure (or displeasure, idfk) of seeing this film very early at TriBeCa Film Festival. The subject of the documentary being the infamous transracial woman Rachel Dolezal was too brilliant to pass up. I remember coming out of the theater, pissed, stunned, and bewildered by the film — my entire body on fire. I kept frantically typing to Michael (thank you for always listening to my madness) about all my thoughts and feelings about Rachel fucking Dolezal.
In that, I realized that this film was supposed to bring up those feelings. It brings an interesting conversation about race and how we view ourselves and how the rest of the world views us. If you watch this, take with caution that the subject is the most infuriating on the planet but seeing and hearing the perceptions of different people is quite fascinating.
09. CAM
I'm still trying to unpack everything that this film had to offer. Cam such a stylish and intense type of a thriller that leaves you wondering what the hell is going on half the time. It leaves you second-guessing yourself and that what makes it so fucking intriguing. Bonus points because of the subject and subject matter involved. Madeline Brewer is such a babe and we should be totally looking for her to star in more cause she knocked this shit out of the park. I want to make a longer review of this film soon because it deserves so much more.
08. The Kindergarten Teacher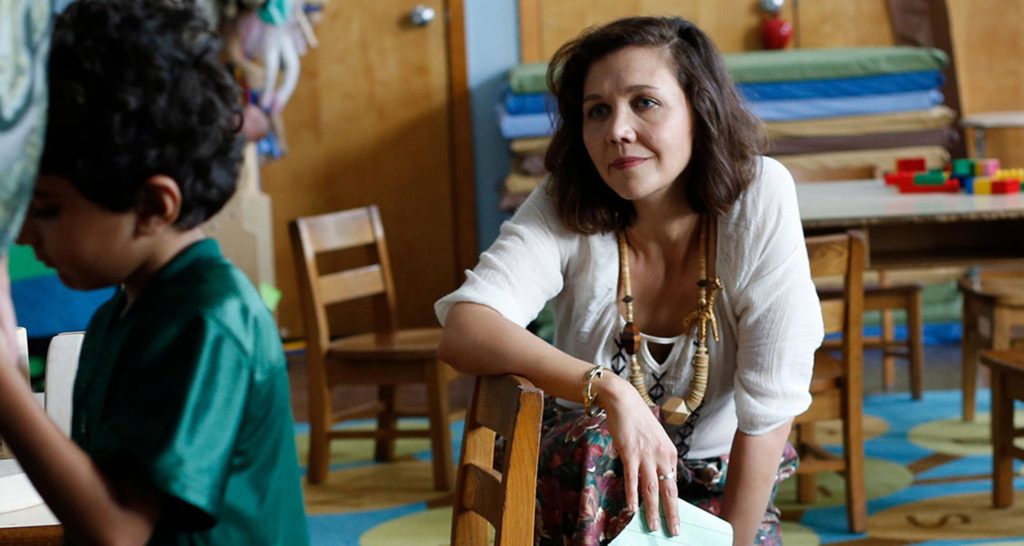 There's something about Maggie Gyllenhaal that just makes her one of the best actresses. I wish we would stop sleeping on her so much. The Kindergarten Teacher features a woman that's made a lot of mistakes and wants to do the best job she can. She doesn't want to see a gift squandered, so she takes matters into her own hands. You feel for her. Even though she's an obsessive with this kid cause you want the best for the both of them. It's a story that nails a teacher and their hopes and dreams for their students.
07. Annihilation
Alex Garland has written some of the best films that I've ever seen. Now, he's directed some of the most visually stunning films as well. Annihilation is Garland's second debut film (Ex Machina being the first) that completely will knock out and leave you pondering what it all means. I've watched this film twice now and looked at a couple of writings on it. They all perceive it differently which is the fascinating part of this film. It's also riddled with a diverse and equally marvelous cast, bonkers yet breathtaking visuals, and a story that leaves you pondering what the hell is happening from start to finish.
06. American Animals
The more I think about American Animals, the more I like it. I don't want to admit it, but I am an absolute sucker for a good heist movie. This was one of the best indie heist movies I've seen of the year. The story does a great job in weaving actual interviews with the portrayal of the actors playing them. Its script and actors are funny without really meaning to. The boys have the best chemistry I've seen in a heist film and friendship really. It's just one of those hidden gems you'd be utterly sad that you missed.
05. Duck Butter
I am not by any means someone who loves romantic movies. They always seem too unrealistic to me or highly over-exaggerated (or eerily creepy, or fundamentally flawed). (I don't hate love I promise.) Duck Butter is a romantic film that's realistic, sexy, intimate and claustrophobic as hell. Duck Butter focuses on two ladies who meet one night and decide to spend 24 hours today and have sex every hour on the hour. It shows how trapped you can feel and that love isn't just all fun and games.
04. You Were Never Really Here
I love stories that feature broken characters, especially broken characters who have been through THE SHIT. Joaquin Phoenix is an actor who I will see anything that he's apart of. He continuously knocks it out of the park with this raw emotion that you can't find anywhere else. In You Were Never Really Here, he fucking lays out the soul of this character for all to see. His job has taken him to some dark places. The violence we see and don't see will make your head spin, but it's Phoenix that makes this film worth the watch.
03. Thoroughbreds
This film sat so high on my radar last year that I'm happy it came out this year so I can talk about it. Thoroughbreds is one of those movies that carries so many twists and turns that you become wrapped in everything it has to offer. Olivia Cooke and Anya Taylor-Joy in this film are hilarious and complex, but so very different and clever. It honestly does feel like the Heathers that we deserve in this era. This was also the last film to star Anton Yelchin which is such a bummer, but his role in this is something that's just what we should remember him for. This and Green Room. If you haven't seen Green Room, watch Green Room.
02. McQueen
There are two men I admire the most in this world for their contributions and level of storytelling and love for what they do. Those men are Rod Serling (The Twilight Zone) and Alexander McQueen. I've had this weird magnetism to Alexander McQueen for years now. I own a lot of books written about him. I own some collection of fashion books on him.
McQueen details the rise, fall, rise, and fall of Alexander McQueen. From the start of him getting into the fashion industry, to the pressures of that world mixed with his personal life. It's a brilliant chronicled documentary telling the story of a great figure through his fashion lines because each of them have their own story directly connected to McQueen. I've seen this documentary SO many times. Every single time it has made me cry like nobodies business.
01. Won't You Be My Neighbor?
I'm a sensitive soft person by nature, and some of that I learned as a kid through Mr. Rogers. Mr. Roger's was someone that took nice and made people feel that they can explore it and not be apologetic about it. I remember watching Mr. Roger's Neighborhood as a kid and not looking at him as some dude in a sweater. I looked at him as someone who taught me how to express emotions. Won't You Be My Neighbor is the beginning and end of a man who touched so many lives. He fought for equality, expression and just a right to be himself so you can be yourself. Fred Rogers is so fucking pure it will hurt you.
Michael's List
10. Hold the Dark

Jeremy Saulnier's first two features were Blue Ruin and Green Room, arguably two of the best movies of the 21st century. Hold the Dark was always going to be a tough follow-up, and Netflix's habit of letting directors do mostly whatever they want did Saulnier no favours. Even though it was met with a critical shoulder shrug, I thought Hold the Dark was atmospheric and contemplative and contained at least one of the best action sequences of the year. Saulnier is three-for-three in my book.
09. The Ritual
I'm a sucker for a standard folk horror. Throw some people in a small country town or the woods, and I'm game. The Ritual takes that premise, fills it with good actors and solid characters and is able to bring the tension and scares when it has to. This is a slight spoiler, but it's also refreshing to see a movie these days actually deliver on the design of its creature.
08. Revenge
This french film's premise seems out-dated. It takes a lot for me to even watch a rape-revenge horror, the premise is usually overused and extremely insensitive. Coralie Fargeat's take on the genre revitalizes it while also, maybe, putting a final nail in its coffin? Matilda Lutz is perfection playing the lead, and a cat and mouse tracking shot near the end are the standouts.
07. Searching
The cross-section of found footage films and streaming services seemed like a no-brainer. I've enjoyed pretty much every found footage horror film that uses the perspective of a laptop: Unfriended, The Den, this year's Unfriended: Dark Web and particularly Searching. John Cho has always been an underutilized leading man, but this movie does what it needs to. It focuses most of the action on his face and lets a mystery play out with a sympathetic main character.
06. Ghost Stories
Ghost Stories was a surprising film for me. I watched it on a whim and was surprised how it stuck to my ribs. It's basically an anthology, with a paranormal debunker investigation three stories. They're all atmospheric and darkly funny and the wraparound segment, which has been lackluster in other anthology films (i.e., V/H/S, V/H/S/2, etc.), actually pays off in an entertaining way.
05. The Death of Stalin
There are very few things I love more than Armando Iannucci's The Thick of It and In the Loop, so I was already a mark for The Death of Stalin. The cast he brings together is a comic powerhouse, and he uses the chaos of Stalin's death to show the kind of governmental chaos we see consistently in our day-to-day lives. Steve Buscemi and Jason Isaacs absolutely have to work with Iannucci again, and any comic director would be proud to have the funeral scene in their portfolio.
04. Mom and Dad
In a way, Mom and Dad seems like a no-brainer. The concept is that parents are, for some reason, trying to kill their kids, and the film stars Nicolas Cage and is written and directed by Crank's Brian Taylor. And it works on that level! But there's a lot more to it. Cage does some interesting things with how the Dad is portrayed before and after the turn, and a very cool actor pops up in the third act, which I thought was a nice surprise. The biggest surprise, however, was Selma Blair being the MVP of the film, which makes me believe she's been a completely underutilized genre queen.
03. Leave No Trace
There's really no excuse for it to take8 years between Debra Granik's Winter's Bone and her next narrative feature, Leave No Trace. It's a total indictment of the system. Leave No Trace is an assured follow-up, not so much worried with a strictly structured plot as a sense of character and situation. Ben Foster shines, and relative newcomer Thomasin McKenzie is, shockingly, even better.
02. You Were Never Really Here
Lynne Ramsay's You Were Never Really Here would seem like a standard action thriller neo-noir if you just read the synopsis. But the movie takes flight by highlighting the moments between the violence, showing the effect and painting a fuller and more sympathetic portrait of the standard broken hitman protagonist than we've ever maybe gotten. I've never seen a hitman lay down with someone he's mortally wounded until they die, in a totally empathetic, non-cynical way. It's a perfect example of how much more Ramsay and Joaquin Phoenix still have to show us.
01. The Tale
Jennifer Fox's The Tale is a semi-autobiographical story about a woman slowly re-exploring her childhood and the trauma she had hidden deep down. It's powerful and nuanced and complicated. It's exactly what you'd expect from a documentarian like Fox and a performer like Laura Dern. The best scene in the film is courtesy of Elizabeth Debicki and her unashamed admission of the cause of her actions to us, the audience. If this had played in theatres, that short scene alone would easily put her in contention for an Academy Award.
---
There were plenty of great movies that almost made the list, so we'd like to highlight some honourable mentions.
Michael: Bodied, Thoroughbreds, The First Purge, Calibre, Apostle
Insha: Apostle, Wildlife, Revenge, Cold War