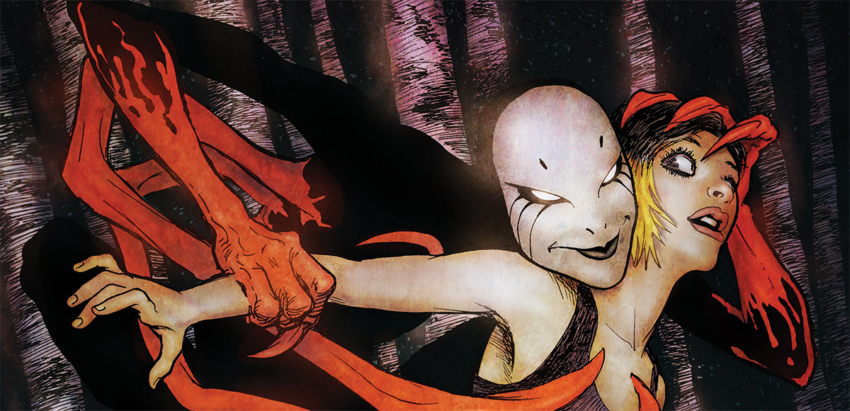 Imaginary Fiends #1
Writer: Tim Seeley
Artist: Stephen Molnar
Colors: Quinton Winter
Letterer: Carlos Mangual
Cover: Richard Pace
Publisher: Vertigo Comics
Review by Greg Brothers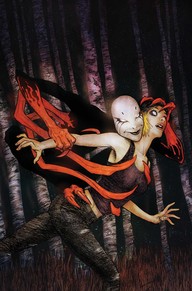 For many it is a right of passage to have an imaginary friend. Some kids imagine their favorite character has come to life and is fighting crime or going on adventures alongside them. Others create an imaginary friend completely from the recesses of their mind. Most people at some age will outgrow those imaginary friends. Those that do not are often looked at as different or strange, the victims of ridicule and rumor, while the adults in the room worry if there is something wrong with that person. Now for a moment, just ask yourself: what if imaginary friends were real?
Welcome to Tim Seeley's Imaginary Fiends from Vertigo.
Imaginary Fiends #1 starts out innocently enough. Cameron Callie is huddled up with a group of his friends. As they enjoy the last few days of summer, Cameron is interrupted by his sister calling out to him. His annoyance quickly becomes shock and fear as the bloodied body of his sister falls into his arms, whispering Polly Peachpit. Six years later Melba Li is getting ready to turn 18, which means she will be moved from a juvenile facility to an adult detention center as she serves out her life sentence for murdering her friend. It will not be an easy change for her, but a surprise meeting with Special Agent Virgil Crockett has the chance to send her life in a direction that Melba Li could have never predicted.
Imaginary Fiends #1 does a nice job building up suspense as it is all about preying on the insecurities of young children and adults. Seeley takes the idea of something as simple as an imaginary friend and creates something that is both creepy and in many ways terrifying. Li is presented as someone who is broken but also cunning and meticulous in her actions. She knows what people want to hear. Even simple actions such as drawing within the lines of a picture are done for a reason, and it is here where Seeley explores some of the complexity of Li.
Seely spends a significant amount of time in Imaginary Fiends #1 setting to ground work for this world. We understand what an imaginary friend is and what rules they are supposed to live by. We also find out how some have come to manipulate those rules to their own advantage. While low on action, the panels are high on tension. With each turn of the page the reader waits for what is next. Once Polly Peachpit appears, the tension and the action pick up. It is here that we see how manipulative Melba can truly be. Here interactions with Peachpit are tense, and Peachpit's character design is what many people's nightmares are made of.
The art is clean and concise. Blacks, blues and shadows fill the panels, while reds splashed across characters shock the mind. Character designs are traditional, while the friends are mythical and nightmare inducing. The depth of the emotion jumps off Li's face as she goes from scared, to sad to defiant.
Verdict:
Buy it! Seeley's return to horror in Imaginary Fiends #1 is nothing short of brilliant. The foundation that is laid here provides an intriguing concept. Without giving away much, the explanation by the Special Agent is one that could be believed in in today's society and that is where some of that creepiness comes in. By the time you put down Imaginary Fiends #1 you will find your hands a little clammy and your heart rate raised as you wonder what's next.