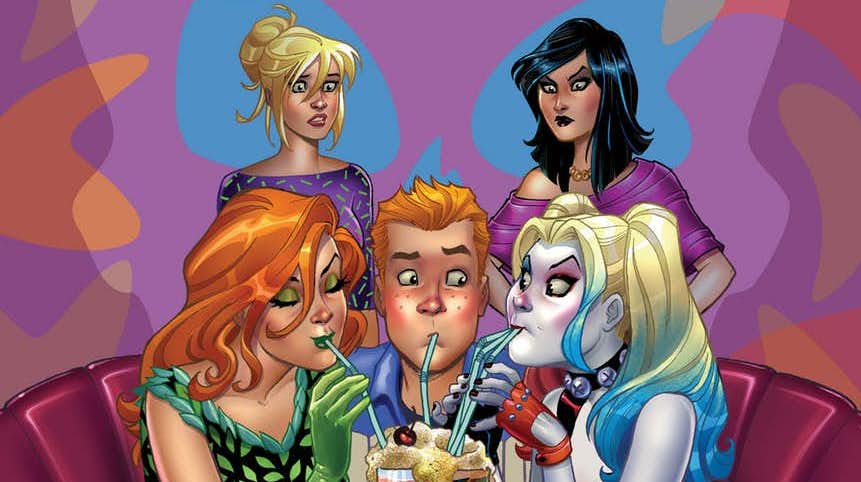 Harley & Ivy Meet Betty & Veronica #1 (of 6)
Writers: Marc Andreyko, Paul Dini
Artist: Laura Braga
Colorists: Tony Aviña, Arif Prianto
Letterer: Deron Bennett
Cover: Amanda Conner, Paul Mounts
Publisher: DC Comics
A review by Samantha Pearson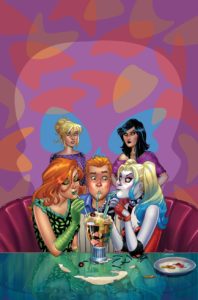 Harley & Ivy Meet Betty & Veronica is the girlfriends mashup/crossover comic that you didn't know you needed, but now it's here and it's perfect. This DC/Archie mashup features Ivy and Harley heading to Riverdale to stop Veronica's dad from tearing apart a unique eco system home to dozens of unique species that don't exist anywhere else in the world. Mr. Lodge's plan is to install a "university lodge" and strip mall that he claims is supposedly meant to provide free college for students… but is obviously just a capitalist ploy to make more money.
In honor of the project, Lodge is throwing a costume gala. Veronica's expensive, custom-designed costume doesn't show, so she has to head to the local costume shop instead. There, she and Betty get into it and eventually leave with what they think is a pretty unique costume. The gala theme is heroes and villains. We know Harley and Ivy will fit the theme, but what about Betty and Veronica?
This comic is honestly delightful. Marc Andreyko and Paul Dini have such a firm grasp on the characters; their dialogue is emphasized beautifully by letterer Deron Bennett and the art and colors are phenomenal. Every panel in Harley & Ivy Meet Betty & Veronica #1 leaps off the page. Laura Braga's distinctive style works beautifully for the Archie characters as well as Harley and Ivy. Amanda Conner and Paul Mounts' colors underscore all of Braga's impressive linework and well-executed body movement, as well as her scenery.
Issue #1 is odd at first. It bounces back and forth between universes, establishing Harley and Ivy separately — but also connected — to the rest of the gang. We see Harley and Ivy, then Betty, Veronica and their friends. As their intersecting plots are established, it's clear that the writers had to go through some serious exposition to make this plot arc work. It feels a little jerky and disjointed up until the final scene, wherein everything really, finally comes together.
Harley & Ivy Meet Betty & Veronica #1 introduces a six-part mini series. It ends on a cliffhanger, as our favorite supervillain girlfriends meet our favorite high school sweethearts, and I'm super eager to devour the rest of this arc. It's whimsical as hell. References to both the Batman universe and the Archie universe pepper enough panels to be fun without overwhelming. And the story also props up serious issues — like environmental disaster and rising tuition prices — in a way that's palatable but still integral to the plot.
Verdict
Buy it! Harley & Ivy Meet Betty & Veronica #1 really is the crossover you never knew you needed. If you enjoy any of these characters in any capacity, you'll surely enjoy this comic — and if you're new to them, you'll enjoy it, too! Harley & Ivy Meet Betty & Veronica doesn't really require any prior knowledge of either the Batman books or the Archie comics. However, having that background information will make certain aspects of this first issue all the more enjoyable. I highly recommend this book! I can't wait to get my hands on the next issue.