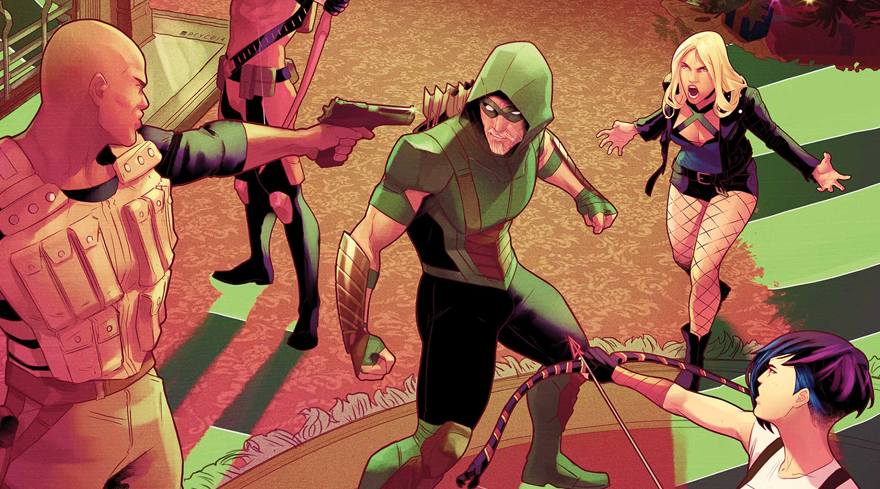 Green Arrow Annual #1
Writer: Benjamin Percy
Artist: Eleonora Carlini
Colorist: Hi-Fi
Letterer: Tom Napolitano
Cover Artist: Jamal Campbell
Publisher: DC Comics
Review by Nico Sprezzatura
Green Arrow has been my favorite title of the DC Rebirth era ever since it started last June, and this week sees the release of its first annual. Comic book annuals are great for telling standalone stories that don't require prior knowledge of their core series, and Green Arrow Annual #1 not only delivers a fun one, but it's a festive Christmas episode too!
At least, that's how it seems at the start. When Oliver Queen —Green Arrow himself— inadvertently pisses off the supervillain Count Vertigo in his civilian guise during the holiday season, our evildoer retaliates by drawing him and the rest of Seattle into bespoke nightmares that none of them can escape. Luckily, a certain member of Team Arrow is conspicuously absent from town, and they might be the key in taking Vertigo down.
Though not a regular, numbered issue of the series, Green Arrow Annual #1 is perfectly emblematic of why I've been enjoying writer Benjamin Percy's run so much. It has everything you could possibly want out of a superhero comic. Lighthearted action! Fun characters! Great art! Beefcake! Like I said, everything you could want.
Green Arrow Annual #1 is a fun sidestep from Percy's main saga that still manages to feel like a substantial reading experience. While annuals can sometimes feel superfluous and not worth the premium pricing, I can safely say that's not the case here.
On the visual front, Green Arrow Annual #1 continues this run's streak of excellent art. The vast majority of this run's thirty-five issues to date have been illustrated by regular artists Otto Schmidt and Juan Ferreyra, with Stephen Byrne, Jamal Campbell, and Eleonora Carlini among the recurring fill-in pinch-hitters. It's a testament to editor Andy Khouri that, despite multiple artists being attached to this title since its relaunch, each one has managed to keep the look of Green Arrow consistent while still putting their own identifiable stamp on it.
This issue in particular is done by Carlini, whose art is more in line with Schmidt's animated cartoonishness than Ferreyra's lush, detailed work. Her panel layouts are varied and interesting — which, again, have been a staple of this run. I especially like her Black Canary and Count Vertigo, who are crucial players in Percy's story. Hi-Fi renders her art with vibrant colors, which is another way the overall art of Green Arrow has remained consistent, even though multiple artists have worked on the title.
And I'd be remiss to exclude letterer Tom Napolitano from the conversation. While most letterers aren't noticed for their work, which is a widespread problem in comicbook criticism, Napolitano upholds the unique lettering style previously developed by others like Nate Piekos and Deron Bennett. His dialogue bubbles and narration boxes don't have stroke lines around them, giving a sense of looseness that totally fits Ollie's character. It's such a neat little trick that most readers may not even notice. Even down to the lettering, Green Arrow has a uniform aesthetic that seems to translate from artist to artist.
Verdict:
Buy it. If you're in the market for a Christmas-themed superhero story featuring one of the DC Rebirth era's biggest triumphs, then Green Arrow Annual #1 is for you.