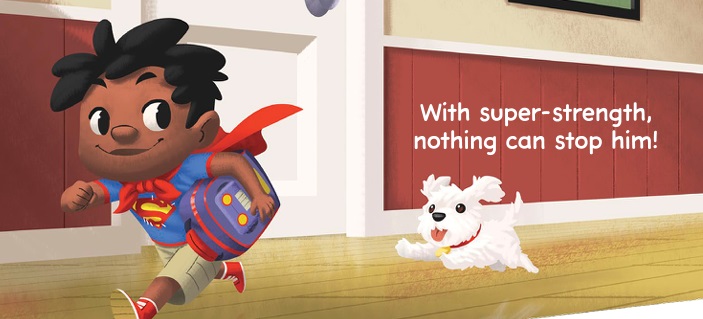 Good Morning, Superman

Writer: Michael Dahl
Artist: Omar Lozano
Publisher: Capstone Young Readers
Genre: Children's picture book
A review by Amelia Wellman
Michael Dahl, author of more than 200 picture books and books for young adults, returns for another Capstone Young Readers/DC picture book with Good Morning, Superman! With illustrator Omar Lozano (Far Out Fairytales) creating the visuals, Superman takes to the sky as a little boy takes to his morning routine!
Look, up in the sky! It's a bird. It's a plane. It's the… Sun! When morning comes in Good Morning, Superman, a young boy must prepare for his day, faster than a speeding bullet! Follow along as he leaps tall buildings (jumps out of bed) in a single bound, dons his heroic uniform (his clothes), and faces his greatest weakness (Kryptonite-coloured toothpaste).
Good Morning, Superman follows a little boy on his morning routine as he does what he can alone and gets help from friends and family when he needs it. Showing the basics (getting dressed, breakfast, teeth brushing) of the routine, the story is aimed for the four to seven year old crowd and is the perfect companion to Bedtime for Batman. The story is quick, the wording simple but not dull or mocking, as some kid's books are prone to do. It makes for a good addition to a story time custom and is also simple enough to help the little ones learn to read.
The art of Good Morning, Superman follows in line with Dahl's previous DC tale Bedtime for Batman. The art of Bedtime for Batman is done in the style of Batman: The Animated Series, Good Morning, Superman is similarly done in the style of Superman: The Animated Series. It's vivid, bright, and absolutely adorable. The technique in the art is lovely as well. It's textured beautifully with many layers and different tones. Kids might not notice the technique, but the parents reading this at bedtime definitely will.
The Verdict
Buy It! Good Morning, Superman is another picture book hit for Michael Dahl! Child fans of the Man of Steel will love seeing their morning routine compared to his heroic one, while adult fans will love the nostalgic style of the art and the way it teaches kids how to get ready on their own. I really hope Dahl continues this DC series. Perhaps with Wonder Woman next?
Good Morning, Superman will fly onto bookstore shelves March 1st, 2017.