The new Ghostbusters film is out today, hip hip huzzah!!! If you're like me, then you cannot WAIT to see what the new team will get up to, and I'm very excited to see the ladies being complete baddasses on screen!! With every new cult film there will be a wave of merchandise, and of course Funko already has an array of Ghostbusters Funko Pops – some of the original cast, and some with the new cast as well. Here I will show every Ghostbusters Funko you can own with a little bit of character background to boot!
Dr Peter Venkman
Played by: Bill Murray
Dr Peter Venkman is part of the original Ghostbusters team. He is portrayed as the lazy Ghostbuster, even though is the leader of Ghostbusters. While Peter is a scientist who has doctorates in both psychology and parapsychology, he doesn't take his work as seriously and would rather flirt with the women. He has a dry sense of humour and is seen as the aggressive one when fighting ghosts. You can't really say 'no' to Bill Murray Funko Pop! Honestly, raise your hands would you really turn down a Bill Murray Funko Pop?! Thought no.
Dr Raymond Stantz
Played by: Dan Aykroyd
Dr Raymond Stantz is described as the heart of the Ghostbusters. He one of the most devoted member in the pursuit of studying the paranormal. Ray was the handy man and was responsible for the modification and repairs of Ecto-1. He may not have been a religious guy, but he believed in some form of spiritual realm. Ray's outlook is probably the most positive out of the groups. Awwh! I think Ray's Funko is pretty cute. Look at his little plaything around his head! They've also managed to get the hair spot on too!!
Winston Zeddemore (and Ecto-1)
Played by Ernie Hudson
Dr Winston Zeddemore is the fourth member and the last to join the Ghostbusters team. He saw the job advertised and replied. His character is considered the most conventional from the franchise and is seen as a responsible and dependable person. He is considered the common man of the team. Winston takes over the mechanics of Ecto-1, hence why they've used his character for the Ecto-1 Funko Pop. The Ecto-1 was the car the team used to travel around New York to find these ghosts. This is probably a must-have for any Ghostbusters Funko Pop lover who wants to go big or go home! It has all the mod-cons that Ecto-1 had in the film.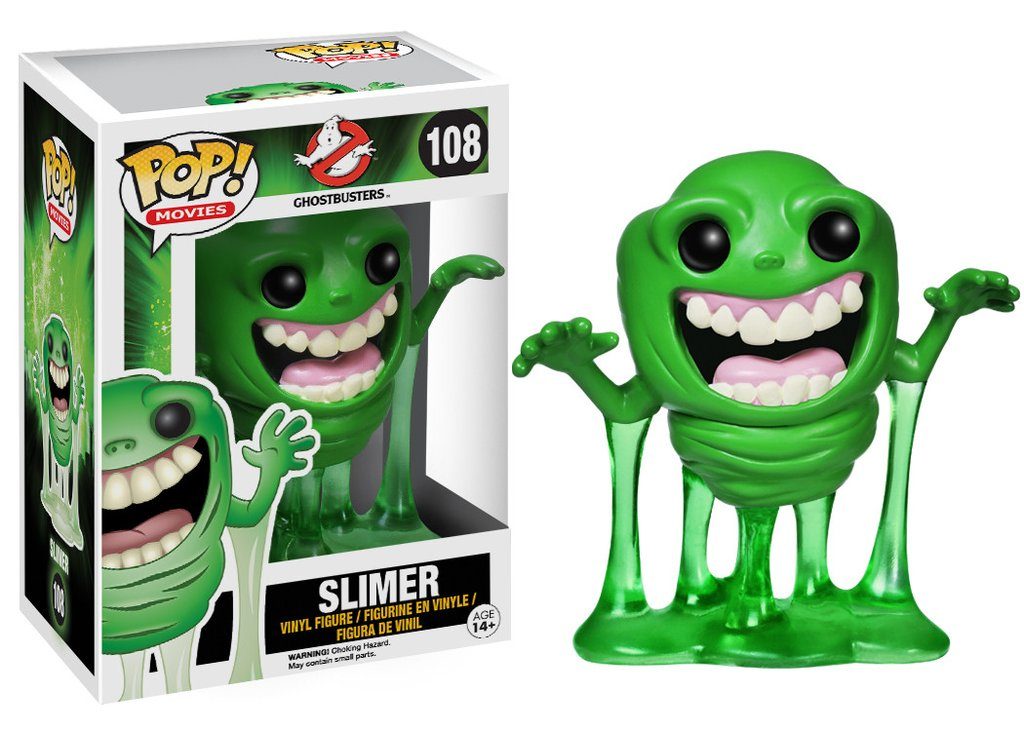 Slimer
Played by: Mark Brian Wilson
Slimer is probably the most well-known ghost from the franchise and made of pure ectoplasm. He is also the first ghost to be successfully caught by the Ghostbusters. Slimer was a legendary ghost who roamed the 12th floor if the Sedgwick Hotel. His outings simply involved eating food so they managed to keep him a secret. He is known             for his gigantic appetite. I own this Funko Pop myself and he's so cool! Of course he looks completely different to other Funko Pops due to his shape. I loved the slime dripping and it's colour was vibrant and really stands out from most.

Dr Egon Spengler
Played by: Harold Ramis
Dr. Egon Spengler is considered the brain behind the Ghostbusters. He was a former professor of Paranormal Studies at Columbia University. Once he left, he founded Ghostbusters with Dr Raymond Stantz and Peter Venkman. He built and designed all of the team's equipment, which includes the Proton Pack. Look at those adorable glasses!!! So 80's!! he is such an adorable Funko Pop!! If you look closely you can see how detailed his costume is!