Gintama is one of my all-time favourite animes. I was thrilled when I found this little blind box at my local comic book convention. I already have a massive collection of Gintama figurines, and I thought this would be a nice little figurine for my collection. I've already unboxed one or two Petit Chara Land Gintama blind boxes. However, I haven't opened any from this series before. I cannot wait to show you what I got!
Gintama
Gintama is a manga created by Sorachi Hideaki, first published in Weekly Shounen Jump, which then eventually became a long-running anime. Last year, they released a Live Action Gintama film in Japan with Shun Oguri playing the part of Gintoki Sakata. It was announced late last year that a sequel is also in the works.
Gintama is a mixture of period drama, sci-fi, and comedy with a mixture of aliens and other life forms mixing with samurais and ninjas! The manga is based around odd-job man Gintoki Sakata as well as his two apprentices Shinpachi Shimura and Kagura and what occurs through their day-to-day lives.
Petit Chara Land
Petit Chara Land creates some of cutest figurines around. Specialising in 'chibi' style Petit Chara Land has turned some of the most iconic anime characters into the cutest little things you've ever seen! Their products are always of good quality. I cannot recommend them enough! Now onto the unboxing!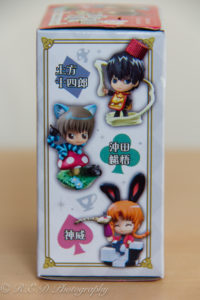 The Blind Box
The blind box was manufactured in Japan, so everything is written in Japanese. However, the name of the series has been translated, and it's called 'Gintamasan in Wonderland.' There are eight variations to collect all together, all of which are dressed as Alice in Wonderland characters. The characters you can collect are:
Gin-san
Kagura A
Kagura B
Elizabeth
Okita
Hijikata
Kamui
Tosshi
All of the figurines look absolutely adorable which is making it really hard to pick which one I would like. I do have my heart set on either Okita who is dressed as the Cheshire Cat (which looks adorable) or Kagura whose dressed as Alice.
And I got…..
GIN-SAN!!!
Even though he wasn't my first choice I'm really happy I got Gin-san. He's dressed as the Mad Hatter and looks adorable. Even though the figurine itself 160mm, it seems a lot bigger than that when you add the hat, which was an extra piece.
I love the minimal use of colour in this figurine. They've mainly stuck to different variations of red as well as the colour blue for Gin-san's hair. I also love the little details that have gone into this figurine such as the little pattern around the cup as well as the strawberry which is textured and looks exactly like an actual strawberry! It's also a nice touch that they made the tea into a strawberry milkshake, which is Gin-san's favourite drink.
I definitely won't be getting any more Gintama Petit Chara Land blind boxes. I still have a few more I need to open already. However, I will keep an eye out for more of their products representing other animes.
You can buy Gintamasan in Wonderland here