Game of Thrones Season 7
Created by David Benioff and D.B. Weiss
Starring: Emilia Clarke, Kit Harrington, Peter Dinklage, Lena Headey, Sophie Turner, Maisie Williams, Nikolaj Coster-Waldau, Gwendoline Christie, Iain Glen
Based on the novels by George R.R. Martin
Review by Stephanie Cooke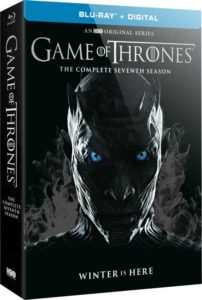 This season of Game of Thrones has, by far, been my favourite to date. While the rest of the seasons before this set up the game of thrones itself, this season is the start for the WAR of the throne that leads into the final season.
We've been waiting for YEARS to see Daenerys cross the sea to be in Westeros where she'll sweep the country and reclaim her title as rightful heir and she finally makes headway with all that with her ever growing band of outcasts and misfit knights etc.
There's so much payoff in this season that I've been THIRSTING for. So many theories validated and so many answers provided. This season was an absolute rollercoaster for me; at times Game of Thrones utterly destroyed me and had me shouting at the TV (I'm looking at you, Whitewalkers… leave that thing in the water PLEASE — vague sentence is vague but you know, no spoilers) while other times I was smiling and pleased. I was mostly yelling at the TV though, if I'm being honest…
NOW I'm going to jump into some light spoilers for a second…
One of the big things that made Season 7 better for me was the treatment of women. Things got off to a rocky start with the quick demise of the Sand Snakes. This freaking SUCKED. The Sand Snakes has been built up for SO LONG and I expected so much more for them as characters. They did not deserve the end that they met and they deserved to be a more integral part of the final chapters of the story and in taking down Cersei Lannister and her minions.
That being said, outside of the Sand Snakes, I felt like women were given much stronger roles within the series that didn't revolve around them being raped, murdered, or tortured. There was very little over the top nudity that took me out of the moment and instead it was all replaced with generally solid storylines that weren't packed with filler.
With few episodes remaining until the bitter end, there was definitely a lot less room for the writers to jerk us around with characters. Long gone are the days of not seeing a favourite character for a few episodes (or a season…) and instead we get glimpses at each of our favourites pretty regularly. Although I suppose that could also be because many of the characters that we started out with at the beginning of the series are long dead…
Oh oh oh! I interrupt this review to tell you a joke…
Why isn't George R.R. Martin on Twitter?
WHY STEPH?!!
Because he killed all 140 characters!
This joke was funnier when GRRM wasn't actually on Twitter and when Twitter still had a 140 character maximum. But still… ha ha ha!
Okay back to my review…
Every single episode in this season felt like it was integral to the overall storyline and everyone felt like they were being used to their fullest potential (mostly). We aren't getting the final season of Game of Thrones until sometime in 2019 so the coming year is a good time to rewatch the entire series and prepare yourself for the ending.
Game of Thrones Season 7 has an excellent array of special features including a separate disc that's an entire animated history of Westeros (oh em gee)! Check out the full list here…
Game of Thrones Season 7 Blu-ray Special Features:
Conquest & Rebellion: An Animated History of the Seven Kingdoms – From the Game of Thrones realm comes the never-before-seen story of the tumultuous events that shaped the world of Westeros for thousands of years before the series start. Cast members Pilou Asbæk (Euron Greyjoy), Nikolaj Coster-Waldau (Jaime Lannister), Aidan Gillen (Littlefinger), Conleth Hill (Varys), Harry Lloyd (Viserys Targaryen) and Sophie Turner (Sansa Stark) team up to narrate the animated telling of Aegon Targaryen's attempts to conquer the Seven Kingdoms, written by show writer Dave Hill.
From Imagination to Reality: Inside the Art Department – Extensive two-part featurette detailing the astonishing work of Production Designer Deborah Riley and her Art Department, dissecting the process behind the creation of this season's incredible new sets, including Dragonstone, Casterly Rock, Highgarden, the Dragonpit, and more.
Fire & Steel: Creating the Invasion of Westeros – Revisit this season's most pivotal moments with this behind-the-scenes featurette, including interviews with key cast and crew breaking down how fans' favorite moments were created.
Audio Commentaries – Commentaries on every episode with cast and crew including David Benioff, D.B. Weiss, Jacob Anderson, Gwendoline Christie, Liam Cunningham, Kit Harington, Lena Headey, and more.
Histories and Lore – 7 new animated pieces that give the history and background of notable Season 7 locations and storylines including The Dragonpit, Highgarden, Prophecies of the Known World, the Rains of Castamere and more all narrated by cast members including Nikolaj Coster-Waldau, Aidan Gillen, Iain Glen and more.
In-Episode Guides – In-feature resource that provides background information about on-screen characters and locations.
Verdict:
Buy it! If you're a fan of Game of Thrones, then this season is essential for your collection. If you haven't purchased any of the previous seasons, however, at this point it might worth it for you to hold off and wait for the inevitable complete collection. HBO is pretty notorious for putting together really fantastic complete series box sets so while I enjoyed having the individual seasons to watch through again, it's worth thinking about holding out.