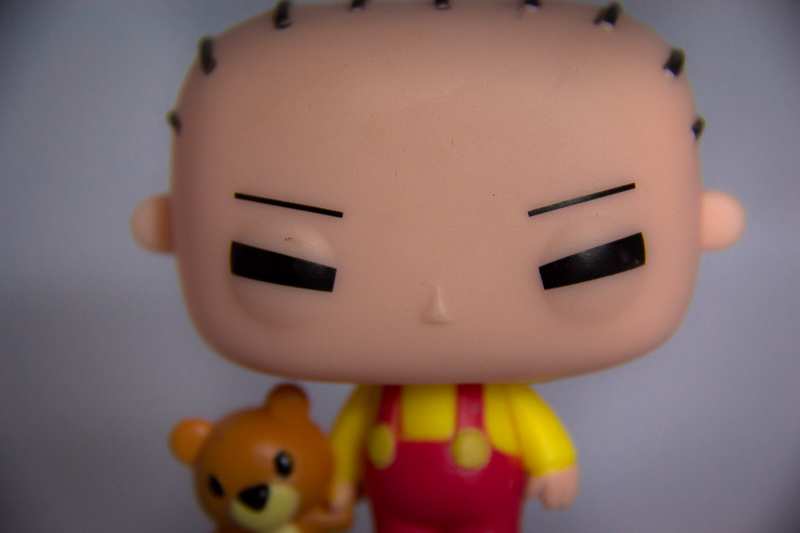 It's Funko Friday yet again and I have a new Funko to add to my collection: Stewie Griffin! He falls under the Pop! Television series and is part of the first (and only) wave of Family Guy Funko Pops. There are four Funko Pops to collect in the series and the characters are Peter, Brian, Stewie and Ray Gun Stewie.
Family Guy
Family Guy is an American adult animated sitcom created by Seth MacFarlane for the Fox Broadcasting Company. The series centers on the Griffins, a family consisting of parents Peter and Lois; their children Meg, Chris, and Stewie; and their highly intellectual  pet dog Brian. The show is set in the fictional city of Quahog, Rhode Island, and exhibits much of its humour in the form of cutaway gags that often lampoon American culture.
Stewie Griffin
Stewie Griffin is one of the main characters in the hit sitcom and is youngest out of all the Griffin children. He has also a very close friendship with Brian, who understands every word he says. Stewie is the break out character out of the whole series due to his love of attempting to kill is his own mother as well as his love of violence and matricide. Over the past few series he has gone from a gun loving maniac to a little more passive. His sexuality now plays a big role in the show.
Funko Pop
Out of all the Family Guy Funko Pops this had to my favourite. The paintwork is great and he stands up well. Adding Rupert was definitely a nice touch! I'm not quite sure what to make of his eyes though, I understand they're trying to portray 'Evil Stewie' but he looks really creepy! I'm not sure if they'll add more to the Family Guy Funko Pop series. A Funko version of Mr. Herbert would go down as a treat with die-hard fans! What Family Guy character would you like to see turned into a Funko Pop?
You can buy Family Guy Funko Pop here!