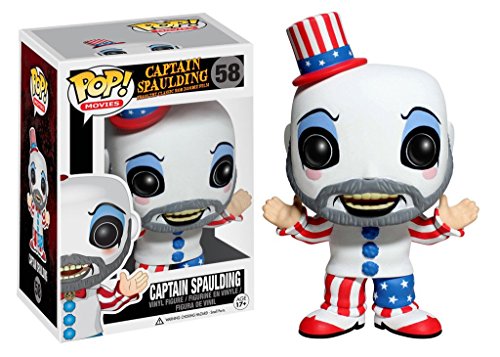 It's Funko Friday yet again and this week it's all Halloween themed. The good crew at Funko Land have Dunko'd many of your favourite Halloween characters from a variety of films and television shows including Stranger Things, House of 1000 Corpses and Beetlejuice!!
Can you imagine decorating your house on Halloween with all your favourite characters in Funko form?! How cute would that be?! I recently bought myself a Tiffany Funko Pop from their recent Halloween collection and I've fallen completely in love with her!! There is also a chase variant of her with blood splattered all over her dress so be on the lookout for it!
Other Funko Pops in the new wave include Carrie in her bloody prom dress, Norman Bates from the iconic movie Psycho and Annabelle from the movie The Conjuring. You can also get Norman Bates in a black and white version which I think looks great.
They company also released Funko Pops from the movie The Shining. Funko added blood to the Pop box which I think is a nice touch. The characters you can collect are Jack, Wendy and Danny. Jack, of course, comes with his trusty axe and you can collect a chilled Jack Funko which I would love to have!!
Of course many other iconic characters have also been given the Funko Pop treatment. Some include The Exorcist, Hellraiser Pinhead, Nosferatu, The Crow, Chucky, Billy the Puppet, Hannibal Lecter, Michael Myers, Leatherface, Freddy Krueger and Jason Voorhees.
One Funko Pop that I'm dying to find is Captain Spaulding from House of 1000 Corpses. This loveable arsehole is one of my favourite characters in horror so he would be great to add to my collection. I do hope they make a wave of House of 1000 Corpses Funko Pops.
When it comes to television, Funko jumped right in and created a wave of Funko Pops based on the popular television show Stranger Things. Characters you can collect include Eleven, Barb, Mike, Dustin, Lucas, and Will.
Many of the characters from the hit television show American Horror Story have also been given the Funko Pop treatment. Some of my favourites include The Countess and Sally from AHS Hotel and Twisty from AHS Freakshow, as well as Fiona, Papa Legba and Marie Laveau from AHS Coven.
You can also collect the Munster family! You can add Grandpa Munster, Herman Munster, Lily Munster and Eddie Munster to your Funko collection!
There are also plenty of classic monsters for you to collect, too! Who wouldn't want a monster Funko Pop on their windowsill? Characters you can collect include Dracula, Frankenstein, Bride of Frankenstein, Wolfman, Creature from the Black Lagoon, and the Phantom of the Opera.
You can buy all your Funko Pops here!