Are we Human or are we Raptor?
Velociraptors aka Raptors are the most anthropomorphized dinosaurs in the Jurassic Park franchise. They're the only dinosaurs in the series that you could even begin to describe as characters especially when looking at the latest film, Jurassic World, where the all the Raptors get their own names and one even getting an arc (sort of). The Raptors are also easily the most scientifically inaccurate dinosaurs in the series, their look based off a mix of science, 'vintage' science, and just plain cinema magic.
Fierce and intelligent, Raptors come to represent the most dangerous aspect of man playing god in the Jurassic Park films. It's not monsters or animals we must worry about, but the Raptor, a dinosaur remade in our own self-image, cunning, calculating, and always evolving. So sure they can open doors (they're pretty darn clever from what I've heard), but they can also experience a whole range emotions and behaviors. So break out your inner philosoraptor to contemplate and enjoy the fives times when Velociraptors were just like us!
Charlie, Millennial Raptor (Jurassic World)
By the time Jurassic World rolls around the Velociraptors have volunteered themselves to receive top notch military training (plus who wouldn't want look at a sweaty Chris Pratt all day). Charlie, the youngest member of the raptor squad, is a firecracker, exhibiting impatience, curiosity, and sass in equal measure. You can practically hear her roll her eyes complaining, "Ugh Dad, who cares, just give me another rat. Blue always gets the biggest rat." I can guarantee Charlie would be using Snapchat if she didn't break the screen with her claws. The flower crown is her favorite filter (fyi).
Business Lunch (Jurassic Park III)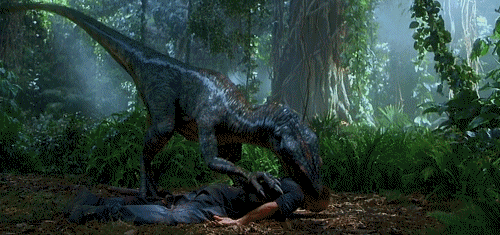 Look, it's tough out there for a Raptor on a big island like Isla Sorna. What's a go-getting Raptor like you, with your fancy quills and colorful flourishes, going to do for food? The Raptors in the center of the island are pure savages, but you're holding down a job as a 3D mural at the local science center all the while maintaining a busy social life. Lucky for you a human snack has just appeared. You hate to eat and run, but the Whole Foods is sooo crowded today.
Philosophical Toe-Tapping (Jurassic Park)
Steven Spielberg filled Jurassic Park with tiny moments of humor that often surprise when you least expect it. So despite the kitchen sequence being one of the scariest scenes in the film, the moment where one of the Velociraptor's toe claw taps inquisitively always makes me squeal with delight. Like, it can't be that hard to find Lex and Tim right? Didn't these Raptors eat a couple of workers before hunting these children? Maybe they were eyeing all that melting ice cream that Hammond left out, but then remembered they were on the paleo diet. If you believe the meme inspired by this moment, perhaps they were contemplating more than their next meal, but maybe the nature of their existence as well [insert Conspiracy Keanu meme].
The Blue Album (Jurassic World)
Blue is supposedly the only Raptor Squad member to survive Jurassic World (pours one out for Charlie and Echo and another half for Delta) and for good reason. After helping dispatch the abominable Indominus Rex (because the humans couldn't be bothered to get the job done themselves), she gives Owen Grady a look as if to say, "Bro, do you even dinosaur?" She's the smartest Raptor on the block after all, no alpha required. I can imagine that after nodding goodbye to Owen, Simple Mind's "Don't You (Forget About Me)" plays in the background while she runs off in the distance, single claw in the air.
Do Grants Dream Of Electric Raptors? (Jurassic Park III)
Before Jurassic World, the two middling Jurassic Park sequels seemed to take glee in throwing PTSD-affected characters back into the fray and Alan Grant's apocalyptic fever dream exemplifies this weird dynamic better than anything else. Perhaps the Raptors on the island already sense Grant, an obsessed acolyte who's turned his back on the cult of Dromaeosaurid. Are we sure it's even a dream Grant's having? Maybe these Raptors have evolved to have more than just a feather(s), learning astral projection techniques in order to lure Grant back to them for the inevitable reunion. Don't be afraid Grant, embrace your Raptor kin Alien: Resurrection-style.