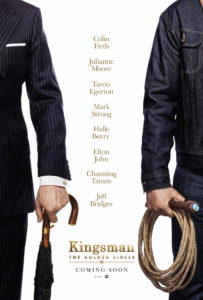 In 2014, Kingsman: The Secret Service came out in theaters, based on the comic book by the same name by Mark Millar and Dave Gibbons. It was exactly as bonkers as you might expect a spy movie from the mind of the man who wrote works such as Kick-Ass, and Wanted to be.
The sequel, Kingsman: The Golden Circle is gearing up to be just as bonkers in the best possible ways.
The original cast is back including Taron Egerton, and Colin Firth, and joining them for this film are Halle Berry (meh), Channing Tatum (not meh!), Julianne Moore (hooray!), Pedro Pascal (we're still not over what happened to him in Game of Thrones), Jeff Bridges and more.
BOY HOWDY!
Matthew Vaughn is back at the helm of the film with the screenplay co-written by his partner-in-crime, Jane Goldman.
The synopsis on IMDb is this: "the Kingsman's journey leads them to the discovery of an allied spy organization in the US" which really doesn't give us a lot to work with, but hey, we're going to go see it anyways… probably.
Take a look at the trailer below: