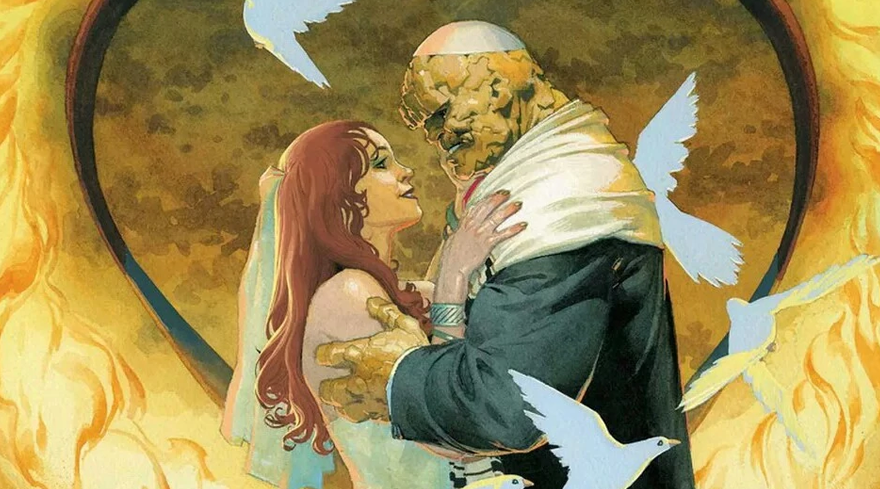 Fantastic Four #5 (LGY: #650)
Writer: Dan Slott
Artists: Aaron Kuder ("4-Minute Warning"), Michael Allred ("Change Partners"), Adam Hughes ("Guys' Night Out")
Colorists: Marte Gracia & Erick Arciniega ("4-Minute Warning"), Laura Allred ("Change Partners"), Adam Hughes ("Guys' Night Out")
Letterer: VC's Joe Caramanga
Cover Artist: Esad Ribić
Publisher: Marvel Comics
Review by Nico Sprezzatura
From what I've seen, it seems like people are more excited about the idea of the Fantastic Four being back more than they're actually enjoying this current run, and I can't say I disagree. Slott's F4 has yet to truly "pop" for me on its own merits, but I have to admit that Fantastic Four #5 does a pretty good job of reminding readers why they're a crucial part of the Marvel Universe.
The main story here, "4-Minute Warning," follows Ben Grimm —The Thing himself— and the rest of the Fantastic Four as they prepare for his impending nuptials to longtime girlfriend Alicia Masters, with "Change Partners" and "Guys' Night Out" serving as brief detours from the wedding arrangements. To Slott's credit, these stories don't feel out of place or ruin the flow of the issue itself, but they're very obviously there to justify the $7.99 cover price. The fact that last week saw the release of Fantastic Four Wedding Special, which "Change Partners" and "Guys' Night Out" could've very easily been slotted into instead, makes it more egregious, but that's more a criticism of Marvel's marketing practices than anything else.
Editorial decisions aside, Fantastic Four #5 is full of great F4 moments that fans of Marvel's First Family have been missing since the end of Secret Wars in 2015. In our modern age of overblown, epic events, Ben's wedding does feel like a special moment in not just his life, but everyone connected to him. Thing is one of Marvel's oldest characters, so it's nice that the company is treating the wedding like something important.
The art throughout is fantastic, ranging from Aaron Kuder's frenetic linework, to the Allreds' colorful pop art sensibility, and Adam Hughes' richness. The Allreds' section in particular recalled their work on Matt Fraction's FF, which is probably one of my favorite Marvel comics of the past decade. I definitely wouldn't mind seeing them take over for an arc on this title, come to think of it!
The Verdict: Buy it.
Even with a bloated page count, the wedding of Ben Grimm in Fantastic Four #5 is definitely something of a mini-event that fans should pick up.