Fall is my favorite time of the year. It comes with some great non-costume fashion pieces that can still get you in the Halloween spirit. Horror fashion is certainly trending this season. While there are some amazing horror t-shirts out there, I focused on clothing that can be dressed up or down depending on your mood.
Looking for that horror-inspired look can be worn without cosplay? Check out these thirteen everyday looks to channel your inner horror fiend!
---
1. Beetlejuice Sandworm Knit Scarf

This month marks the 30th anniversary of Tim Burton's classic Beetlejuice. What better way to celebrate than with some awesome merchandise? Hot Topic has an amazing selection of The Ghost With the Most themed merch but my favorite? This cozy striped knit scarf looks like one of the sandworms from the film. How can you not love it?
It's currently available at Hot Topic online and in stores now.
2. Beetlejuice Handbook for the Recently Deceased Crossbody Purse & Cardholder
There are just too much great Beetlejuice products out this season to pick only one. Who doesn't love the Handbook for the Recently Deceased? While the Maitlands didn't do such a great job learning how to have a happy afterlife at the beginning, this book has long been a favorite for Beetlejuice fans. The purse has a chain strap, and the interior features an ad for the "bio-exorcist" Beetlejuice himself, styled after the one from the film. The cardholder is a smaller unisex option. It has the same motif and is made out of durable canvas material to keep your belongings safe.
Both Purse and Cardholder are BoxLunch Exclusive items and can be found in stores and on their website.
3. Luau Lurker Button-Up Shirt
As far as creature features go, the 1986 Critters is a personal favorite. This Hawaiian style button-up shirt might look festive at a glance, but much like the furry alien menaces themselves, looks are very deceiving. These cute but deadly critters are hidden in the floral pattern. The shirt is made of a light cotton poplin that is both breathable and soft. This men's shirt is available in sizing from S-3XL.
These button-up shirts are only available from the CreepyCo. online store.
4. Voodoo Emporium Windbreaker
Everyone needs a few friends on the other side. Feel a little like Dr. Facilier in this windbreaker inspired by Disney's Frog Princess. It's lightweight and offers a retro look with a more modern shape. A unisex jacket, it comes in XXS-3XL
You can find this jacket at WHOSITS and WHATSITS along with a ton of other Disney inspired pieces.
5. Hocus Pocus Purse
Just a little Hocus Pocus. What's better for a budding witch than this black cat purse inspired by the cat, Thackery Binx, from the film? The faux leather purse is spacious and definitely a statement piece. It has an inner zip pouch to hold your tablet or other belongings. Another Loungefly product, it's great quality and highly durable. It comes with a removable strap so you can wear it as a shoulder or crossbody bag. It's perfect for a long commute, like 300 years for a virgin to light a candle, right?
You can snag this one at The Disney Store.
6. The Hotel Sweater
All work and no play makes Jack a dull boy. This sweater, on the other hand, is as eye-catching as it is iconic. Identical to that found in the Overlook Hotel in Stanley Kubrick's adaptation of The Shining, the pattern is bright and retro. It's perfect for both Kubrick and Stephen King fans.
Licensed through Mondo, the Hotel Sweater can be found at Middle of Beyond!
7. #ShiningJohnny Leggings
Staying on the carpet theme, Bombsheller recently released a pair of leggings with the same design. My favorite part of Bombsheller's line? Their sizing goes from XS-6XL! They've got something for everybody!
These are available on the Bombsheller site.
8. Ouija Board Bomber Jacket
Ever feel like reaching out to the forces beyond? This jacket can't hurt your chances of making contact with the unknown, especially with the Ouija board print on the back and the monochrome look that is perfect witchy vibes for the season. ModCloth has a fantastic selection of spooky apparel. This jacket is just one of their eye-catching pieces for the season.
9. Fright Rags Socks
Full disclosure, I love novelty socks. They're perfect for those times you can't dress out but still want a way to show you fandom faves. These socks from Fright Rags are perfect for the task, as well as being a cozy addition to your wardrobe. Better yet, they have all the classics – from Evil Dead, Child's Play, and even Halloween!
You can find the entire selection at Fright Rags.
10. Elvira Dress in Black Ponte
Sometimes you just really want to channel those The Mistress of the Dark vibes. This line from Pin Up Girl Clothing and Elvira herself definitely does just that. While there are several gorgeous pieces, this black ponte dress has a plunging neckline with semi-sheer mesh and is flattery to almost every shape. It's also made of comfortable, stretchy fabric that makes it perfect for a night out. Or a night in.
Pin Up Girl Clothing has this dress and the rest of the line available online.
11. Damn Fine Button-Up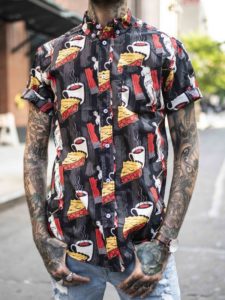 While not technically horror, Twin Peaks flirts with the macabre on more than one occasion. It's also one of those cult classics that feels part of the Halloween season. This button up shirt design has coffee, pie, and the red room from the show. I think Agent Cooper would approve of the look. Or at least the coffee.
Produced by Grit n Glory Tattoo Boutique, it's available in men's size XS-2XL.
12. SS Georgie Boat Clutch
Not content to be anything less than terrifying? Want to give your friends clown nightmares for days? Then clearly, this blood-splattered clutch shaped like the paper boat that started it all is the perfect accessory. Inspired by Pennywise the Clown, this boat clutch is made of faux leather and can be custom designed to fit any phone. It also comes with or without the blood-splatter, depending on your gore preference. It is made-to-order, so the designer will need some time to fulfill your order.
This handmade item is available from PlayTogs on Etsy.
13. Blood Drip Vintage Cardigan
Sometimes you need something that makes a statement. Last but not least, this blood drip cardigan is perfect for so many looks. From serial killer to ghoulish undead, this stretch knit cardigan can do it all. The cropped sleeves and waist add a vintage look that is still classic enough even to be worn with blue jeans.
Available at Elhoffer Designs in sizes SX-3XL!
What's your favorite piece in the list? Let us know by leaving a comment below!