It started as a joke. "May the 4th be with you." And now? It's a celebration for Star Wars fans all over the world. It's become Star Wars Day. With fan-run events, movie marathons, and so many online sales, it's a great time to connect with other fans and a chance to grab some good deals on that Star Wars action figure or phone case you've been eyeing.
It's also the perfect time to talk about all the new apparel and accessories that have popped up. With Solo: A Star Wars Story being released at the end of the month, it's the perfect time to dive into some of the more unique new and upcoming pieces inspired by four decades of fandom and the release of Solo!
Her Universe Solo Collection for Him
Who doesn't love a good cape? And let's be honest, Lando Calrissian knows good capes. It's what makes this fun, cropped men's cape a pretty unique article of clothing to add to your outfit for the Solo: A Star Wars Story film premiere. Or if you'd rather, you can pick up the Han Solo inspired jacket if that's more your look. Branching into men's fashion with their Solo-inspired line, Her Universe has produced some fun pieces this time. The clothing line is fully licensed, and there are a lot more casual pieces for just about everyone.
You can shop the whole line at Her Universe.
Solo Striped High-Waisted Shorts
The entire Her Universe Solo collection has a retro-vibe, and it's pretty fantastic. If the trailers are anything to go by, this might be based on the fashion from the film itself. Among my favorite pieces for women are these brightly-colored striped high-waisted shorts. The design isn't immediately recognizable as Star Wars, but the small Millennium Falcons on the print are such a great touch.
Most of the collection is available at Hot Topic in stores and online. You can also find the shorts in plus-size!
Elhoffer Design Galactic Baron Wrap Top
Inspired by Lando's classic look in Empire Strikes Back, the Galactic Baron Wrap top definitely lives up to the name. The light blue is a perfect match for Lando's shirt/cape combination and the black collar and wrap design is so flattering! I really love the splash of yellow lining on the cape sleeves. It's such a dramatic touch that is perfect for the piece.
The Galactic Baron Wrap Top is currently available for pre-order at Elhoffer Design!
Elhoffer Design Galactic Snips Longline Cape
My other favorite piece currently available on Elhoffer's site is this drape cardigan inspired by one of my favorite Star Wars characters – Ahsoka Tano. It's rare to see anything with the Clone Wars era character and this subtle stripe print invokes Ahsoka's coloration. This cardigan has all the hallmarks of my favorite kind of geeky fashion: subtle, comfortable, and distinctive.
The Galactic Snips Longline Cape is also available on the Elhoffer Design website.
Po-Zu Han Solo Sneakers
These Corellian blood-stripe sneakers are perfect for every Han Solo fan. And not to forget everyone's favorite sidekick, these quirky Chewbacca boots with faux fur are just adorable as well.
Po-Zu is already known for their screen accurate replica Rey boots so it seemed like a brilliant meld for them to do an entire line based on film replica boots and original designs. As far as licensed footwear goes, these are some of the best options available. They're comfortable, durable, and stylish. What's more? The shoes are all ethically produced and made of vegan materials.
You can order them at the Po-Zu website.
Darth Vader Minimal Black Crossbody Duffle Purse
Join the Dark Side with this Darth Vader purse. The minimalist design keeps the look sleek and classy. It's a great addition for anyone who likes their fandoms more subtle and understated. While it won't be out until July, it's definitely a handbag to look out for! When it comes to Star Wars purses and handbags, look no further than Loungefly. They've consistently produced licensed, high quality products with an eye for detail.
You can pre-order it now from Entertainment Earth!
Star Wars Princess Leia One-Piece Swimsuit
With summer coming up fast, who doesn't want to look like royalty by the pool or seaside? This Princess Leia bathing suit offers exactly that opportunity. Modeled after Leia's classic look from A New Hope, this white one-piece has her belt printed all the way around and features a silver rebellion symbol on the shoulder.
These bathing suits are available from size S-2XL and can be found at Think Geek.
General Leia Organa Ring Replica
She will always be royalty to me. And what better way to represent our General Princess in everyday fashion than with this replica ring from The Force Awakens? An officially licensed replication from the film from Body Vibe, this is a great replication of Leia's signet ring and comes with an adjustable band. Made of stainless steel with gold plating, it's a good quality piece for the price tag.
You can order General Leia Organa's Signet Ring here.
Prophecy Girl Dark Side of the Moon Scarf
Maybe you prefer to follow the Galactic Empire? Then this imperial inspired scarf is for you. The design is inspired by those long hallways of the classic Star Destroyers and it comes in either red or white, depending on your preference. The tube scarf is really versatile and goes with just about everything, even when you want to show off your Imperial standing.
You can order one at Prophecy Girl Clothing.
Sith Lord Hooded Coat
Ready to rise? Or maybe it's time to let the past die and rule the galaxy. Either way, there's no mistaking your allegiance with this Sith Lord coat. Sleek, menacing and certainly stylish, it is the little details on this jacket that make it such a great garment. Let me just say that Musterbrand makes some amazing clothing. Their line is consistently high quality and features tailored, beautiful designs. So while this coat looks amazing in photos, it looks even better in person.
The Sith Lord Hooded Coat is available on the Musterbrand website. It also comes in a Sith Lady version.
Star Wars Millennium Falcon Tie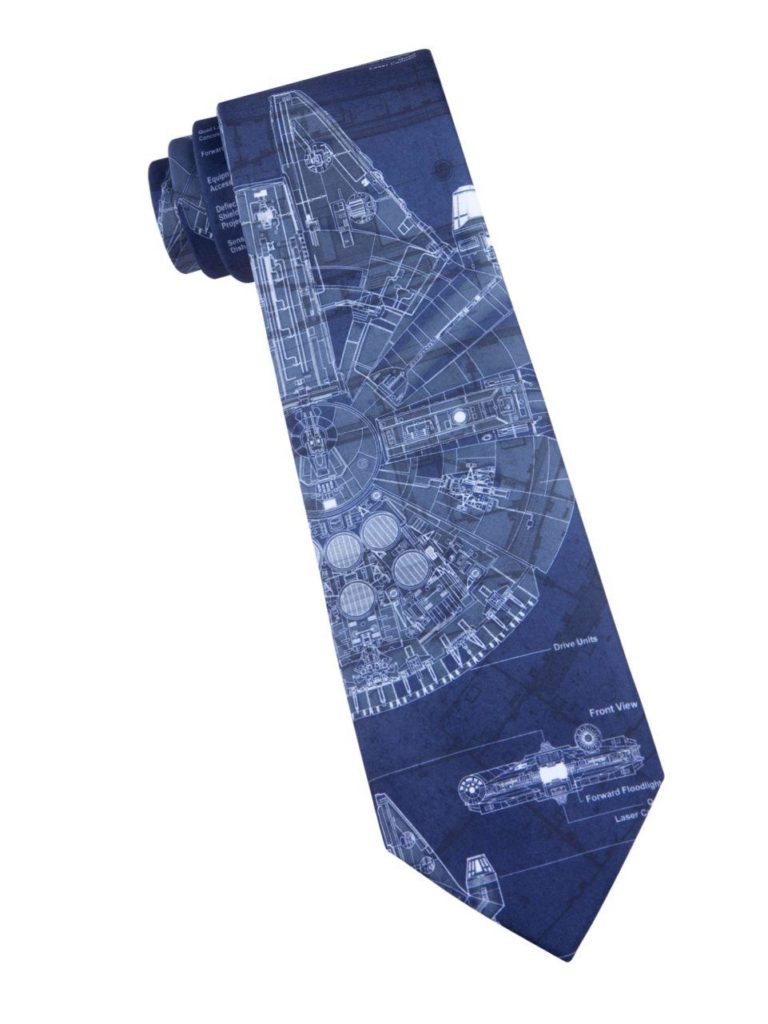 This one is for the spaceship geek in all of us. The Millennium Falcon blueprints are featured prominently on this tie, though the design isn't overwhelming or too garish for a formal setting. The ties come in six colors (including navy, red, green, teal, royal blue, and black) and are also officially licensed.
You can order one from Amazon.
Rose Tico Medallion
Sometimes you run across screen-accurate pieces that look great out of costume as well as in it. This medallion from The Last Jedi, a replica of the one Rose Tico (and her sister Paige) wears in the film is exactly one of those. While not quite Haysian Smelt, this high quality pendant is an excellent addition to your costume or just as a subtle nod to the latest Star Wars film.
You can order one from etsy.
https://www.etsy.com/listing/581783631/haysian-smelt-medallion-necklace-ver2
Torrid Solo Black Faux Leather Mini Skirt
Hot Topic isn't the only one with a collection from Her Universe. Torrid has a number of exclusive items as well. Favorite in this line is this black faux leather mini-shirt. It's subtle, colorful, and great for a number of occasions. Metal studs along the waistband bring in little of that retro flair. The floral pattern on the bottom is actually Sabacc cards and dice. How cool is that??
You can pick it up at Torrid in stores and online.
Torrid Solo Ombre Woven Tank
The next piece from Torrid is a little more casual than the first. The sunset ombre pattern adds a little more style to a simple tank. The lattice cutout on the front is a nice touch that draws the eye and of course, the Millennium Falcon is the main feature even off-centered.
Like the skirt, it is available from Torrid in stores and online.
Star Wars Leather Cuff Bracelets Etsy
Sometimes you want something a little more unique and understated to wear out. And sometimes you want an accessory that does just that, like these Star Wars inspired handmade leather cuff. You can get Leia's belt design or Han's distinctive bloodstripes laser-etched on a real leather bracelet . The unisex design can be sized for your comfort.
Custom leather cuffs can be ordered from LegendaryCostumeWrkz on Etsy.
Galactic-Inspired Leggings
It's rare to see apparel (or merchandise) inspired by Darth Maul. The Dark Apprentice leggings from Poprageous are really eye-catching and definitely unique. You can pick up the matching crop top as well. They are a perfect way to show your allegiance to the Sith. These leggings are high quality made with thick, durable fabric made to last.
Poprageous has a number of styles that are Star Wars inspired on their website, including Phasma-inspired leggings and long-sleeved crop top and more!
That's it from us this time! What are your favorite Galactic-inspired fashion pieces? Let us know in the comments! And as always, May the 4th Be With You!