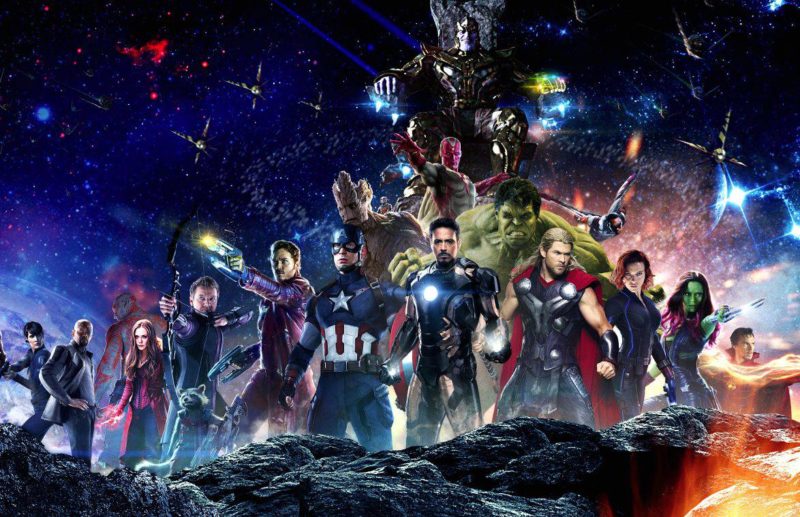 Fandom Fashion – Avengers: Infinity War Edition
Article by CL Vitek
Over a decade in the making, Avengers: Infinity War is finally here. Projected to pull over 200 million dollars in its opening weekend, it's slated to be one of Marvel's biggest films yet.
With the hype around the release, we're seeing more fashionable apparel and accessories inspired by our favorite characters in the franchise than ever before. From cornerstone characters of the MCU like Captain America and Iron Man to the mad titan Thanos himself, there's something for every fan. Given our excitement over the premiere, it's no wonder we're just as excited to rep our favorites after the film (or maybe even for round two or ten). Here's our list of picks for some of the stuff we love:
1 – Marvel Avengers: Infinity War Eye Shadow Collection
Her Universe has released a number of new collections in anticipation of the film's release. First up on our list is a relatively new venture for the brand: a line of make-up and fragrances. The Infinity Eye Shadow Collection has garnered the most buzz in this line. It's easy to see why. The packaging for the palette is clever and the colors really pop. These shades are inspired by the Infinity Gems themselves and also some great, more neutral colors to pair them with. For the price, you get a nice collection of twelve colors and the distinctive box.
The palette is available at Hot Topic.
2 – Her Universe Marvel: Infinity War Infinity Stone Apparel
The second line released from Her Universe is the Avengers: Infinity War clothing. The line is mostly active-wear appropriate tops and skirts that are themed to their corresponding Infinity Stones. There's a lot of black, which really makes the accent colors pop. These are all so cute and look comfortable. They seem perfect for lounging or for a casual evening out.
You can get them all at Her Universe.
3 – Infinity Gauntlet Tie Clip
Whether attending a wedding or any other formal event, this tie clip is perfect for Thanos fans or anyone else looking to rule time and space with some style.
Available on etsy, you can also find a set with matching cufflinks at Wearable Collectibles.
4 – Fan Jackets Infinity War Collection
Time to suit up – and this collection of film-inspired jackets from Fan Jackets allows you to do just that. Their jackets are all leather and feature a number of film replica pieces at an affordable price. A lot of them can double as cosplay pieces as well as stylish additions to anyone's wardrobe.
My favorites include the Tony Stark Infinity War jacket – a replica of Stark's casual look from the film – and the Spider-Man Infinity War Jacket sporting the new logo inspired by Spidey's new look.
You can shop the whole collection at Fan Jackets.
5 – Infinity Gauntlet Handchain
Sometimes you just really need to rule the universe. What better way to do that than having your own Infinity Gauntlet inspired jewelry? This Infinity Gauntlet Handchain from BeeesBeads is great for a Thanos inspired outfit or just when you feel like wielding the Infinity Stones. This is a custom piece and is made to order.
Currently available on BeeesBead's etsy shop.
6 – Infinity Gauntlet Earrings
What better way to subtly reveal your quest for the infinity stones than with these Infinity Gauntlet earrings? You'll certainly feel like you can control time and space while wearing these!
Get them at Think Geek!
7 – Think Geek High Top Sneakers
Saving the galaxy? Never forget the right footwear! These officially licensed high top sneakers are made of faux leather with rubber soles. They're a great way to add something your fandom in everyday wear. The color palettes are muted to complement a lot of different looks.
At the moment, they just come in men's sizes. As Think Geek exclusives, they are only available on their website. They currently have three styles available: Black Panther, Captain America, and Guardians of the Galaxy Baby Groot.
8 – Marvel Minimal Short Sleeve Shirt
Avengers Assemble! Casually. This lightweight short-sleeve button up is casual enough to wear every day, and it offers an alternative to the typical fandom tee. The button up features Cap, Iron Man, Hawkeye, and Thor in retro-style. The classic Marvel colors really pop on the white fabric and are great for spring and summer wear.
It's also available online at Think Geek!
9 – Black Panther Kimoyo Bead Bracelet
RockLove Jewelry has outdone themselves with this bracelet. These are licensed, screen accurate replicas of the Kimoyo bead bracelets seen in the Black Panther film. While not made of actual vibranium, each set of glass beads is etched with silver sigils and has a prime bead with glow-in-the-dark textured enamel.
Order the bracelet and other gorgeous Black Panther-inspired pieces online at RockLove Jewelry.
10 – Jordandene Marvel Inspired Shirts
Sometimes less is more, as these two shirts prove. Featuring quotes from Black Panther and Avengers: Age of Ultron respectively, you can show off your favorites in a subtle way.
Jordandene pulls notable lines from your favorite stuff and lets you wear them. The calligraphy is all hand-drawn, giving each design a unique look. Understated but recognizable, these are a great addition to your wardrobe. Plus their shirts are so soft and cozy, you'll want to wear them everyday.
Both shirts are available in unisex tanks or tees at the Jordandene website.
11 – Infinity Watch
Not quite the time stone, but this exclusive Infinity War watch from SuperHeroStuff still sports fragments of the infinity stones, making it easier to control time. Or at least to tell it. The motif features the golden Infinity Gauntlet in the front surrounded by the stones.
You can preorder this Infinity Watch at the SuperHeroStuff website. It's slated to be released this June.
12 – Stark Tech Savings Iron Spider Wallet
Looking for a new wallet? The Stark Tech Savings Iron Spider Wallet might be exactly what you're after. The textured outside and bright colors make this an eye catching piece without being too bulky. Made of faux leather and embroidered to replicate Spidey's costume upgrade featured in Infinity War, you won't want to miss this limited piece!
It's available for pre-order on at Merchoid.
13 – Warrior King Cardigan
This Black Panther inspired piece is phenomenal. From Elhoffer Design, the Warrior King Cardigan is cropped and features a buttoned front. The silver triangle motif around the color is such a lovely, subtle touch to represent the character and adds a bit of . The cat-eared hood adds a cute touch too. Even better? The hood is removable, giving you multiple ways of styling it depending on whether you're going for casual or classy looks.
This cardigan is from Elfhoffer Design and can be found on her website. It comes in size XS-3X.
14 – Besame Cosmetics Infinity War Collection
A few days ago, Besame Cosmetics released the news they were working on a line of Infinity War themed cosmetics. From the look of it, they'll have a set of metallic shimmer eyeshadows inspired by the Infinity Stones and another set of lipglosses in the same color palette. The packaging, designed to look like something from The Collectors fortress, really sells the theme. The Besame line is no stranger to Marvel Collections, having already released the well-received Agent Carter line of lipsticks. Known for high quality products, this should be no exception.
While an actual release date hasn't been confirmed, we'll be keeping an eye on the Besame website to find out when they'll ship!