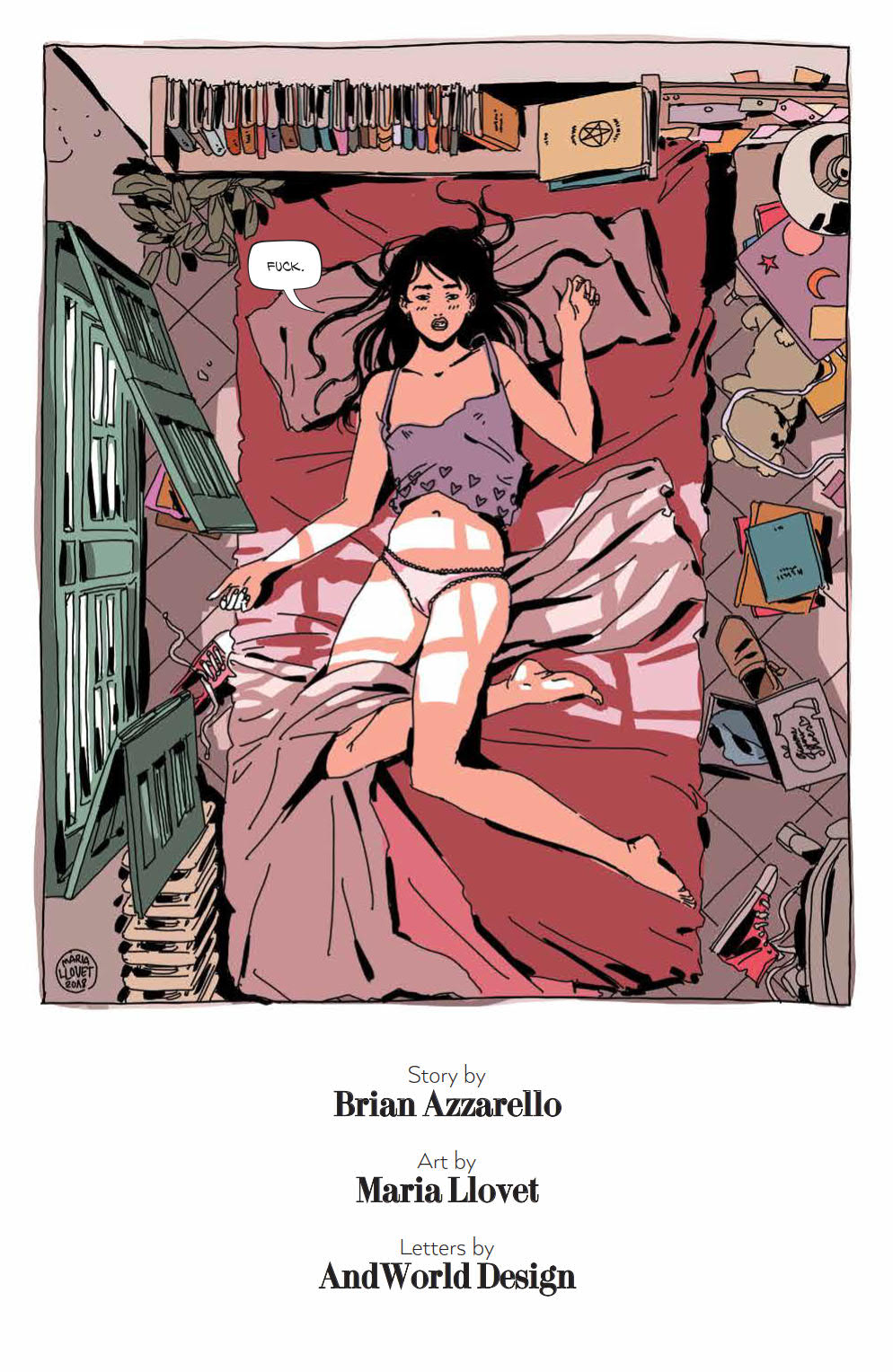 Faithless #1
Writer: Brian Azzarello
Artist: Maria Llovet
Letters: AndWorld Design
Publisher: BOOM! studios
A review by Brendan Hykes
The cover to Brian Azzarello and Maria Llovet's Faithless declares it "An erotic depiction of faith, sex, and the devil in the tradition of the divine comedy." And I'll be damned if that ain't the truth. This is definitely a "mature readers only" book. As the title would suggest, the main character, Faith, is missing something. This is made evident within the first two pages as she tries, and fails, to get herself off.
The rest of the issue follows in a competent, if not super-eventful, manner. Faith dabbles in witchcraft but seems pretty laissez-faire about it. She banters with her stock-character friends before (literally) bumping into Poppy. Poppy is an obvious manic-something-dreamgirl; hot, carefree, irreverent, and so-on. Faith is pulled along in her wake, and if the path their day takes is predictable, the final page of the issue is anything but.
Witches are a popular commodity right now. While Faithless doesn't do anything radical with them, it's a competently written story with enough of its own charm to get by. Azzarello uses well-worn tropes to put the reader into a comfortable space and then twists them just right to shake your sense of ease. He hands you the classic girl-meets-girl scenario but throws in an unsettling encounter with an obsessed ex to make it clear things aren't quite right.
But the real star of the show is Llovet's art. Loose and casual, the story sits perfectly in her style. She provides an incredible level of detail but never lets it overwhelm the story's flow. The characters are expressive and energetic. Poppy's stance alone in any given scene is fascinating. Even in erotic situations, Llovet never draws them in a hyper-sexualized way. Faith and Poppy are the epitome of New York bohemians, fully realized under Llovet's designs.
VERDICT: Buy it!
The art alone is worth the price of entry, the story is more than enough to keep you interested, and the final page will have you excited for the next issue.