Faith #11
Writer: Jody Houser
Artist: Joe Eisma, Marguerite Sauvage
Colorist: Andrew Dalhouse
Letterer: Dave Sharp
Publisher: Valiant
A review by Josh Rose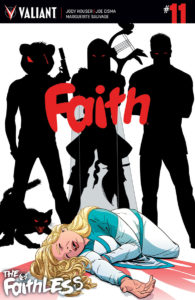 Faith #11 sees Faith Herbert in big trouble. She's been galavanting around Los Angeles fighting crime and saving the city and now her greatest foes have united to take her down once and for all by running her through a gauntlet of trials.
Sidney Pierce, Chris Chriswell, Murder Mouse aka Jeff, and the cat Dark Star have joined forces to become "the Faithless". After releasing the Vine aliens (who look human) from prison forcing Faith to run herself to the point of exhaustion chasing them around, Sidney Pierce impersonates Faith and kills one of the Vine in public. Wanted for a crime she did not commit, Faith has to clear her name and take down the Faithless.
Jody Houser is really raising the stakes for our hero. She lets us know that Faith is exhausted and running on empty, but also uses plenty of comic relief to keep Faith #11 fun and light.
One of the things I enjoy about this series is Marguerite Sauvage's dream and fantasy sequences. They're crazy and beautiful, and one is a homage to The Attack of the 50 Foot Woman. The homage isn't out of place and even fits in with Faith's love of pop culture while turning it into a personal nightmare featuring her ex-boyfriend Torque. Joe Eisma does an excellent job on the rest of the art, especially when showing off Dark Star and Murder Mouse's powers.
The Verdict
Buy It! Faith #11 is the second issue of the Faithless arc, yet I don't feel like I need to go back and read the earlier issues to know what is going on. However, I've missed a few issues of Faith and I don't know who most of Faith's nemeses are. I enjoyed this book without prior knowledge, but knowing who the villains are would enhance enjoyment of this book.