It's hard to believe that last year's 92nd Academy Awards was one of the last televised live events in which many major celebrities gathered in person before the global pandemic erupted. Since then, many award shows have gone virtual as Hollywood navigates COVID restrictions and delayed movie releases.

This year, the 93rd Academy Awards will look a little different, but not for the reasons you might think. While the award show was pushed from its usual February spot to April 25, it is still planned to feature a live audience. Strict COVID measures will be held onsite and broadcasting will be done in several different venues to control crowds. But the contender pool of movies is smaller and more independent than usual, especially since the Academy has allowed streaming-only movies to qualify.

It has been a strange year for Hollywood. With the future of theatres, content streaming, and pushed-back movie dates still in the air, the Academy has managed to nominate eight titles for best picture. They announced the contenders in January and I took it upon myself to watch all the films. Here are my thoughts and predictions on each of them:

THE TRIAL OF THE CHICAGO 7
This film is probably the most polished and stereotypically "Hollywood" out of all of the nominees. Directed by Aaron Sorkin and with a stacked cast including Eddie Redmayne, Sacha Baron Cohen and Joseph Gordon-Levitt, this movie was a shoe-in for an Oscar nomination. The story is based on an actual historical event. However, if you're a history buff this film may frustrate you with the liberties it took for the sake of cinema. It evokes a time and a feeling without actually accurately recounting it. But it's easy to go along with because it's beautifully written in that way that only Sorkin can manage.

What's also great about this film is the timing of this particular story. The Trial of the Chicago 7 (2021) was filmed in 2019–just before the George Floyd and Black Lives Matter protests took off–and the 1968 Democratic National Convention protests echo the current world we live in today, which makes this story relevant.

Will it take home the big prize? Probably not. As someone who wasn't too familiar with this historical event (I'm Canadian), I went in with mediocre expectations but found myself invested in the characters.

SOUND OF METAL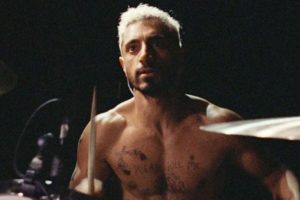 In the middle of the global pandemic, when the world was forced to stand still, we were given a story about a man whose life is also put on hold–for different reasons. Riz Amed plays Ruben Stone, a drummer in a heavy metal musical duo. It is comprised of him and his partner Lou (Olivia Cooke) on and off the stage. His life revolves around making music with Lou, travelling in their home RV, and playing gigs across the United States. That is until everything is halted by sudden hearing loss which, in turn, also results in a loss of his identity. We witness him struggle with his disability as, eventually, he learns to let go of what his life used to be and lean into his "new normal"–a term we've all become familiar with over the last year.

Director Darius Marder does a beautiful job conjuring a world in this film. It is detailed and realistic with a universal appeal. All the performances were shot live in front of real crowds and all the scenes featuring American sign language (ASL) are accurate. The movie shows other nuances, as well, that really display what the Deaf community is all about. Furthermore, Sound of Metal (2021) is presented with open captions which allows Deaf and hearing audience to experience the film together.

Sound of Metal is deserving of its best picture nomination. However, I don't think it will take home the big trophy. I predict Riz Amed will take home the Oscar for Best Actor. His intensity and commitment to a role that heavily relied on his movements, glances, and very posture over dialogue shows Amed's caliber of talent. I can see Sound of Metal nabbing its sound nomination as well. It would be very fitting, after all.

PROMISING YOUNG WOMAN
I think it's fair to say that Emerald Fennell's directorial debut Promising Young Woman (2021) is the most talked about contender on the list and it's not hard to see why. Carey Mulligan plays Cassie, a medical school drop out spiraling among grief, rage, and revenge over what happened to her best friend Nina. In the midst of the #MeToo movement (and given that the entertainment industry is pretty much front and center of it), this film's relevance is uncanny.

I'm not sure what it says about me for enjoying this controversial film the best out of the eight, but everything about it resonated with me. The casting is excellent! Notables include Alison Brie, Jennifer Coolidge, Laverne Cox, Bo Burnham, and Molly Shannon–to name a few. The film's aggressively feminine style with the cotton candy pinks and baby blues masks the sinister intentions behind the angelic looking protagonist. Her only will to live is vengeance. 

This film is a character study meets a rape-revenge satire meets a thriller, and I'm so here for it. What I love about Promising Young Woman is that it lays out early on that Cassie is not meant to be seen as a superhero we cheer on. She's no bride from Kill Bill (2003). From the moment we're introduced to her, she is a shell of her former self, sustained solely by the revenge consuming her. While the ending polarizes its audience, I'm part of the group who enjoyed every moment of it.

Up for five Oscars in total, Carey Mulligan has a good chance of taking home the Actress in a Leading Role Oscar. Fennell may also nab the Original Screenplay trophy, but it's not going to win the biggest prize of night. While Promising Young Woman sparked something within the Academy, there are stronger titles with less contention in the Best Picture category.

MINARI
Minari (2021) is a classic immigrant story about the search for the American dream but with a few unique details. The film follows a Korean American family who moves from California to Arkansas in hopes of starting a farm for Korean vegetables. Jacob, played by the ever-so-talented Steven Yeun, and his wife Monica (Yeri Han) arrive from Korea in the 1980s. They take jobs working as chicken sexers while raising their two young American-born children Anne (Noel Kate Cho) and David (newcomer Alan S. Kim). Eventually their grandmother (Yuh-Jung Youn) comes to live with them. She adds some sass and steals the limelight at times. We watch as they work hard, struggling to belong and find their footing, while also maintaining their culture and traditions.

Based on writer/director Lee Issac Chung's childhood, this story comes across as a well-loved classic. This film speaks to many voices and recreates these roles perfectly: what it's like to be a child, a hard-working parent, a grandparent, or, more specifically, an immigrant in a new country. Beautifully shot with gorgeous landscapes, you can almost feel the sun on your face as you watch.

This family drama filled me with so much emotion and moved me beyond belief. It's sentimentality and rawness of watching the difficulties of raising a family in an unknown place, while working towards a better life, is a story we all need at this moment. With the rise of Asian hate in North America, this film grounds us and emphasizes that we're not all that different from one another.

I would love to see Minari flourish and win the Best Picture Oscar. It has a good chance to take it–especially after Bong Joon Ho's triumph last year with Parasite. We'll have to tune in on Sunday to see if the Academy agrees with me.

THE FATHER
I have such a soft spot for anything with Anthony Hopkins in it. His role as a character also named Anthony is some of his best work yet! We the viewers are placed within the mind of Anthony who is suffering from dementia. We experience his confusion as if it were our own. Throughout the film we never know what's true, or who's really who for that matter. Characters come and go from his flat, and names and identities change depending on his recognition of them.

Writer/Director Florian Zeller adapted his 2012 prize winning play with the same name for cinema. The film does really play out like on a stage. Actress Olivia Coleman plays Anthony's daughter Anne. She comes along for the ride trying to control her father's sudden mood swings and the utter confusion around him. This film's narrative takes you through twists and turns, but not in a gimmicky way. It keeps you on your toes. It shows us how deeply unsettling it can be to lose the people and imagery we rely on to define us. For viewers who have experienced this kind of decline with family members, this film may provide some solace.

The Father (2021) has 4 other Oscar nominations on top of Best Picture. One being for Hopkins for Actor In Best Leading Role as well as film editing, production design, and adapted screenplay. I don't think this will take home the big win, but it has a chance at its other Oscar noms. 

MANK
Mank (2021) was an interesting film to say the least. I found that, of all of them, this one was the hardest to keep my attention. I think it may have fared better on the big screen. David Fincher's latest film since 2014's Gone Girl is about Herman Mankiewicz, known to many as "Mank," and his development of the screenplay for Citizen Kane (1941)–the film many refer to as the greatest movie ever made. While I don't fully agree with that assessment, I have such a respect and appreciation for Orson Welles' masterpiece and had no idea of the story behind it.

Shot in black and white, Mank has an Old Hollywood glamour and sleaze to it. The most hardcore cinephiles will appreciate the nods to some 1930s and 40s legends: Josef von Sternberg, Ben Hecht, and George S. Kaufman, to name a few, make an appearance on screen. The movie uses script cues as titles and, as the film goes on, we start to see how everything in it feeds into what made Citizen Kane. Written by Jack Fincher, David Fincher's late father, Mank is lusciously evocative and sharply written.

Nominated for 10 Oscars, the most out of all eight Best Picture nominees, Mank has a chance to sweep all the trophies, although I doubt the Best Picture Oscar will be one of them.

NOMADLAND
Nomadland (2021) was the talk of the Toronto International Film Festival last year. After it's sweep of all the awards this season, it's easy to see who the major contender may be. Nomadland is an inspiring docu-fictional hybrid of sorts. It is based on a book with the same name written by author Jessica Bruder. We follow Fern (played by Oscar winner Frances McDormand), a widow, who takes to the highway in a van that she customizes with a sleeping alcove, a cooking area, and a storage space for the few keepsakes from her previous life.
The film shows us a side of the USA we may never have been aware of before. For those who can't afford retirement, but also can't afford to work while maintaining a home, are turning to the nomad life. They roam the country in camper vans, taking up odd jobs and seasonal work to maintain their vagabond lifestyle.

Writer, director, and film editor Chloe Zhao takes great care in capturing the busyness and the monotony of Fern's days: her long hours behind the wheel or at a job and the disruptions caused by weather, interpersonal conflict, or vehicle trouble. Nomadland is patient, compassionate, and open: motivated by an impulse to wander and observe rather than to judge or explain. The landscapes we see, the stories of other wanderers we hear, and the overall pace of this film are humbling.

Nominated for six Oscars total, Nomadland is probably going to take home Best Director and Best Picture. It is deserving of the two! This film really makes an impression, and it would be stunning to see on the big screen one day.

JUDAS AND THE BLACK MESSIAH
Judas and the Black Messiah (2021) is a tense, methodical historical drama directed by Shaka King and based on true events. LaKeith Stanfield plays William O'Neal, a man arrested for impersonating an FBI agent. Given the option, O'Neal becomes an informant instead of doing several years in prison. His job is to infiltrate the Black Panthers as their influence expands and forms allies. Something J. Edgar Hoover–played by Martin Sheen with a poor makeup job–sees as a serious problem.
O'Neal not only gains access but also rises within the ranks. He eventually becomes security captain of the local Illinois chapter and bodyguard to Hampton. During all this, O'Neal begins to lose sight of his mission. Lines blur as his fears of being revealed as an informant intertwine with what appears to be a growing sympathy for Hampton's revolutionary proclamations.

The film at times plays like a crime thriller with stakeouts and shootouts, chases and interrogations. However, it's better to understand Judas and the Black Messiah as a political tragedy. Daniel Kaluuya plays the late Fred Hampton with such bravado and charm throughout the film. Both Lakeith Stanfield and Daniel Kaluuya are nominated for an Actor in Best Supporting Role Oscar and there is no question why. As for a Best Picture win? While it's a strong film overall, I don't see it taking the title from Nomadland or Minari, which are my top two contenders in this category.
WRAP UP
Overall, I see Nomadland finishing strong in it's award season sweep. By winning TIFF's People's Choice Award, I always find Toronto tends to predict Oscar winners pretty well. I feel its Chloe Zhao's year as she has been getting a ton of praise for her work and talent as a filmmaker. It will also be great to see another women win Best Director, as well–following Kathryn Bigelow in 2010.
The awards will be airing on Sunday, April 25, at 8:00pm EST. Tune in, and good luck to all the nominees!