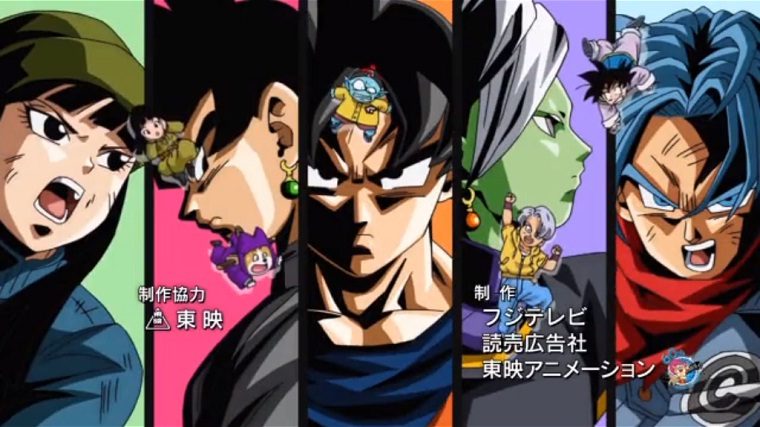 Well, things are getting exciting for Dragonball fans! After being lucky enough to have the series come back at all, Dragonball Super continues the story of the series from Dragonball Z. Canon-wise, it wipes the controversial GT story from the new timeline, and begins right after the Buu saga.
With the release of the show after the two new movies, Battle of Gods and Revival of F, it was expected those stories would be covered in the show. Now that they have been taken care of, things have opened up for a very different, much more in-depth and possibly darker Dragonball series then we've seen up until now.
If you're an avid DBZ fan, you will remember during the Android Saga, Future Trunks was introduced. The world he arrives from is described as a desolate wasteland due to the Androids and it's mostly left up to the viewer to imagine what that could mean. In this latest episode of Dragonball Super, however, we are finally given our first good look at what the world Future Trunks came from is like – and it's not good.
The episode starts out intense with Trunks fleeing some dark entity in the future world. Everything we are shown is in ruins; Trunks seems to be the only person alive in this entire area. We get a few glimpses of the dark figure just firing off energy blasts at random and destroying things in an attempt to find Trunks.  After a bit more fleeing, Trunks enters some sort of safe house area within the surrounding wreckage.
At this new location, which turns out to be Bulma's 'lab', Trunks meets up with Bulma, revealing the reason Trunks risked his life to get here. In typical Bulma fashion, she has managed to build the machine that could fix their problems – an energy-harvesting system that would allow for time travel using another machine at Capsule Corp headquarters. It's been hard at work for a long time, but sadly it only has produced enough of this substance to allow for one trip, one way.
Just as Trunks is telling Bulma (but moreso himself, I think) that things will work out and he will find a way back after fixing things, the somewhat-expected worse comes to pass. The unknown silhouette breaks into the lab, having sneakily followed Trunks! During the confrontation, Future Bulma is quickly and easily…killed, right in front of her son. Trunks has no other option but to flee the overwhelming power of this new antagonist.
Flash to the present for a cute, happy scene of Goku and Piccolo "training" together at Goku's farm. It's a bit jarring to come back to the colour and life of the present after what we've just been treated to. This is mostly how the show has been up to this point – happy.
Meanwhile, in the future, Trunks meets up with Mai – the young girl from the present timeline who is normally working for Pilaf. Through some change in history (or maybe not, since we've seen them flirt as children during Battle of Gods) they are now on the same side. That usually means someone out there is worse than either of them thought the other was. Refer to almost any superhero team up in…ever.
The next few scenes might be the most telling of how people have to live in this future. We see Trunks greedily and happily drinking down a plain bottle of water. Mai brings out a can of meat, her first reaction being "It's not dog food!" It's short but it shows how little they find anything edible, let alone actually made for human consumption.  This was my favourite scene up to this point.
The pair heads out towards the destroyed Capsule Corporation building, where the machine is waiting for this time-travel energy to send someone back to fix all this. It seems no one is ever safe on the surface anymore. The sky darkens, black clouds brew up and a tornado of lightning swirls down to the ground. Inside is the dark being, playfully dodging Mai's shotgun shells. The figure fires off an energy blast at Trunks, completely ignoring the human, and Mai jumps in the way to save their only chance at going back. In an instant, Trunks loses another person close to him.
The figure stands there motionless as the flames burn out, revealing a black-on-black karate gi, a dark red belt, a green fusion earring, and…that famous spikey black hairstyle the series hero is known for. We are given his name by Trunks cursing it under his breath – Black. His appearance is that of a thinner Goku, with an expression of malice.  He proclaims he's finally found his prey – Saiyans. End of episode
.
What does Dragonball Super have in store next? This latest episode brought up more questions than it answered. Why is there still a dark future if the Androids were stopped? Is there even anyone left in the future besides Trunks and Black now? Who IS Black?! Where did he come from? His fusion earring suggests he's not alone, as two are shared between two people to complete a fusion. We have seen many enemies who hate Saiyans for various reasons, but Black himself seems to be one, so…? Even with the new series introducing multiple universes, he was still seen in our universe first, albeit the future of it.
All we can say for sure is it's only going to get more exciting from here. This is an entirely new storyline we've never seen, and as a fan, I'm pumped to see where this goes. Goku has always been the wall of the series. Almost every plot point in DBZ revolved around getting him into the fight or holding out until he could arrive. Here we have a new enemy that is an exact replica of him, but without his human-learned good will and morals. It may seem cliché, but not for Dragonball. It's exactly what the series needed to really make fans worry about if the heroes can save the world this time.