Dodge City #1
Writer: Josh Trujillo
Artist: Cara McGee
Colorist: Brittany Peer
Letterer: Aubrey Aiese
Publisher: Boom! Box
Review by Greg Brothers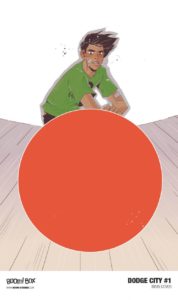 I have been reading comics for many many years. Over all those years I can count the number of comics that I remember about sports on one hand. That changed a few years ago as Boom! started to embrace a genre of comics that had been successful in Manga a long time ago. The key to all these series from Boom! have been that although they exist in the world of sports, they are still character driven. The latest in this line of comics is Dodge City #1, which focuses on the world of dodge ball.
Dodge City #1 introduces us to Tomas. Tomas isn't sure where he fits in. He is hoping by joining the Jazz Pandas that he will be able to find his place. The Jazz Pandas are not a particularly good team. In fact, they haven't won a match all season. What they lack in talent, they make up for in heart.
Trujillo drops the reader right in the middle of the action. In some cases that does not work; however, here it gives the reader the chance to get to know the different players in the element that is going to cause the most pressure for them. The opening splash page with the panel inlets offers our first look at the members of the Jazz Pandas without them saying anything. Slowly as the story moves on we get the chance to learn about each of the members. Do not get me wrong, Tomas is going to be the focus of the story moving forward, but it is obvious that each member of the team will play a role in his development.
While Dodge City #1 does an excellent job giving us an idea of who each of these characters are, the setting feels a bit off. I question why it is that high school students would be playing in an intramural dodge ball league. I think many of the themes about fitting in and finding your place would have worked just as well if it went with college students or young professionals.
McGee's art fits well with the story. It has the westernized Manga feel. The cartoonish features and bright colors remind the readers that this is an all-ages book. The movement within the panels brings the art to life. Meanwhile diverse panel positioning offers a unique perspective for readers and allows their eyes to easily follow the action.
Verdict:
Check it out. Dodge City #1 does an excellent job of introducing this new world and the characters within it. It was not until the last few pages that I was hooked to come back for more. Because of that I cannot give it a full on buy until I see a second issue.