Die Kitty Die: Hollywood or Bust!
Story and Art by: Dan Parent & Fernando Ruiz
Inks by: Rich Koslowski
Colors by: Glenn Whitmore & Anwar Hanano
Letters by: Janice Chiang & Andrew Thomas
Additional Art by: J. Bone, Gisele Lagace & Bill Golliher
Edited by: Tony White
Published by: Chapterhouse Publishing, Inc.
Review by Cory Webber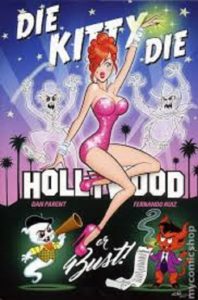 Die Kitty Die: Hollywood or Bust! is a direct sequel to the story to "Die Kitty Die," in which Kitty, a witch, has her publisher trying to have her killed, both in real life and in the comic in which she stars. The various attempts at having her killed off only increased her popularity. This is right where this new volume picks up, with her publisher trying to take advantage of her popularity, and secure film rights to her life story. And this time, someone mysterious is trying to kill her… someone you wouldn't expect at all.
I have to admit upfront that this is not a book I would have ever picked up of my free will and choice. I'm just not the target audience for it. However, there were many elements that I did enjoy about it. The writer, Dan Parent, who has been writing for Archie Comics for a few decades, and actually wrote Archie Comics' first openly gay character (Kevin Keller), has written a comical, if not a somewhat profound commentary on the comics industry, in this Kickstarter-funded book. He makes subtle, and sometimes not-so-subtle, jabs at the industry; namely, their propensity to kill off characters, if only for a while, to increase their popularity; the crazy number of variant covers, ninety-nine in this case, for an "All-New Kitty #1" series. As the story moves out to Hollywood, he also makes jabs at studio executives and their crazy demands for comic properties they know little about, like when the exec in this story demands that Forest Whitaker play Kitty. Aside from the social commentary, there is an actual story to be told — one that involves foes, both old and new, attempting to kill Kitty. Throughout Die Kitty Die: Hollywood or Bust!, there are interludes of pages from back issues complete with editor's notes for references to which issues these pages come from. This only helps to immerse you into the world that Parent has created. One particularly fun back issue was a look back at Kitty going to a summer camp for special kids, like herself, and flashbacks to a prior summer camp for regular kids that did not go so well.
The art in Die Kitty Die: Hollywood or Bust! is very cartoony. The character design of Kitty reminded me very much of Jessica Rabbit. The art really aided the story. I never felt like there was anything missing between the panels. Inks didn't lend too much to the art, which I think is typical for this kind of cartoony art. The main aspect of this style is the coloring. Each page is filled with bright, vibrant colors. I didn't enjoy the art one way or another. It really seemed secondary to the story being told.
Verdict:
Buy it, IF you were a fan of the first one; otherwise, skip it. There was plenty of content, and the back issue interludes were clever in the way they gave background for upcoming chapters in the book. I'm not sure if this needs to be pointed out or not, but this book is not for kids.