I love Twilight Zone, but there's another anthology that have captured my heart as well. Black Mirror hooked me with the concept of technology gone wrong. It's crazy how into technology we are these days for the right and wrong reasons and Black Mirror shows you a future where you those technologies can work in your favor, or work against you.
Last year, season three came out on Netflix and gave a good amount of fantastic. Now, I've put together a small rank and review together of all the episodes of Black Mirror we have so far. Some of these KIND OF contain spoilers, so be warned beforehand. 
13: The Waldo Moment : E3, S2
Starring: Daniel Rigby, Chloe Pirrie and Jason Flemyng, with Tobias Menzies, Christina Chong, James Lance and Michael Shaeffer


No episode of Black Mirror is boring, but I'm pretty sure this one is an exception. "The Waldo Moment" isn't only boring, but it really is straight down to the point and it says a lot without saying very much anything. Jamie Salter (Daniel Rigby) is a failed comedian who took up a job controlling Waldo, a blue bear that interviews and mocks political figures for late-night television. It reminds you a bit of all of figures like Triumph, the Insult Comic Dog or any figure that looks like it can be for kids but it's not. I'm not always looking for a twist, but the straightforwardness of this episode really didn't get to provide a twist anyway. It's about politics, entertainment and showing that anyone and anything can become an important figure if there's just enough power behind it.
12: Men Against Fire: E5, S3
Starring: Malachi Kirby, Madeline Brewer, Ariane Labed, Sarah Snook & Michael Kelly
"Men Against Fire" takes the thought of war and purification and turns it on its head within learning a lesson from the past. Let me explain. "Men Against Fire" turns focus to a future where the undesirables are called Roaches, these are mutated humans that are to be exterminated by soldiers. "Stripe" (Malachi Kirby) and his crew are modified with a chip called MASS that enhances all of their senses in order to fight these roaches. After Stripe's chip malfunctions however, he finally sees who the roaches and the government really are and what they're truly about. This episode is very much functioning lesson about the army and the effect of "protecting the bloodline" of humanity. It's a very deep and grim future, but it's also painfully dreadful to set though some of the time. However, I still do highly recommend it!
11: Hated in the Nation: E6, S3
Starring: Kelly Macdonald, Faye Marsa
On a more cinematic venture, "Hated by the Nation" is one of those episodes that could totally work for movie purposes. I rank it a lot lower on this list for the sheer purposes that I couldn't get into it as much as I wanted to. Don't get me wrong, it's a GREAT episode. It revolves around a police officer, Karin Parke (Kelly McDonald) who's investigating a string of crimes committed against celebrities. She's partnered with techie Blue (Faye Marsay), figuring out they're all tied to social media with the hashtag #DeathTo. The only thing I didn't like about this episode was how long it dragged out for. It seemed like forever until they figure out a little bit more. I understand that's the mystery of it, but it also seems that it should have been a special instead of an episode. It has a ton of connections connecting it to other episodes as well, which was one of the coolest parts about it!
10: The National Anthem : E1, S1
Starring: Rory Kinnear and Lindsay Duncan, with Donald Sumpter, Tom Goodman-Hill, Anna Wilson-Jones and Lydia Wilson
Ah, The episode that started it all. I always like to tell people, if you can get through this episode of Black Mirror, you made it. You did it. You're a winner. It's a tough episode, especially the last bits, but when you get through the whole thing, you just have to raise your hands in victory because it's basically all you can do. "The National Anthem" is something of a nightmare that had a real life headline later on. When Princess Susannah, Duchess of Beaumont is kidnapped, the Prime Minister, Michael Callow, must f*ck a pig on national television in order for her to be let go. They wrestle with the decision on if he should or shouldn't do it. The kidnapper counts down the days until he has to do it and sends them threats (including a finger, thought to be the princesses) to him. It's a story of all eyes are watching you and they're not turning away for a second. By the end of the episode, you really don't know who to feel bad for, but you know that you'll never watch this episode again.
9: Fifteen Million Merits: E2, S1
Starring: Daniel Kaluuya, Jessica Brown Findlay and Rupert Everett, with Julia Davis and Ashley Thomas
To be fair, I'm a pretty biased of this episode because it just made me so goddamn sad. I actually had to walk away from the TV. This world greets you with it's entertainment shows (game show, porn channel and exercise activity) and exercise machines. It tells you that this is the kind of stuff that rules you and this is the stuff that you should be thriving for. Bing (Daniel Kaluuya) lives in this world of overstimulated entertainment mixed with over exercise. He collects currency called Merits. This helps you buy things or skip and ignore advertisements or programs that you don't want to pay attention to, but they come with a price. Bing feels like he's a slave to their world and when he meets Abi (Jessica Brown Findlay), he feels himself coming alive for the first time, especially when she sings. He buys her a ticket to go on their singing show (kind of like American Idol) and when she goes, both of them have to settle for what comes next. (Spoilers: it's not good and it makes you want to cry.) This episode could totally happen in real life and I think that's what's so odd and sad about it.
8: Playtest: E2, S3
Starring: Wyatt Russell, Hannah John-Kamen, Wunmi Mosaku and Ken Yamamura
At NYCC '16, we were privileged to watch this episode for the first time. It bugged me out to the point where my friends and I called our parents to immediately tell them we loved them. "Playtest" speaks to the gamer in all of us. The ones seeking thrills and excitement outside of their home. Cooper (Wyatt Russell)  is travels the world to escape his home life. He travels all around the world, having the best time he could have while ignoring the calls from his mother. He ends up in London, finding out he has no more cash, he has to take any job he can get. A girl tells him about a job for SaitoGemu, a gaming company that's testing out a new field of gaming. He agrees and the night he spends in this house is one he won't forget. This entire episode is so much apart of who we are, as seekers of thrill and as people who want to escape, but it all come back around full circle when you least expect it. "Playtest" is a gem of an episode and please, dear god, don't forget to call your mum.
7: Shut Up and Dance: E3, S3
Starring: Alex Lawther & Jerome Flynn
"Shut Up and Dance" starts out as one of those normal episodes. Kenny (Alex Lawther) is a teenager who puts a program (malware) on his computer to get rid of some viruses that was put on there. However, this program contains a virus of it's own and a hacker has set their sites on Alex, recording him as he's masturbating through his webcam. The hacker immediately makes Kenny do everything he says and he does every single thing, just so his biggest secret doesn't come back to haunt him. I was honestly taken back by this episode in the best ways? You always kinda hear about those stories of don't masturbate in front of your computer. I mean, if you haven't seen it on SVU, turn on your TV, but this episode takes it to a whole new level and more. Please watch this episode because… wow.
6: Nosedive: E1, S3
Story by : Charlie Brooker
Teleplay by : Rashida Jones & Mike Schur
Starring: Bryce Dallas Howard, Alice Eve, James Norton and Cherry Jones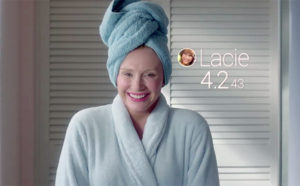 Being popular kinda sucks. Working hard to keep your popularity in check? That sucks even harder. Imagine a world where you have an app that keeps tab on your popularity depending on your actions with other people? Now, they rate you. You have no idea what they're gonna rate you, but you have to keep that smile, that energy, the extreme bubbliness up. Each and everyday, you have to interact and you have to be polite. That's the world that Lucie Pound (Bryce Dallas Howard) finds herself in. Everyone has a rating app that gives you stars out of five. Lucie is a 4.2 at the start of the story, but as it progresses, circumstances cause he go lower and lower on the scale. This teleplay was written by Rashida Jones and Mike Schur and they did a great job. It captures what it's like to keep up appearances and when technically has such a gripping hold on you and doesn't let go. It also captures the freedom and guts it take to let yourself go and be who you wanna be without a rating and a phone in your face.
5: White Christmas : SPECIAL EPISODE
Starring: Jon Hamm, Oona Chaplin and Rafe Spall with Natalia Tena
A christmas special! In this three part super sized Black Mirror episode, we are introduced to a story like no other, a star studded cast and a lot of ammo behind it to make it so great. This episode is set between season two and season three, so you won't get to it fast, but dammit is it worth it when you get there. Two men, Joe Potter (Rafe Spall) and Matt Trent (Jon Hamm), wake up in a bunker on Christmas Day. They are stationed in this remote place, complete with furniture and fixing and while Matt cooks them something to eat, they tell the stories of how they came to be in this place together. If I tell you any more about this episode, it will completely ruin the fun, but this is one of the best episodes of Black Mirror and that's why it's in the top five. It's heavily ambitious with story and very well thought out. Charlie Brooker outdid himself within this story because it's absolutely genius the way he put all of this together.
4: Be Right Back : E1, S2
Starring: Hayley Atwell and Domhnall Gleeson, with Claire Keelan, Sinead Matthews, Flora Nicholson, Glenn Hanning, Tim Delap and Indira Ainger
I will go down in history and say that this episode is one of the BEST Black Mirror episodes that's always overlooked. It's very simple, set in practically one location throughout, but it has the most lovely and beautiful moments inside of it that I've only ever seen in indie films. Martha (Hayley Atwell) and Ash (Domhnall Gleeson) move to a house in the countryside that used to be Ash's house from a long time ago. Ash is completely into his technology while Martha enjoys the life around her. Despite this, they're completely mad about each other. One day Ash gets into an accident while driving and leaves Martha all alone, at his funeral, a friend tells her about a product that will be able to let her speak to Ash again. High skeptical, but curious, Martha signs up for the product and the results are not what she expect at all. Everything about this episode is so deeply perfect that the two people to praise for making this episode what it is are Hayley Atwell and Domhnall Gleeson. They do a spectacular job in this and if you don't even like the episode afterwards, you have to give it up for their acting.
3: The Entire History of You : E3, S1
Starring: Toby Kebbell and Jodie Whittaker, with Tom Cullen and Jimi Mistr
Jealousy is kind of a bummer. Ask Liam Foxwell and I bet you he'll tell you how it ruined his life for good. 😀 Nah, but seriously, this episode is a really big thing about jealousy and how it can affect you. Liam Foxwell (Toby Kebbell) is a lawyer who is basically on the up and up. He's trying desperate to earn a position, but it's not working out for him. He replays the entire meeting with his employer from a grain he has. A little device in your eye that allows you to rewind and playback memories and events in your life. When Liam and his wife Ffion (Jodie Whittaker) go to a dinner party that's set up by friends, he meet Jonas (Tom Cullen *swoon*) who's not only a looker, but happen to be be an ex lover of Ffions. Liam becomes more and more paranoid about the relationship. His jealousy starts to consume him to do some really stupid stuff that later comes to bite him. This isn't only sad, but it's very much a big life lesson to leave the past in the past. Fun fact! Robert Downey Jr. optioned to make this into a feature length film through his own production company. So, hopefully we'll be able to see this play out on the big screen. Hopefully… with the same actors. *crosses fingers*
2:  San Junipero: E4, S3
Starring: Gugu Mbatha-Raw & Mackenzie Davis
If you've ever said, "GOD, WHERE'S THE HAPPINESS IN THIS SHOW?!" Look no further than "San Junipero." If you haven't heard about the joy of this episode, either via Tumblr, Twitter, or any leading social networking site, you are sorely missing out on something positive and fantastic. In 1987, Yorkie (Mackenzie Davis) meets a girl named Kelly (Gugu Mbatha-Raw) in a crowded dance club in San Junipero, California, as Kelly is trying to get away from a pushy guy and Yorkie is trying to gather her bearings. After a night of flirting, dancing and getting to know each other, they're instantly attracted to one another, but something gets in the way. Both of them carry something that they have to deal with, but their love transcends all centuries and time. This is the single (and only) most positive episode of Black Mirror from start to finish. I mean, you could totally argue Nosedive, but let me have this. The chemistry between Gugu and Mackenzie keep this episode going and you become invested in where this relationship is going to end up. When you figure out the twist to this episode, it's not even a surprising twist, but something so delicate and endearing. This is also the first queer episode that we've seen from the series and it was a HUGE hit. The only criticism I have is that I wish it was just as long as "Hated by the Nation."
1: White Bear: E2, S2
Starring: Lenora Crichlow and Michael Smiley, with Tuppence Middleton, Ian Bonar, Nick Ofield, Russell Barnett and Imani Jackman
One of the BEST Black Mirror episodes. There, I said it. This one had me hooked right out of the gate and it epically blew my mind when the twist happened. Victoria Skillane wakes up in a room. She doesn't know where she is, who she is, or how she even got into this house in the first place. There are things left behind for her. Shoes to put her feet in, pictures to jog her memory, but the most disturbing part is when she steps outside. There are people watching her. They aren't doing anything. They're just watching her, some of them have their phones out, almost like she's an animal in a zoo. She's confused and terrified, but she keeps asking, asking about who she is and what they're doing. When a man pulls up in a car, shotgun in hand and start firing at HER (not the people around her, JUST HER), she makes a run for it and there she meets Jem, a girl who's about to accompany her on one of the most confusing and terrifying journeys of her life.
Holy f*ck. I didn't know who I was until I saw this episode. This one is one of those that you have to let it sink in a bit about how a lot of systems and stuff work. I won't say anymore to give it away, but this episode probably has one of the best twist on the show.
All these episodes are now on Netflix. Watch them, bring snacks, cuddle up with a animal if you can. It's gonna be a long couple of hours.