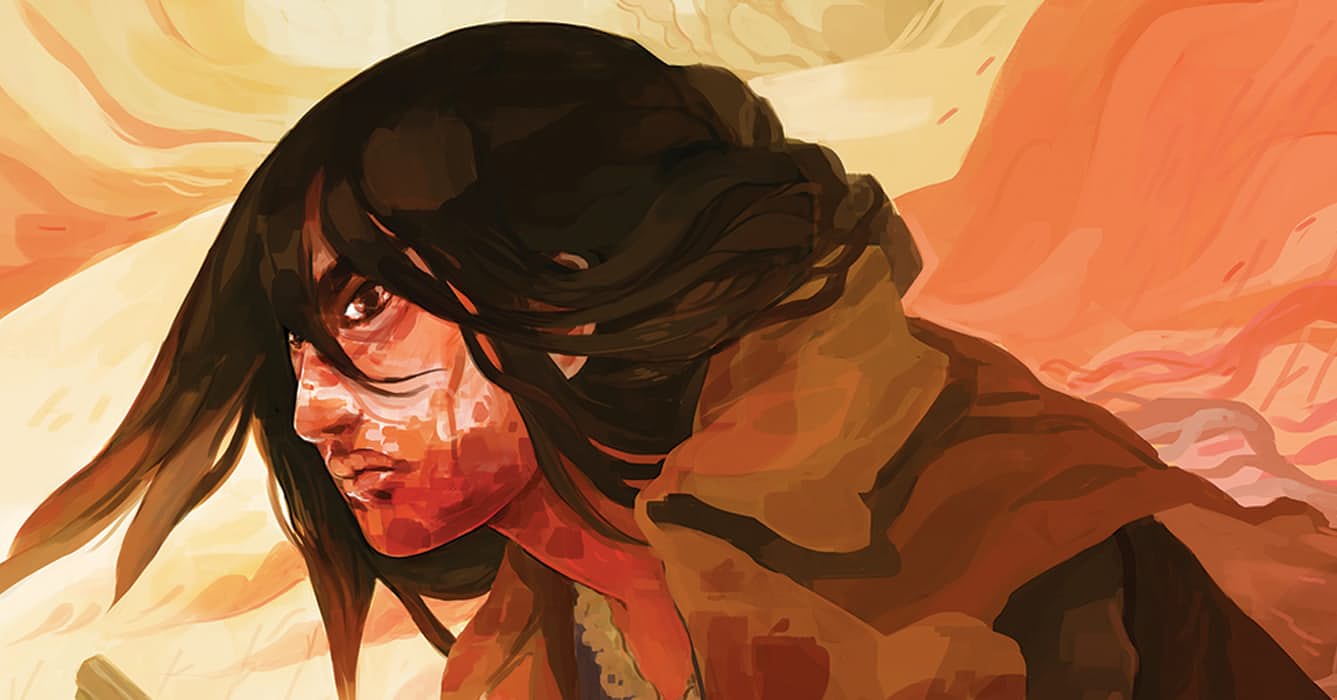 Death Be Damned #1
Writer: Ben Acker, Ben Blacker, Andrew Miller
Artist: Hannah Christenson
Publisher: BOOM! Studios
A review by Adrian Hodgkiss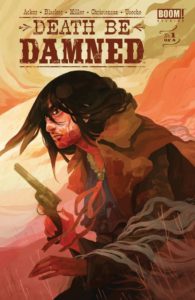 I had no idea what to expect of Death Be Damned #1. I wasn't expecting what I got for sure. It's always nice to get more than you bargained for and that was definitely the case with this book. Ben Acker and Ben Blacker (Deadpool Vs. Gambit, The Thrilling Adventure Hour) join forces with Andrew Miller (co-creator, CW's The Secret Circle) and Hannah Christenson (Jim Henson's The Storyteller: Dragons, Harrow County) for a supernatural tale of revenge in the Old West.
The story begins immediately after seven outlaws have just killed Miranda Coler and her family. However it seems her death is a little less permanent than they expected. Miranda seems to be unable to die and is dead set on revenge against her family's killers. She rides into town to hunt down the assailants. When her first revenge attempt goes south, she has a chance encounter with the local undertaker Joseph Murray, a man already dabbling in necromancy with his own personal reason to be interested in Miranda's current predicament. It seems Miranda doesn't ever stay dead for long.
I love comic books of all kinds and I love the western genre in movies, but I'm ashamed to admit I've never before tried to combine the two. What?! I hear you cry. I know, crazy but true. After reading Death Be Damned #1, however, I could certainly be persuaded to give other books in the genre a try. There's just so much to be enjoyed here; a bad ass heroine dead set on revenge, gun-slinging cowboys, shootouts, black magic, zombies… I could go on, but I think you get the point. This book hits a real sweet spot for me and I think it will for others too. The two themes of revenge and the afterlife are obviously both quite commonplace in all kinds of media but here the writers have hit upon a strong mix with a dash of mystery and the macabre.
The art here is really strong. The characters are almost sketched onto the page and their features not fully realised until they are in close up in the panel. That's not to say the art lacks detail as some of the interior artwork is really very detailed, I just think it was an intentional decision to draw the characters and their faces in this way. The scenes and buildings really come to life and they are wonderfully well realised by Hannah Christenson. You get the real sense that you are in a small town in the old west, which is perfect. Really excellent work all round.
Death Be Damned will be a limited run of four books, sometimes I prefer to know going in that the thing I'm about to read has a definitive beginning middle and end. This book is certainly none the worse for it if anything I am left wondering how all the plot lines will be reconciled in just three more issues.
The Verdict
Buy It! I really, really liked Death Be Damned #1. I wasn't expecting to like it as much as I did but I ended up really enjoying it. I was left wondering what will happen next and wanting to read more which is not always the case when I try something new. This is an excellent book that I'm more than glad I found time for, maybe you should too.