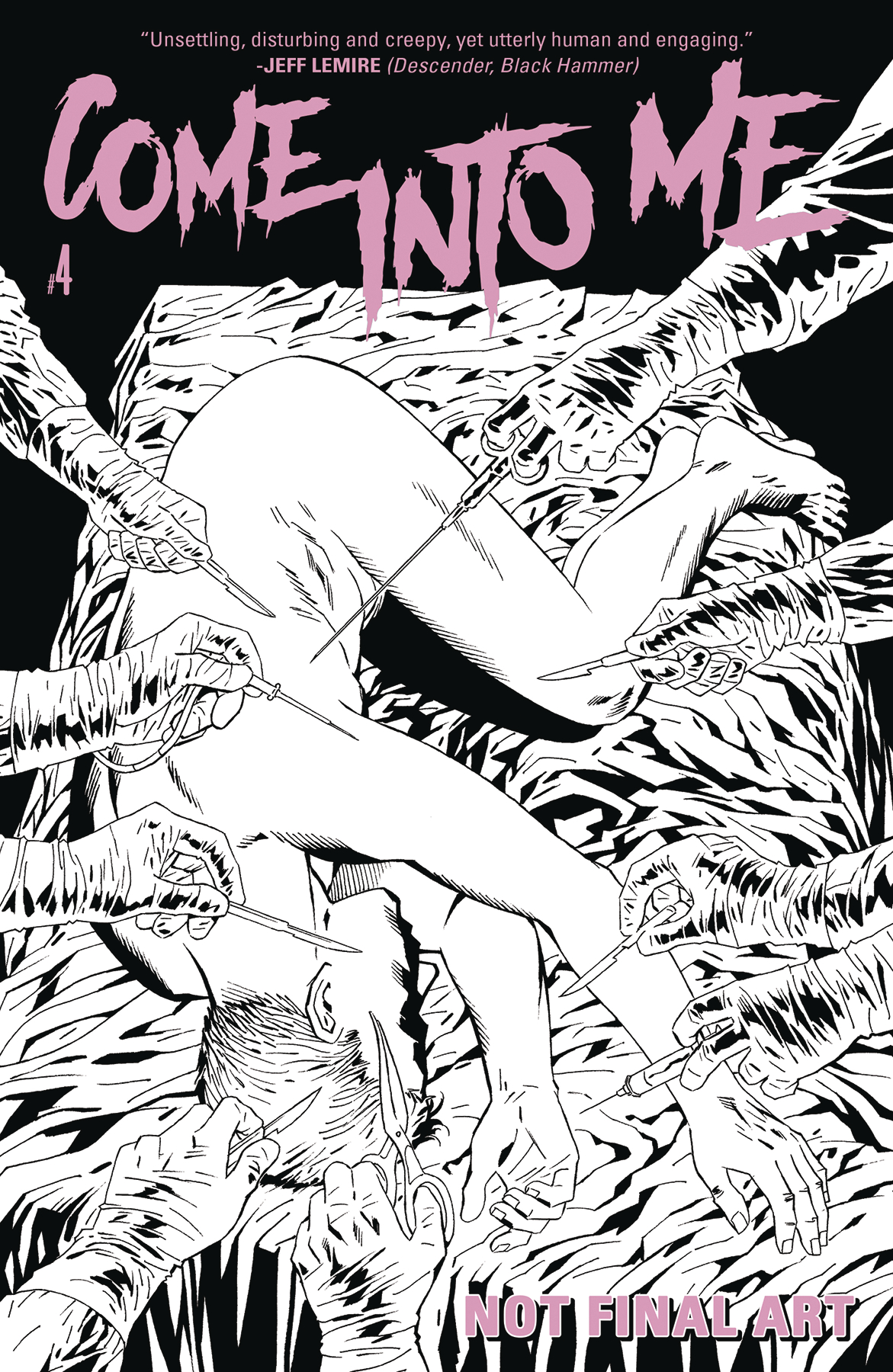 Come Into Me #4
Writers: Lonnie Nadler, Zac Thompson
Artist: Piotr Kowalski
Colorist: Niko Guardia
Letterer: Ryan Ferrier
Publisher: Black Mask Studios
Review by Anelise Farris
Come Into Me #4 is the final issue of the body horror series from creators Lonnie Nadler, Zac Thompson, and Piotr Kowalski. In the very first issue we were introduced to a form of technology called Inbeing, created by the god-complex-plagued doctor named Sebastian. In an effort to fundamentally change doctor-patient care, Inbeing erases the mind-body divide in a way that has never been done before: it offers completely unfiltered sharing between two bodies.
While initially it seems like a positive, transformative practice for health care, Come Into Me asks us to also consider the potentially negative effects of such unfiltered connection when Sebastian connects with Becky, a woman dying of cancer. This last issue sees this relationship between Sebastian and Becky come full circle. Their merged bodies are disintegrating as we spiral through their final thoughts and repressed memories. With the competitor Bi-Unity threatening InBeing, and Sebastian-Becky running out of time, Sebastian makes one final call: inviting his sister and his nephew to the office…and it's not pretty.
From the graphic depictions of Becky being attached to Sebastian in a physical way, to the unique lettering choices for Becky' and Sebastian's communication, this is a unique and sophisticated take on the body horror genre. While the soft linework is inviting, the gritty shading and bold coloring enforce that this is indeed a weird, dangerous world. The frequency of 9-panel pages gives the reader a sense of connectedness, which works thematically, in addition to making it a smooth, fast-paced read. It's not often that a 4-issue series keeps me thinking in between issues and long after I read them, and Come Into Me does precisely that. Just what are memories? What does it mean to be a human being? To take care of your body?
Verdict: Buy it.
If you've been reading this series so far, then picking up issue #4 is a done deal. If you haven't been reading this series yet, then definitely pick up Come Into Me #4, as well as the three previous issues. This body-horror narrative is much more than graphic flesh-meets-technology illustrations. It's a philosophical inquiry into the consequences of surpassing the mind-body divide — and a fun one at that!