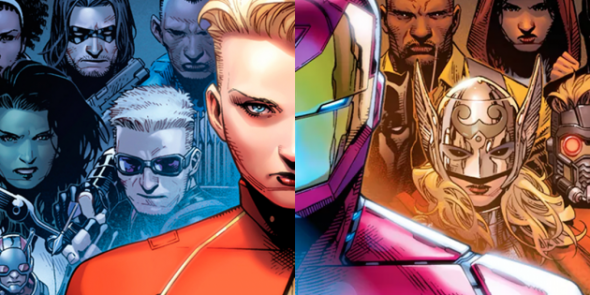 Civil War II #5
Writer: Brian Michael Bendis
Artist: David Marquez
Colors: Justin Ponsor
Letters: Clayton Cowles
Publisher: Marvel
Review by David Hildebrand 
It seems like it's been forever since I read the fourth issue of Civil War II. The event took a small break while Marquez welcomed a new addition to his family. Congrats! But now that Civil War II #5 brings us back into the thick of things, I still have many questions I want answered. The last issue ended with Carol Danvers calling in the Guardians of the Galaxy for backup as she prepares to battle Iron Man and his respective side of superheroes. Where does it go from here?
Civil War II #5 trades story and substance for over the top action and lots of fighting. While I don't mind all the action, it was a bit disappointing to see the story cease to progress. Ulysses has been ordered to stay back from the battle because he wouldn't be of any benefit. And right there I stopped and thought… wait. He has visions of a possible future. Danvers is carrying these heroes into battle. How is he not beneficial in this situation? Moving on, we do get to see some interesting match ups. I wasn't a fan seeing Morales Spider-Man drop-kicking Rocket Raccoon, but I dealt with it. Other match ups included Morales taking on Venom, Luke Cage getting into a scuffle with Blue Marvel, as well as Star-Lord questioning how he got stuck having to face Captain America.
This is your summer movie moment, folks! Battles everywhere! Bendis' writing lacks a little here. There are cheesy comments as well as one-liners that seemed forced and at times out of character for certain heroes. It truly comes across as something you could hear on the big screen, but doesn't translate as well to print in this particular case. The real saviour to this issue is Marquez. Between his art and Ponsor's vivid colors, they create beautiful mayhem as the heroes battle it out.
The end of this issue is a bit of a mixed bag. The positive is that the two page splash is amazing! I wasn't expecting that ending. And that is also the negative side… what the hell is going on now? I'm not going to spoil anything. If you want to be spoiled, look around the net enough and you'll see it for yourself. But with this new twist on the story, I honestly don't know what to expect next.
Verdict:
Buy It (With Caution) If you're already as invested in the book as I am, then you'll likely continue on with Civil War II simply to see the outcome of the story. Civil War II #5, while eye pleasing, dropped significantly in the story department. Maybe that's why we're getting an extra issue? Who knows. I say with caution because if you are curious about the story, this is not a good jumping on point. You will be lost. Go back to the beginning! I'm curious to see how the next issue will go.