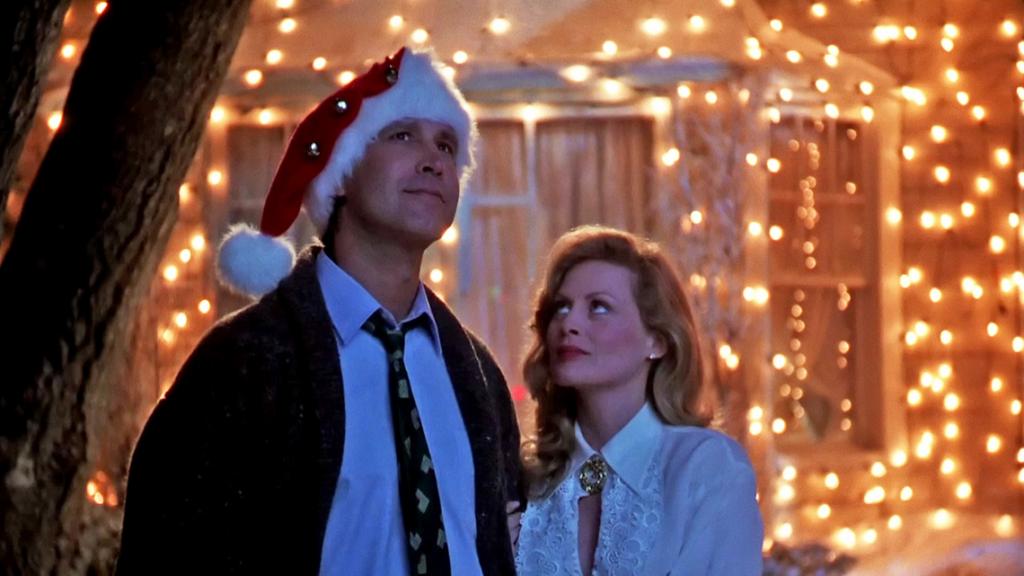 Christmas, a time usually spent with family. It's a time to talk or play games, a time to go outdoors and perhaps enjoy the snow (or not if you're in more temperate zones). And for some, it's a time to enjoy movies, while nestled on the couch, with a cup of hot cocoa, a glass of wine or eggnog. And what should you watch? Well, the following is a list of movies that are perfect for the entire family in general, including kids. While you may have seen some of them before, they are enjoyable to watch again.
---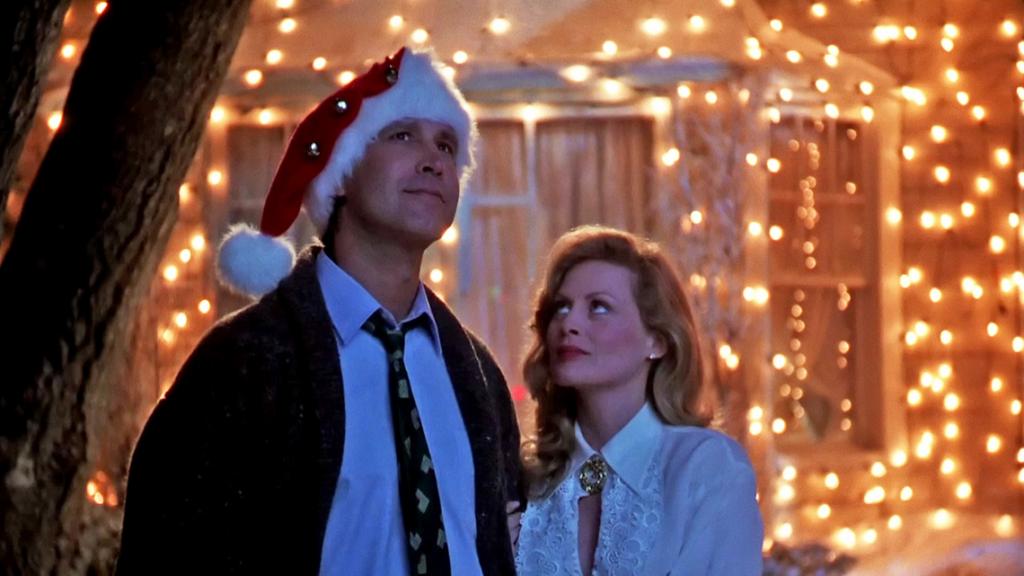 National Lampoon's Christmas Vacation
The Griswolds just can't catch a break. Twice we saw them undertake disastrous trips, though with hilarious consequences. And although there is no trip in this movie, the disasters are still ever present. Clark (Chevy Chase) and Ellen (Beverly D'Angelo) have invited their parents to celebrate Christmas together. Of course, Clark's cousin Eddie (Randy Quaid) decides to make an unannounced visit. Furthermore, to cap off a successful year at work, Clark is planning to use his Christmas bonus to have a pool installed. But his boss has other plans.
Chevy Chase gives a brilliant performance as Clark W. Griswold. Though their Christmas preparations is a nexus of all things that can go wrong, it works because we've probably experienced some of those as well. There are some over-the-top, yet hilarious moments, including Clark's interactions with his neighbors (Julia Louis-Dreyfus in one of her earlier roles), and his insane outside Christmas light decorations. Of course, who can forget his rant when the truth of the bonus comes out. But in the midst of the chaos, there are also some tender moments. Assembled as a seamless series of episodes, the movie is quick and easy to watch, one the entire family will enjoy.
---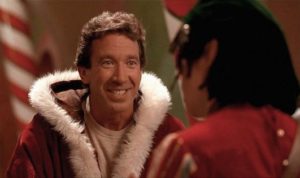 The Santa Clause
Adults have a hard time believing in Santa. But not kids. The magic of Christmas and everything that comes with is accepted without questions by them. As they grow older, for various reasons, that belief disappears. Scott's son Charlie (Eric Lloyd) wants to believe, but his mom (Wendy Crewson) and stepdad (Judge Reinhold) focus on logic to convince him it's all make-believe. However, on Christmas Eve, while at his dad's (Tim Allen as Scott Calvin), logic is about to be thrown out the window. Scott and Charlie begin an adventure that will change their lives forever. As Scott turns into Santa, he and Charlie learn how Christmas is able to happen for everyone around the world. Of course, nothing is ever easy. Being a rookie, as Scott takes over the role, a series of misadventures happen.
The Santa Clause is an excellent one for family viewing. Tim Allen, who was at the height of his comedic career (Home Improvement, Toy Story), is funny and a perfect casting choice. His charm, wit, and quasi-naivete lead to a great performance. Charlie, as the believing child, represents the magic all children do and should believe in. The transformation is well done will make you laugh. Trying to understand the weight gain, the hair growth, the list (you know, the one he has to check twice) leads to comedic situations tailor-made for Allen It's funny and tender. If there's one movie that chooses to believe in the magic of Christmas, this is the one.
---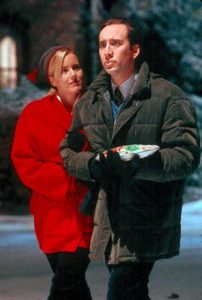 The Family Man
The choices we make can have a strong influence on the life we lead. In this re-imagining of It's a Wonderful Life, Jack (Nicolas Cage) is the wealthy and successful businessman who has everything. Or does he? Years ago, Jack was offered a prestigious position in London, at a financial firm. It meant he would have to leave his girlfriend Kate (Téa Leoni), who'd been accepted to law school, behind for a year. At the airport, she has a bad feeling about his leaving and urges him to stay and choose them (her and him). He reassures her that everything will work out and leaves. Fast forward to the present, and we find out they both went their separate ways, albeit finding great success. But on Christmas Eve, a fateful encounter leads Jack to get a "glimpse" of what his life would have been had he stayed with Kate.
The Family Man has all the elements of a typical Christmas movie. Having been thrown into this glimpse (a what-if scenario), Jack has no memory of that life (recall that it technically hasn't happened). However, everyone in the glimpse acts as though theirs is a life they've really led. So, as Jack goes through his daily routines, he tries to understand his place, his role, and his relationships with sometimes hilarious consequences. As Jack sees the things that his one choice made him miss, he realizes that there are more important things in life than money Nicolas Cage and Téa Leoni give great performances.
There's also Makenzie Vega as the daughter, who provides a few hilarious and heartwarming moments as well. And the ending, though uplifting, isn't as conclusive as it was in Frank Capra's classic. With romance, comedy, and a good moral, The Family Man is a perfect movie for the family, though younger children might lose interest.
---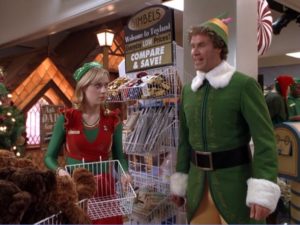 Elf
Returning back to the magic of Christmas, another recent, yet classic entry that is fun viewing for the entire family is Elf. Instead of focusing on Santa, the movie looks at his helpers, or rather on one in particular who's name is Buddy (Will Ferrell). One Christmas eve, Santa, on his way to deliver the toys to all children, inadvertently picks up a baby from an orphanage. And once back in the North Pole, they adopt him. But as he grows into an adult, he realizes he doesn't fit in. So, one day, he decides to go to New York City to find his real father. What happens next is Buddy's journey and discovery of the human world.
Elf is an original story, even though it still encompasses all those Christmas values. Will Ferrell is absolutely perfect. His childlike innocence and wonderment at all the new things he sees in the city is perfect. From believing an ad that a diner has the best coffee in the world and loudly announcing he loves his father, to running around in revolving doors as though in a children's play structure warms the heart and elicits a smile or two. This child-like admiration of everything is contagious to those around him (and to viewers), as they come to see the true meaning of Christmas. Bob Newhart, Ed Asner, James Caan, Peter Dinklage, Faizon Love and especially Zooey Deschanel make up a perfect supporting cast. Elf will make adults and children laugh, smile and believe in the spirit of Christmas.
---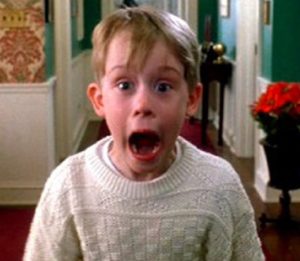 Home Alone
Home Alone is an absolute classic holiday comedy. In it, Kevin (a young Macaulay Culkin), the black sheep of the family, is picked on incessantly. The night before leaving for Paris, he wishes his family gone and wakes up the next morning, his wish granted. Thanks to a chaotic and hasty trip to the airport, his family actually forgets to bring him along. So, alone in the house, with no parents, no siblings, nobody, except for his brother's tarantula, what does an eight-year-old boy do? He makes sure to have the time of his life, of course! Meanwhile, a couple of burglars (Joe Pesci and Daniel Stern) have planned on robbing all of the houses in the neighborhood whose owners are away on vacations, including the McCallister one. But what they didn't count on was a young boy who was home alone to thwart their plan.
This is a great one for kids. Macaulay Culkin plays the role quite well. And though it isn't realistic in the least bit, the final confrontation with the burglars is hilarious. It's slapstick comedy reminiscent of Laurel and Hardy, The Three Stooges, Wile E Coyote and the Road-Runner or even Terrence Hill and Bud Spencer. But amid all that mayhem, chaos and laughter, Home Alone finds a way to remind us of the importance of family, and that despite that arguments and teasing, love is the glue that holds it all together.
---
Christmas with the Kranks / Deck the Halls
Why two movies? Well, because they follow a similar pattern and are equally enjoyable. Both pit two parties against one another with an eventual change of heart as the realization of the true meaning of Christmas is understood. In Christmas with the Kranks, Luthor (Tim Allen) and Nora (Jamie Lee Curtis), experiencing the empty-nest syndrome, decide to skip Christmas and go on a cruise. Of course, this pits them against the neighbors, led by Vic Frohmeyer (Dan Aykroyd), as they look to continue their various neighborhood traditions.
And in Deck the Halls, newcomer Buddy (Danny DeVito) is pitted against his neighbor Steve (Matthew Broderick) to see who best embodies Christmas. Buddy puts together a light display to rival Clark Griswold's and hopes for it to be seen from space. Meanwhile, Steve worries that his place as the go-to guy in the community for all things Christmas, is being usurped by Buddy. And so begins the competition that doesn't get them anywhere.
The grinch-like moments in both movies lead to the funniest moments. Tim Allen's botox scene is laugh out loud, as is Matthew Broderick's fireworks one. But as the main characters engage in disastrous behaviors, ones that threaten to ruin Christmas for everyone around, a realization that Christmas is more than these petty behaviors happens and, typical, all's well that ends well.
Worthy mentions
It's a Wonderful Life (James Stewart, Donna Reed)
Holiday Inn (Bing Crosby, Fred Astaire, Marjorie Reynolds, Virginia Dale)
The Holiday (Kate Winslet, Cameron Diaz, Jude Law, Jack Black)
The above movies provide hours of fun, laughter and tender moments the entire family will enjoy! So, sit back, have an eggnog or hot cocoa and enjoy the movies.
Merry Christmas to all and to all a good night!