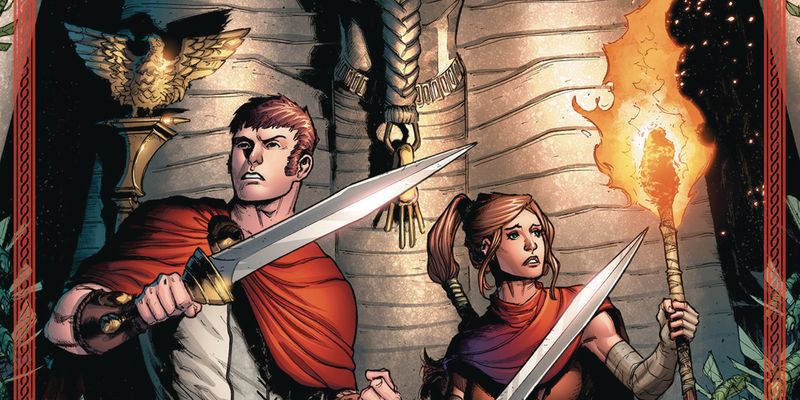 Britannia: Lost Eagles of Rome #4
Writer: Peter Milligan
Artist: Robert Gill, Juan Castro
Colourist: José Villarrubia
Letterer: Dave Sharpe
Publisher: Valiant
Review by Josh Rose
The latest task of Nero's for Antonius Axia has been accomplished. Axia and his gladiator companion, Achilla, have traveled to Egypt searching for the lost eagle standards and fought off assassins. They investigated Egypt's "pharaoh" and the general who lost the eagles yet rules the province of Egypt. We last saw them being cursed for opening the Pharaoh's tomb. In Britannia: Lost Eagles of Rome #4 we see them survive being cursed and finally finding the eagles, but that's only part of the equation. They also have to get out of Egypt and back to Rome.
Peter Milligan has written a very enjoyable and interesting adventure. Rarely do comics take us through the ancient world. In this series we've seen Britannia, Rome, and now Egypt. This issue does a great job of wrapping up all the mysteries: what Rubria the Chief Vestal Virgin told Axia to tell her friend in Egypt, and how they survived the "curse." Milligan also plants seeds for the next Britannia series. I look forward to seeing what comes next.
Robert Gill and Juan Castro's art in Britannia: Lost Eagles of Rome #4 is particularly fun to look at. They make Axia and Achilla look like they're in so much pain from being cursed with boils. The boils look really nasty, too. While this series has downplayed the supernatural aspect in respect to the previous volumes, there are some panels that really reinforce that atmosphere due to José Villarrubia's colours. The looming pharaoh's coffin over the eagles, for example. The background is largely made up of greys and browns, which makes it seem like the eagles actually shine off the page. The green glow above the head of the coffin give the page this almost haunting feeling.
The Verdict: Check it out.
Britannia: Lost Eagles of Rome #4 is the final issue in a very enjoyable adventure by the world's first detective in the ancient world. You don't need to have read the previous volumes of Britannia in order to enjoy this, but you'll definitely need to get the previous issues of Britannia: Lost Eagles of Rome in order to enjoy it.