Bounty #1 Review
Written by Kurtis Wiebe
Art by Mindy Lee
Colors by Leonardo Oler
Letters by Nate Piekos
Review by John Dubrawa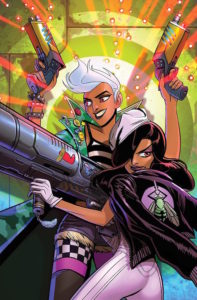 With books like Rat Queens and Peter Panzerfaust, writer Kurtis Wiebe has certainly cemented himself as a comics creator to follow. In his latest effort, Bounty #1, Wiebe tackles the science fiction landscape with a tale of two Robin Hoodesque criminal types who are forced out of their chosen career path and adopt a new modus operandi as bounty hunters for hire. Add to the mix that there's also a bounty out for these bounty hunters and the level of intrigue gets even greater. It's admittedly a lot to pack into an initial issue, and while some details of the world Wiebe attempts to construct are not quite clear, the promise of what's to come in this new series is an inviting one.
Wiebe's knack for establishing well-defined characters is front and center with the sister Gadflies, Nina and Georgie. There's a ton of personality spilling from each panel as our heroines not only interact with one another but with the colorful cast of supporting characters (and evil-doers) that Wiebe populates this issue with. Particularly, the way the two sisters each handle their dire predicament in the issue's opening sequence tells us a lot about each one individually and as well demonstrating the strength of their familial relationship. While each character is given their own showcase moment, the details of the actual world that Bounty #1 inhabits is a bit harder to pin down in just this first issue. One character seems to exhibit an almost superpower-like ability to use telekinesis, but it's unclear if she's an outlier in this regard or not. Also, the Internet in this world appears to award "Catch of the Day" to its various bounty hunters, so does that mean that bounty hunting is treated more like a sport in this futuristic society? Maybe that's what ESPN 8 is showing, I don't know.
One thing I do know:  the art in this book is on point. Mindy Lee's anime-influenced character designs will remind a lot of readers of former Batgirl artist Babs Tarr, and that's a compliment of the highest degree. Lee renders action sequences with such dynamic movement that the Gadflies are practically leaping off the page and punching the reader in the face. Leonardo Oler's colors are bright and radiant, and go so well with Lee's art. While most of this issue takes place in some confined space or another, the views we get of Bounty's landscape are remarkably detailed and vibrant. I already love the look of futuristic societies in narratives and Lee and Oler make me love them even more.
VERDICT
Buy. Kurtis Wiebe has already established himself in the world of sword and sorcery and historical fantasy, so seeing him dabble in science fiction is an exciting prospect. Bounty #1 is by no means a perfect first issue the way something like Rat Queens was, but the characters are well-defined and the premise is intriguing enough to warrant a purchase, if not just for Wiebe's name alone. Not to mention the art from Mindy Lee is just fantastic.