Bloodshot Salvation #11
Writer: Jeff Lemire
Artist: Doug Braithwaite
Colourist: Jordie Bellaire
Letterer: Simon Bowland
Publisher: Valiant
Review by Josh Rose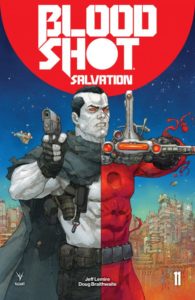 This is the story all about how Ray Garrison made a deal with a devil named Baron Samedi, in which he saved his daughter's life but condemned the life of someone in exchange. Bloodshot Salvation #11 sees Bloodshot coming face to face with the consequences of his actions. And he finally meets his counterpart from the year 4002 A.D.
Jeff Lemire has completed the circle. He started this series with two timelines: one that followed Bloodshot shortly after Jessie's birth, and the other that followed Jessie and Magic after the events of Bloodshot Salvation #10. Flashbacks and flash-forwards can be so confusing. Bloodshot Salvation #11 finally lines up Jessie and Magic's story with Ray's.
Besides tying storylines together, Lemire puts Bloodshot in a unique position as a father that would be led to damnation rather than salvation.
Doug Braithwaite's does a great job with facial expressions, capturing the fear and sadness, especially in Bloodshot's face. Jordie Bellaire's colours really steal the show here. Their use of red against a white, snowy background really pops out, drawing the reader's eye. The use of orange for the fire started by Rampage, along with his imposing stature, when he attacks Magic and Jessie sets a tone of desperation. And the white faces of the Bloodshots pop out against a red background of Future-Bloodshot's nanites. In short, the colours are fantastic.
The Verdict: Buy it.
Bloodshot Salvation is a story about a father's love for his daughter, and Bloodshot Salvation #11 sees how far a father like Ray Garrison will go. If you've been following Bloodshot this far, you need this issue. If you haven't been reading this series, you need to go back and catch up.