Black Panther #1
Written by Ta-Nehisi Coates
Art by Brian Stelfreeze
Colour by Laura Martin
Letters by Joe Sabrino
Review By Hafsa Alkhudairi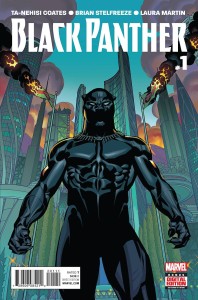 Black Panther #1T'Challa, the first black comic hero, is back! Using his ancestral ceremonial title, Black Panther is the king of Wakanda. He protects his country and the world as part of the Avenger and the Ultimates. The world needs him and the readers need him too because he is AWESOME!
The story presented by Coates starts with Wakanda in turmoil. The people are angry, but the reign needs to uphold the law. However, the law does not always align with the needs of the people living in it. The story is an introspective look about ruling and what it means to understand the needs of people beyond the ruling class. It is also a shocking re-introduction or introduction to the Black Panther. It has provocative characters who have clear and loud voices. They present a different perspective on minority groups in comics with diverse perspectives.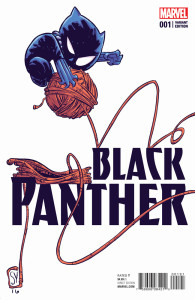 The art presents a contrast between the clear linear modern design and classical rounded natural design. The advanced cities in Black Panther are very technologically advanced and minimalistic. The other regions are more rough and seem extremely rural in comparison. The character designs are also very special. Each one is unique and different, but they share common elements depending on the region they hail from. Stelfreeze managed to produce a visually interesting comic. It is creatively dynamic and pleasing to the reader.
Black Panther starts with a historical breakdown of who he is. It also ends with a behind the scenes with Brian Stelfreeze by TJ Dietsch. It breaks down the art and the design of the characters as well as insight on the process and development. Also, there is a short summary of the creative team on the last page.
Also, look out for the special variant collection celebrating 50 years of Black Panther that has been going on since January until June.
Verdict:
Read it! The story is progressive and is a reflection of modern unrest with ruling classes both royal and governmental. There is a progressive feel both in the verbal and visual narrative. The best part of Black Panther is the characters. They are not one dimensional both in design and in perspective. They each have a motive that is very apparent and they are amazing. I am very excited about this comic and would love to read how this arc in the story pans out!