Here is part 2 of the best Simpsons Halloween Horror episodes! You can find part one here.
The Simpsons Treehouse of Horror XXIV
I'll be honest I wasn't a huge fan of the first two stories but the last story saved it for me, as well as the opening title sequence which was directed by the master of Spanish horror Guillermo Del Toro. The opening sequence features many classic and contemporary horror and science-fiction movie references. It ends with Lisa falling down an Alice in Wonderland style hole and ending up in the end sequence of del Toro's Pan Labyrinth. It's worth just watching the opening sequence to this episode. The last story is titled Freaks, No Geeks which is a parody of the controversial film Freaks. Based in a 1930's circus, strong man Homer convinces his lover Marge to marry sideshow freak Moe so he can get his hands on Moe's emerald ring. At their wedding reception the freaks consider Marge as one of their own. After finding Homer attempting to poison Moe's drink, Marge kicks him out of her trailer. Homer is then cornered by the freaks who intend on mutilating him.
The Simpsons Treehouse of Horror XII
The most memorable thing about this whole episode is probably Piers Brosnan. He voice acting is superb and when he says 'yum yum yum' gets me everytime, but the most memorable story for me was Wiz Kids which is a parody of Harry Potter. In the story, Bart and Lisa go to the 'Springwart's School of Magicry', in one of their lessons the students have to turn a frog into a prince. Lisa truns her frog into the perfect British prince, while Bart turns his into a freakish hybrid. Lord Montymort observes Lisa's power and he decides to capture with the help of Bart and his snake sidekick Slithers. It's such a good epsiode nd Piers Brosnan steals the whole show!
The Simpsons Treehouse of Horror VIII
This episode is great from start until finish. All three stories are great and there is a lot of laught out loud moments too. My favourite out of all 3 has to be Easy-Bake Coven. I've always been fascinated by witch hunts, I find it hard to believe that people would burn women believing they were witches!! It's crazy!! Easy-Bake Coven is set in 1649 and the town has burnt many witches. The townspeople gather in the church trying to figure out who to burn next. People start accusing eachother until Marge intervenes in which Moe accusses her of being a witch. Quimby assures her that she is entitled to due process, which means she gets pushed off a cliff. She is pushed off with a broomstick, is she is a witch she can fly to safety but is expected to report back to authorities for punishment, is she isn't a witch she will die an honourable christian death. It's eventually revealed that Marge is a witch and vows to conquer the whole town. I just love stories like these so this just appealed to me.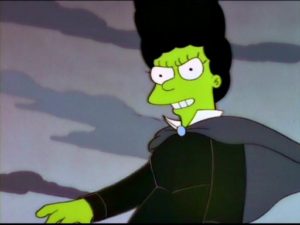 The Simpsons Treehouse of Horror XV
Four Beheadings and a Funeral is one of my favourite Simpsons Halloween stories, reason being is that I love their take on the english accent, so over-the-top and nothing I've ever heard before in England. To be honest, any Simpsons episode where it involves them dressing in different clothing such as Easy Bake Coven are amongst my favourites. Four Beheadings and a Funeral is a parody of From Hell. The story takes place in London in the 1890, where prostitutes are being killed with swords in a series of unsolved murders by The Muttonchop Murderer (based on Jack the Ripper) Scotland Yard's Inspector Wiggum challenges Master Detective Eliza Simpson and her assitant Dr Bartley to solve the crime. This one a fun episode and the last story has been parodied by Family Guy too.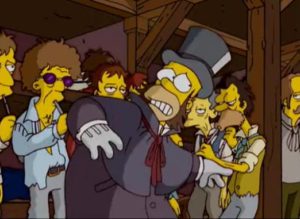 The Simpsons Halloween Special
Finally we come to the end of my top ten and I think I saved the best till last. The first Treehouse of Horror started in series 2 and of course it took off since then and it's a great first attempt!! I think the most famous story from this episode and the most memorable for me out of all the Treehouse of Horror stories that have graced my screens in the last 25 years – The Raven. Lisa reads 'The Raven by Edgar Allan Poe. In the Simpsons adaptation Bart is depicted as the raven who constantly says 'never more'. Homer takes on the role of the poem's lead character while Lisa and Maggie are seraphim while Marge briefly appears in the painting as Lenore. James Earl Jones narrates the whole thing. All the episodes are based on the kids telling spooky tales in the treehouse. It's such a good and nostalgic episode, a must for any Simpson fan.