The internet loves April Fool's Day. You would think the way big companies get behind it that it was something created especially for cyberspace but April 1st and foolishness have been synonymous since 1392 when Geoffrey Chaucer mentioned it (or was mistranslated) in The Canterbury Tales. No, seriously, that's probably one of the only true things you'll read on the internet today! While the gullible re-blog and comment on articles that are 100% fake and then fervently deny it tomorrow, let's take a look back on past online pranks.
___
Tumblr Adds A Clippy Clone, 2015
Remember Clippy the Paperclip assistant from MS Word? Of course you do–he was awful! In 2015 Tumblr thought to bring him back as a copy machine. He even had an Executive Suite option!
Power Wheels Desert Drifters, 2015
Last April 1st, the world was in rapt anticipation for Mad Max: Fury Road. Based on the kick-ass trailers, it was clear that every child should be able to play out their end of the world, Australian wasteland fantasies. With the Power Wheels Desert Drifters, stop dreaming it and start living it!
Thinkgeek's Canned Unicorn Meat, 2010

This purveyor of novelties for nerds has an April Fools history almost as rich as Google's. The Geeks hit their peak with Canned Unicorn Meat, marketed as 'the new white meat'. Customers who ordered the ten dollar product received a dismembered unicorn doll in a can; unless they lived in Germany, where the cans were seized by customs officials who believed they violated prohibitions against importing meat from 'rare animals'. I guess they didn't get the joke.
How to Cook A Unicorn, 2012
April Fool's Day is crazy for unicorns as two years after ThinkGeek's Canned Unicorn Meat, The British Library announced the miraculous discovery in its archives of a long-lost medieval cookbook that included a recipe for how to cook a unicorn. "Taketh one unicorne," began the instructions, and they even included hand-drawn illustrations. The compiler of the cookbook was said to be one "Geoffrey Fule," who worked in the kitchens of Philippa of Hainault, Queen of England from 1328-1369.
Flying Penguins, 2008
Another good one from the Brits came when the BBC announced that camera crews filming near the Antarctic for its natural history series Miracles of Evolution had captured footage of penguins taking to the air. They even had a video clip! Presenter Terry Jones explained that these penguins took to the air and flew thousands of miles to the rainforests of South America where they liked to bask in the tropical sun. A follow-up video ended up explaining how the BBC created the special effects of the flying penguins.
Dharma Initiative Alarm Clock, 2010

Do you have trouble getting out of bed? You should invest in the ThinkGeek Dharma Initiative Alarm Clock! Get the exact numbers in every 108 minutes to prevent electromagnetic cataclysms that will surely ruin your day faster than your 7am wakeup call! Product Features: Two alarm settings: one-minute warning and electromagnetic cataclysm modes, 23-year warranty, or until your house implodes, requires 2 x AAA batteries, Walt, geodesic dome, and polar bear not included. Seriously, six years later and Lost fans are still upset this isn't an actual thing.
Twitter Purges Vowels, 2013
To celebrate April 1, Twitter announced a two-tiered pricing plan for its social media service. Tweeps could continue to use the service for free, but they would have to do without vowels, making your tweets look something like this: Hppy prls Fl's Dy vryn! For $5 a month, Twitter fans could continue to communicate using a, e, i, o, and u. In a generous gesture, Twitter announced that y would continue to be free for everyone.
Game of Thrones Clue, 2015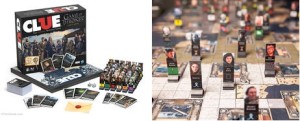 Tired of accusing the same six people for murders most foul in Clue? Well, there's a new murderer (several in fact) to put on your shelf. The people of Westeros have invaded the board game Clue, and they've brought over 40 weapons and suspects, spanning the whole world. When you play the Game of Thrones Clue… you probably die. Possibly from old age considering how long it would take to work out who done it of your many suspects!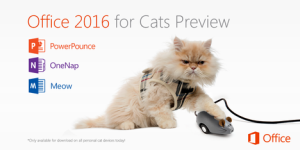 Microsoft Office for Cats, 2016
Even cats need to organize their lifestyle, lazy as it might be. Microsoft has introduced Office For Cats featuring 3 new products: PowerPounce, OneNap, and Meow. Microsoft knows what we like.
Google's Pac-Man Adventure, 2015
Here's one I'm desperate to see come back: Google Maps that allows you to play Pac-Man! In 2015 you simply had to go to Google Maps and find an area with lots of roads–like downtown Toronto or Manhattan–and look for the Pac-Man symbol in the bottom left corner of your screen. Insta-Pac-Man! Insta-time-killer!