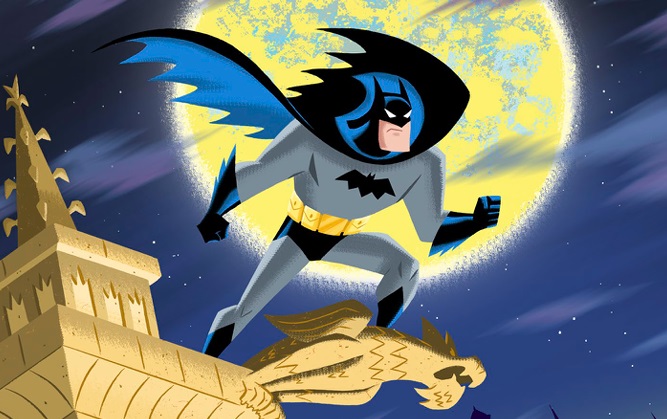 Bedtime for Batman

Writer: Michael Dahl
Illustrator: Ethen Beavers
Publisher: Capstone Young Readers
Genre: Children's picture book
A review by Amelia Wellman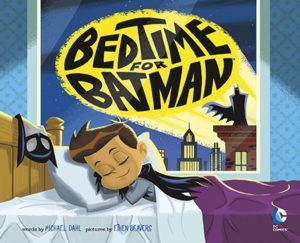 Michael Dahl, the author of more than 200 picture books and books for young adults, and illustrator Ethen Beavers, a professional comic book artist that's worked on Justice League Unlimited and Legion of Superheroes in the 31st Century, have collaborated on a new superhero themed children's book: Bedtime for Batman! When the dark night comes to the big city, one little superhero prepares for a great adventure… bedtime! Donning his Batman pyjamas, he vanquishes his night time routine like the Dark Night vanquishes crime!
Bedtime for Batman is centred around the task that parents dread most: bedtime. Seriously, is there a harder task on Earth than getting little kids to go to bed? There's so many steps to complete: baths, teeth brushing, clean pyjamas, tidying up toes, story time, fetching glasses of water, assurances that there are no monsters anywhere in the room, etc. Compound the numerous steps with the fact that there's never been a child that's happy to go to bed, and you have yourself a nightly nightmare for at least five straight years.
Bedtime for Batman, which will appear on book store shelves August 1st, is looking to help with the bedtime routine. The story compares a typical bedtime routine to Batman's crime fighting routine. Seen through the eyes of a little boy, the story sets out to show the parallels of Batman cleaning up crime and helping those that depend on him to the little boy cleaning himself up in a bath and feeding his pet gold fish. It's a clever way to show any young child who's a fan of the Dark Knight that their routine is just as important as his (and maybe make bedtime a little easier along the way).
The story, as it's aimed at four to seven-year-olds, is a simple one with less than a hundred words over its thirty three pages. Each statement delivered is shown from the little boy's perspective and then Batman's. It's a quick and easy book that kids will surely want read to them more than once, but can also learn to read from themselves.
If I had to limit myself to one word to describe the art of Bedtime for Batman, it would have to be cute! The character models are straight from Batman: the Animated Series. Every person and action is full of life, colours, and expressions, and I love the technical style. Everything is textured and soft around the edges like it was drawn in chalk. The art is adorable, charming, and something that's sure to delight anyone who reads this book, no matter the reader's age!   
The Verdict
Buy it! Any Batman fans (children or parents alike) will fall in love with Bedtime for Batman! It's short and sweet for easy before-bed-reading and learning, it's adorable art is like a straight shot of nostalgia for fans of Batman: the Animated Series, and it just might (fingers crossed!) make your children's bedtime routine a little bit easier!