Batman #51
Writer: Tom King
Artist: Lee Weeks
Colorist: Elizabeth Breitweiser
Letterer: Clayton Cowles
Cover Artist: Weeks & Breitweiser
Publisher: DC Comics
Review by Nico Sprezzatura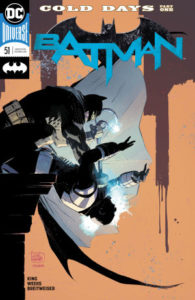 When we last saw him, Bruce Wayne had just been jilted out of a wedding by his sometimes-lover, sometimes-foe Selina Kyle. Batman #51 is, naturally, a hot issue this week for that reason alone. So how does Batman #51 address the cat-sized elephant in the room?
Well…it mostly doesn't. I'm sure we'll see more of the non-wedding fallout later in the issues to come, but, for now, Tom King doesn't make a point of it here. I think that's probably the right decision; someone like Batman wouldn't mope around over suffering such a disappointment. He'd pretend he's fine and act like nothing happened, despite all evidence to the contrary.
As the first part of "Cold Days," we don't actually see Bruce doing much Batmanning — when he's hit with some jury duty, it's Dick Grayson who roams around Gotham as the Dark Knight. In an exchange with Gordon, he notes that Bruce isn't okay, and we see a brief (and unusual) display of rage from Bruce himself while taking a bathroom break in the courthouse. I appreciate the subtle approach taken here after the non-wedding, since we don't often get that from punchy-punchy comics from the Big Two.
While guest artist Lee Weeks (colored by Elizabeth Breitweiser) turns in perfectly good work here, I always find myself missing regular artist Mikel Janín when he's off the book. Weeks is more in line with Batman's other regular artist, David Finch, in style, so there's a manner of consistency regardless; I just find Janín's art more compelling.
The Verdict: Buy it.
If you're looking for some fallout from the non-wedding last issue, then Batman #51 won't give you that, but it's still another enjoyable outing from Tom King's Dark Knight saga.