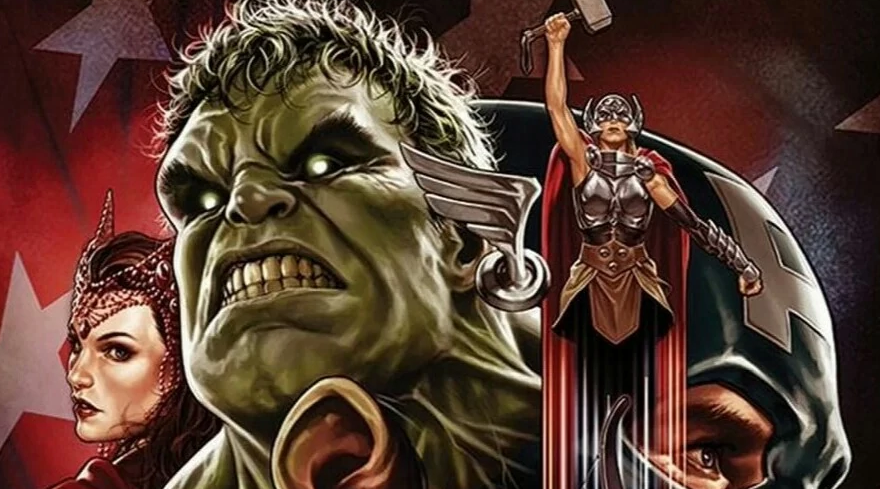 Avengers #690
Writers: Mark Waid, Al Ewing & Jim Zub
Artist: Pepe Larraz
Colorist: David Curiel
Letterer: VC's Cory Petit
Cover Artist: Mark Brooks
Publisher: Marvel Comics
Review by Nico Sprezzatura
With the baddies out of commission and order restored to the Marvel Universe, Earth's Mightiest Heroes are left to navigate the rubble (figuratively and literally) in Avengers #690, the final chapter of this year's big "No Surrender" storyline. Does it put a satisfying bow on these past few months of superhero action?
THE BIG BIG BAD?
It's not a spoiler to say Grandmaster is up to his old tricks, or that we haven't quite seen the last of Challenge. This issue doesn't so much wave goodbye to them forever as it does leave the door open for many (unhappy) returns. If you stick around for the epilogue, you'll get a sense that we definitely haven't seen the last of Challenger. Speaking of which, who is another character we might see again someday?
VOYAGER WATCH
Voyager, obviously! Perhaps the one who's leaving "No Surrender" the most changed, Voyager isn't quite inducted into the Avengers' ranks here, but the possibility that she could definitely lingers. Wonder Man makes a point of saying that, despite her antagonistic beginnings, the Avengers have always been a haven for rehabilitating villainous folk, himself included. Why should she be any different? As I've mentioned in other recaps of this storyline, Voyager really does have quite a bit of potential in her as a character, and it would be a shame if wasn't put to use by another creative team.
THE LIMELIGHT AVENGER
For our last installment of "No Surrender," it's none other than the Avengers' trusty butler Edwin Jarvis! It's an interesting choice, since he's an average, unpowered civilian compared to the gods and icons he's meant to serve. That's not even accounting for the long span of issues he spent unconscious, which ultimately caused him to be a pivotal player in exposing Voyager's fraudulent origin.
Some of the best superhero stories are told from the perspective of outsiders (e.g. Marvels by Kurt Busiek and Alex Ross) so it's probably fitting to end this saga from Jarvis' POV. He's been a fixture of Avengers lore since the very beginning, and in ushering Earth's Mightiest Heroes into a new era, who better than Jarvis to be the consort?
WORDS AND PICTURES
What else can be said about the myriad creators who contributed to "No Surrender" since it began? This issue's art is handled by Pepe Larraz and David Curiel, who also illustrated the first stretch of issues. All I can really say is that Avengers #690 looks as good as the rest of the series has. If anything, Larraz has proven his chops as one of Marvel's latest "Young Guns" with his work on Avengers this year, and I'll be interested to see what he does next.
The same goes for Kim Jacinto, Paco Medina, Stefano Caselli, Sean Izaakse, Joe Bennett, and Mike Perkins, who all provided art for "No Surrender" at some point or another. Collectively, they all maintained a certain, consistent aesthetic without sacrificing their own strengths as artists, while Curiel's colors and Cory Petit's letters helped tied everything together. Weekly books like this can be a challenge for those making the visuals, but there was an impressive finesse to "No Surrender" in looking as beautiful as it did throughout.
On the writing side, Waid, Ewing, and Zub should also be commended for scripting such an ambitious project with similar ease. What could've been a bloated, boring weekly comic book storyline was never either of those things. Marketing for this particular issue described it as the end of an Avengers era, and you do get that vibe from reading it. Roberto da Costa, for example, gets a definitive end to his tenure as an Avenger that began way, way back in Jonathan Hickman's Avengers. That was six years ago!
Similarly, the undulating Avengers arc that Ewing has been writing since his first run on Mighty Avengers comes to a conclusion here, and I have to admit it makes me pretty dang sad. His Avengers titles have consistently been some of my favorite in all of Marvel's output. From Mighty to New to US and now the adjectiveless Avengers, Ewing has done some career-best work with this property, and hopefully he finds similar creative success with his next works.
THE VERDICT: Buy it.
Light on superhero action but heavy on sentiment, the weekly "No Surrender" saga comes to a satisfying end (with promising new beginnings) in Avengers #690.