There's never been a more tumultuous and excitingly nerve-wracking time to be a Neil Gaiman fan. Not only is he still an active writer and collaborator, but a fair share of his original work is also being adapted for TV, film and even radio. Despite being backed by such a critically acclaimed novelist and comics writer, only a handful of these project come out of the trenches, many plagued by creative differences and development issues. In today's segment of our week-long coverage of American Gods, we're going to recap how we got here and take a look at what it means to be lost in adaptation.
American Gods was originally optioned by HBO in 2011 and had some serious financial backing by Tom Hank's Playtone Productions. It was slated for a six season run budgeted at 40 million per season (mainly to cover CGI costs). It seemed like there was a lot of buzz around this project, but for the next two years, not much substantial information was released about American Gods. By March 2013 Gaiman was still optimistic, revealing that the series would likely include post-book content. But he was having difficulties getting the pilot script to HBO's liking. They wanted an adaptation closer to the novel, whereas Gaiman liked the idea of giving fans unexpected twists. By the third draft, the feedback was positive and it looked like American Gods was slowly creeping forward out of development stasis.
Surprisingly, HBO let the option expire in 2014, stating "Even though we love the book, we love the idea, we love the hope of what it could be, we just couldn't get it right". FreemantleMedia picked up the project in February 2014, eventually leading to the highly anticipated series we have with Starz today. The show was set to begin principal photography in March 2016 and won't premier until sometime next year. Like American Gods, getting lost in adaptation isn't uncommon for Gaiman projects; he currently has over a dozen that remain unproduced. His work resonates with people on so many different levels, it's easy to see where there can be creative differences. And then, even the successful ventures have to go up against fan expectations.
Although Stardust and Coraline were very successful, I believe Sandman has the potential to be the greatest Gaiman adaptation to hit theaters. It's based on Gaiman's critically acclaimed 75 issue series published by Vertigo (DC Comics) between January 1989 and March 1996 that is considered by many fans to be a staple of any comic book collection. The film has a similar beginning to American Gods; initial plans with HBO fell through and eventually it became a Warner Brothers and New Line Cinema production. In 2013, Joseph Gordon-Levitt joined the collaboration with writer Jack Thorn, but creative differences with New Line Cinema executives forced Gordon-Levitt to step away in March 2016. "[We] just don't see eye to eye on what makes Sandman special, and what a film adaptation could/should be." His words resonated with many fans, who grew skeptical that such an adaptation could even be made from the source material. I was one of them.
Sandman was an incredibly influential series that pushed creative boundaries; it is my favourite of Gaiman's work and captures so much of who he is as a writer. For me, it was the first time I truly understood what power lies in stories, and why we need them. Perhaps Gordon-Levitt understands that too, but when does your own personal attachment cloud your judgement? In this case, it's hard to tell without knowing the nature of the creative disagreements, but it seems he truly thought that much of what made Sandman such an odd, thought-provoking story would be lost in adaptation. Back when his original Sandman run was ending, Gaiman recalled being relieved when DC editor Karen Berger told him that they really couldn't continue the series without him. It was a victory of sorts, over an outdated model where successful monthlies outlived their writers, even to the detriment of the story.
"That was the biggest thing Sandman changed: DC's most successful comic was stopped because the writer was done. Otherwise, the brand would have been tarnished." – Neil Gaiman
Adaptations aren't quite the same as continuing a series in the same format though. Sandman's release date was for sometime this year, but even with Eric Heisserer retooling the script for New Line, it seems more likely it will be pushed to 2017. Many fans are anxious to see what it will become, but hold out hope because Gaiman is still involved in the project.
Gaiman's level of participation in these adaptation has taken various forms, but generally he likes to be involved in some capacity and has often given as much creative space as he can. That isn't to say that he too hasn't had some heated creative disputes during script development. The Books of Magic film adaptation has been in the works since 1997, with Gaiman initially on board the Warners' production as executive producer. However, after years of reworking the script, he insisted on leaving the project, along with Paul Levitz. He felt the story was being hacked apart for the sake of new turnover getting writing credits in the film.
"The worst one of all was Books of Magic, it was really weird because the first draft and the second draft scripts were really good. […] now everyone is piddling into this thing because they really like the idea of 'smelling their own weight' and it's slowly turning into this sort of 'urine soaked lemonge' and it's no longer any good." – Neil Gaiman
Gaiman believed fans would have been disappointed with the film and convinced the studio to buy them out, walking away with the Books of Magic title in tow for his own future plans, though we haven't heard anything else on its progress since 2006.
This is a call you could expect from an executive producer, but it would be disingenuous to say that Gaiman doesn't have a personal attachment to his stories, and would rather not see them completely ruined. He even claimed they "dodged a bullet" on an early version of Sandman, going on to say: "It was so bad, I couldn't even get to the end of it." He clearly has some control on the creative side and isn't afraid to let his opinions be heard, which is reassuring for fans. He never oversteps his bounds however and shows a mix of personal integrity and creative openness in letting others adapt his work.
His response to Gordon-Levitt's departure from Sandman was quite diplomatic, tweeting that he respects the actor greatly and loved getting to know him, reminding fans that DC owned Sandman, not him, as it was created under a Work For Hire contract. He has no control over who writes, directs, produces, or is cast in the film. Gaiman doesn't push back unless he genuinely believes it's necessary and even takes a firm stance when he feels his involvement may hinder the nature of the collaboration.
In the case of Good Omens, which was adapted for BBC Radio 4 in 2014, Gaiman refused to make the acclaimed fantasy novel into a six-part series without Terry Prachett, his close friend and equal collaborator on the novel. "Absolute not, Terry and I had a deal that we would only work on Good Omens together." Pratchett suffered from Alzheimer's and after a couple of false starts in bringing the 1990s black comedy to screen, in 2002 with Terry Gilliam and again in 2011 with Monty Python's Terry Jones, Gaiman wanted to finish this with the only Terry that mattered. He only agreed to do the adaptation by himself at Pratchett's request, shortly before his death in March 2015. Gaiman revealed on his online journal afterwards that he'd been working on the Good Omen's script for almost a year.
"It's hard when I get stuck, and I want to ask his advice. It's harder when I come up with something clever or funny that's new and I want to call him up and read it to him and make him laugh or hear him point out something I missed." – Neil Gaiman
He's a writer who enjoys collaborating with others, and it's clear he doesn't take the creative relationship he shares with them lightly. But he also knows when to give space for new things to grow, and not all of his adaptations remained as unproduced screenplays.
A few of Gaiman's film adaptations have seen a notable amount of mainstream success. Both Stardust (2007) and Coraline (2009) were adapted from Gaiman's fiction novels. Stardust faced some mixed reviews from critics, but generally was very positively received among fans. Coraline was also widely successful as a children's animated feature. I personally thoroughly enjoyed the short novella and made a particular effort to see this film in theatres. It was an interesting experience, but it was nothing like I'd expected it to be.
At first, I felt like the animation didn't quite suit the story, it was too manufactured, too forced in its flawless portrayal of the creepy otherworld Coraline discovers. But the thing about children's stories is that they can be lots of things at once, a bit more easily, I think, than adult fiction, which tends to be more rigid. Children don't experience stories as we do, they don't analyze every line or compare every character to their original. Every story is new to them in some way, even the ones they've heard before, but we older folk sometimes lose the forest for the 'untrees', unable to see what's there because we can only see what's missing, or more precisely, what we think is missing. Gaiman was particularly happy with how the film turned out and his enthusiasm made me revisit it again. The film truly is a magical experience,  one I may have missed out on had I let my expectations tell me what the story got wrong, instead of letting the film speak for itself.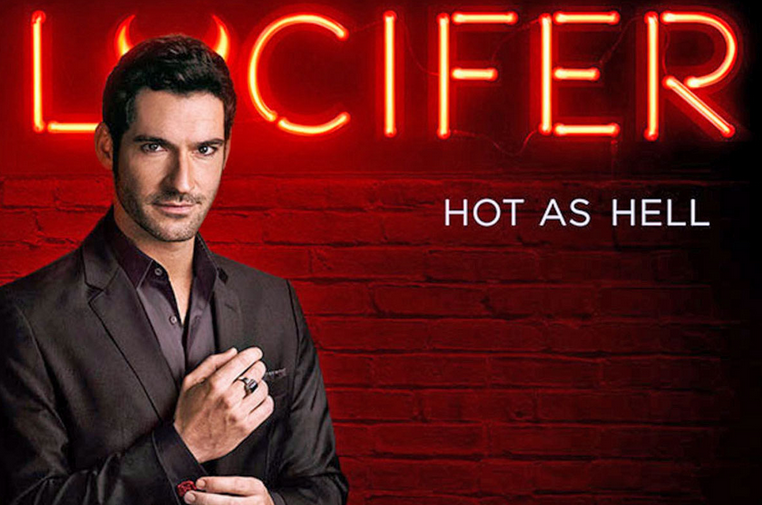 Lucifer is a TV series based on Gaiman's original Sandman character, a character that already had a spin-off comic written by Mike Carey, which comes a close second to Sandman as my favourite comic's series ever. The show is fresh off its first season on Fox and has already been renewed for a second, and I confess, I haven't watched a single episode past the first (though I do fully intend on catching up before the fall). I kept meaning to get to it, kept putting it off. What is it exactly that I was afraid of? A bit odd as I'm such a fan of the story and the character, or perhaps that's why it makes perfect sense.
For me, Carey's run took the story, and Lucifer's character, to its natural conclusion; ironically, inevitability is exactly what Lucifer is fighting against the entire series. Even though Gaiman himself admits that he'd have a different take on the character, Carey's run was absolutely fantastic in how unforgiving, ambitious and somewhat cheeky Lucifer's character became, it was a very twisted and dark story that didn't pull any punches. It has a bit more narrative focus than Sandman, which was more or less a collection of stories that sometimes happened to feature Morpheus. Lucifer, on the other hand, is the Lightbringer; he's the driving force of his series. There was a story waiting to be told and plenty of room for the character to take its own shape. "He might only have been a supporting character in the SANDMAN story, but there was no doubt in my mind he was a star." – Neil Gaiman
Honestly, I just didn't see what a TV series would have to offer. From the first trailer, it looked like the show was trying to stuff Lucifer into a suit that didn't quite fit right, a typical procedural cop drama where a volatile, yet charismatic guy makes an unlikely partnership with an assertive female cop, who is unsurprisingly immune to his powers of persuasion. Dealing with the drama of his partner's jealous ex and the daily trials of human existence seems completely at odds with his nature. He's always had his sights set on the big picture.
Aside from being the retired ruler of hell who now runs a nightclub, I didn't see any semblance to the original series and had an inkling they only wanted to tap into Gaiman's vast readership through his penchant for embracing adaptations. Mostly, I was afraid the show would take something away from the comics, erode its credibility in the minds of its readers, or perhaps in my own. I think this is a common barrier fans come up against when faced with adaptations of their favorite titles, a passing that can sometimes be eased by a creator's backing or heartfelt enthusiasm for the project (as it did for me with Coraline). But everyone knows that one person who hates a movie or a show only because "it's nothing like the book" and these stubborn expectations can burden a good story with too much personal baggage.
That isn't to say that we shouldn't consider the source material when talking about adaptations. Fans are not inherently entitled to the story they want, but I wouldn't go so far as to say fans aren't owed anything at all. Often fans are an integral part of the creative process and, in the end, these works of fiction are produced for an audience. But the nature of the relationship sours when it becomes about demanding that our expectations be met, instead of letting the story be told as it needs to be, which may not be our cup of tea. I think an adaptation can only truly "fail" if it tries to be something it isn't, if it tries to repurpose a story to fit a different narrative, not because there's something new to be told, but solely because of the opportunity it presents or the market it may have. Every story has the potential for adaptation, but not every adaptation is a good story.
The biggest fallacy in adaptations is that it will somehow harm the original work. Nothing can change my initial experience of Sandman, or Lucifer, or American Gods and nothing can change the writer's experience in first creating them. Good stories have an inherent strength and a message that cannot be diminished by the many variations it may bear, there is still life after adaptation and sometimes it is new life.
So where does that leave us with American Gods? Entertainment Weekly recently released production photos from the set of Jack's Crocodile Bar. We see Shadow (Ricky Whittle) going toe-to-toe with the pugnacious leprechaun Mad Sweeney (Pablo Schreiber) in a memorable scene from the book, while Mr. Wednesday (Ian McShane) casually watches the action from the bar.
At first glance, these appear to be highly stylized still shots, with very vibrant colours, a giant crocodile head, and a somewhat stiff action pose. This may not be the definitive final look and feel of the show, but it gives us a taste of its potential and American Gods is gearing up to be something special. As one of the first locales in the novel, showcasing the crocodile-themed dive was a perfect way to set the atmosphere for the show. There is definitely an otherworldly quality to these photos and Ian McShane looks sharp as Mr. Wednesday.
"It was one of the sets that we were the most excited about and an opportunity to do a tonal landgrab for what we are and what the style of the show will be. "[Jack's] is a kind of hillbilly chic aesthetic for Shadow's entrée into the world of the gods." – Bryan Fuller
Initial fan reactions are of cautious optimism, but I think it's something people should let themselves get excited about. So many of Gaiman's adaptations are stuck in development limbo, American Gods is the culmination of a great effort that is finally coming to fruition. I think we need to set our expectations aside and experience this series with open minds, especially with such a strong creative team at the helm. Gaiman has found the balance between letting a story go down its own path and knowing when to pack up your things are take it elsewhere, and he's just as excited for American Gods as anyone.
As a Gaiman fan, I'm always eager for more material, but I was very hesitant at first when they announced adaptations for Sandman, Good Omens and even American Gods. It was difficult for me to conceptualize these stories in live action, in a form digestible for wider audiences, especially the more surreal elements. I wondered, like many, if some things were better left untouched. But if Gaiman has taught us anything through his writing, and even his life, it's that stories can't really keep their shape, they're never quite the same the second time you look at them.
"There comes a moment where you just have to leave it behind and move on to the next thing. But you do it really happy, because whatever you left behind has taken on a life of its own." – Neil Gaiman
As a writer, he's always been receptive to others creating new things, especially odd, wondrous and surprising things, out of old ones. In a way, American Gods is about this idea of being lost in adaptation, about new stories rewriting the world to suit them and old stories clinging to the glory of the past; New Gods versus Old Gods. In the end, we choose our sides, even if we're all part of the same story.
American Gods will premiere in 2017 on Starz. Follow @RoguesPortal for more coverage as we continue our week long look into why we're excited about the series.