Army of Darkness/Bubba Ho-Tep #1
Writer: Scott Duvall
Artist: Vincenzo Federici
Colorist: Michele Monte
Letterer: Taylor Esposito
Published by: Dynamite
Review by Stacy Dooks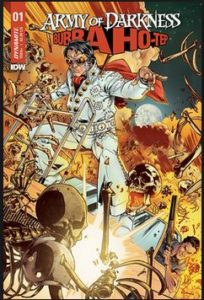 I think it goes without saying that Bruce Campbell is an institution in genre cinema. Like William Shatner or Mark Hamill, the man has been embraced worldwide as a pop culture icon and has become a mainstay in movies, television, and comic books. While we each have our favorite Campbell role (my personal favorite is Brisco County Jr.), it's hard to deny the recognition and staying power of Ashley J. Williams, the Horror film genre's most enduring hero. Ash made his debut in Sam Raimi's 1981 horror classic The Evil Dead, and like some bizarro version of Jason Vorhees has endured the test of time to become the resident heroic badass of Horror. Army of Darkness is one of my favorite movies that I frequently quote, and who doesn't think of the man with the chainsaw hand when it comes to mowing down hoards of undead horrors with a quips aplenty and a shotgun in hand? But Ash isn't the only badass horror hero that Campbell has played over his career. There was another character who took a stand against supernatural evil in a horror comedy set in a retirement home, The King himself: Elvis Presley. And now, with Army of Darkness/Bubba Ho-Tep #1, the Horror Legend meets the King of Rock 'n Roll.
Ash is a man on a mission: having heard some rumors about an apparent confrontation between a mummy and an elderly Elvis Presley in a retirement home in Texas he makes his way south in hopes of meeting his idol, the King. And he does, though the man he meets isn't quite what he expected. They discuss Elvis' encounter with the mummy (depicted gloriously in the film Bubba Ho-Tep, which if you haven't seen you should seek out) and while Ash is initially skeptical that this broken down old man was once the idol of millions, he soon changes his tune when supernatural evil arises and Elvis breaks out his legendary karate to help fight a certain mummy who wasn't quite as dead as the King hoped. The issue ends with, well, that'd be telling but needless to say it's a trope that's near and dear to fans of the Army of Darkness franchise.
I'm a sucker for a fun team-up story, and getting the chance to see not one but two Campbell icons bounce off each other was a delight. Scott Duvall clearly has a lot of love for both the Army of Darkness and Bubba Ho-Tep franchises and it shows in the work with a great ear for the dialogue of both leads.The art by Vincenzo Federici is great, and really evokes the best of both properties while retaining its own unique identity. Michele Monte's colors really sing in the issue, giving the whole thing a slightly washed-out look which gives the piece a '70s grindhouse aesthetic that really makes the work come together and pop, and Taylor Esposito's letters bring it all together, allowing each character's dialogue and even the subtitles to have their own distinct flavor, especially when the Mummy's lines are being translated. A lot of care went into Army of Darkness/Bubba Ho-Tep #1 and it shows.
The Verdict
Buy It. If you're a fan of either property, or you've only heard of Bubba Ho-Tep and want a familiar filter to ease you into Joe R. Landsdale's weird little tale, Army of Darkness/Bubba Ho-Tep #1 is for you. And even if you aren't it's a fun, funny crossover to kick back and enjoy. Recommended.