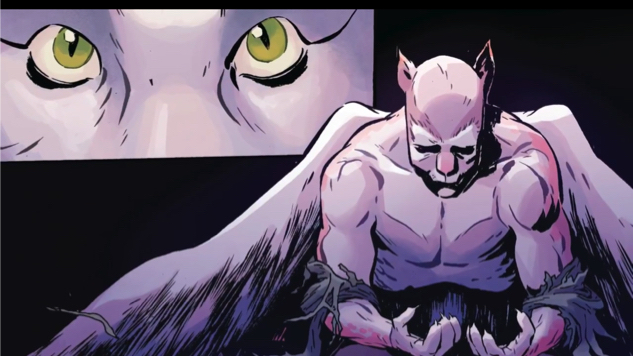 Angel Catbird Vol. 1
Publisher: Dark Horse
Writer: Margaret Atwood
Artist & Cover Artist: Johnnie Christmas
Colorist: Tamra Bonvillain
Review by Anelise Farris
Margaret Atwood is a rock star—novelist, poet, businesswoman, environmental activist, AND graphic novelist? I am convinced that there is nothing this woman cannot do. Atwood is also an individual who, like many of us, has been deeply impacted by the world of comics. In her insightful and inevitably inspiring introduction to Angel Catbird, Atwood demonstrates her knowledge of and love for the comic medium, as well as her deep commitment to bird conservation. Yet, she is also a cat lover…so, what happens? Angel Catbird of course.
Strig Feleedus is a young genetic engineer who is hired by Muriod Inc. Living Solutions to find a missing piece for a super slicer serum. While holding what he believes to be the finished serum, Strig's cat runs outside. Strig chases the cat, and a collision occurs with the serum, the cat, Strig, and an owl…you can probably guess what happens.
Strig turns into a part-owl, part-cat, part-human creature—suddenly faced with internal conflicts such as his impulse to simultaneously eat and save birds and humorous situations like his desire to mark his territory (realizing, however, that such an act would be indecent exposure). While like any "superhero" story, Strig has an enemy (the rat-like Dr. Muriod) and the love interest (the gorgeous feline-featured Cate Leone), this story is anything but predictable. With the cat puns and cat statistics, it's as informative as it is entertaining.
The art has a delightful 1940's noir vibe and bright pastels in blues, purples, pinks, and greens. There is also a careful balance of humor and gravity in both the art and the text. I especially enjoyed all of the detail given to the facial features of the characters, the costumes, the furniture, and the little things like the book peeking out of Cate's bag being "The Owl and the Pussycat." It's also striking how much of the text is given through thought bubbles, and there are several panels in which a single character is shown with two bubbles: one for speech and one for thought. So, great writing, great art, AND there are bonus features: a whole lot of Angel Catbird artwork done by a slew of fantastic artists like Fábio Moon and David Mack.
Atwood's works always manage to make her readers think about significant issues, and Angel Catbird is no exception. The banners and hints about the importance of keeping your cats safe (which in turn helps with bird conservation) aren't distracting but they aren't subtle either. This is a comic with a mission, and it delivers it in a remarkably fun noir-style superhero story.
Verdict:
Buy it! Are you looking for a comic with an environmentalist twist? This is for you. Are you looking for a comic with a fun part-animal, part-human superhero figure? This is for you. Whether you are new to Atwood or a longtime fan, this is one not to miss.