The 90th Oscars set themselves up for a race early on. In 2017, the studios released not only a spate of great movies but also, fortunately, great movies from a variety of genres. And critics and fans recognized that greatness to the point where no clear favorite emerged. (This, if you don't know, is the dream of Oscar junkies like me.)
The race seemed to settle when the Golden Globes and Screen Actors Guild concurred on major category winners. Then, this morning, Andy Serkis and Tiffany Haddish announced the Academy's choices and all was unsettled again.
But let us try to make sense of things. First, we'll break down the most honored films. Then, we'll point out some of the most notable nominees—and omissions.
---
The Shape of Water
The Oscars for feature films break down into two main categories. There's the more technical side, with cinematography, production design, editing, and the like. Then there's the side that gets the most attention: acting, directing, writing, etc. Guillermo del Toro's beautiful fairy tale dominated the Academy lineup by trouncing the competition through the spectrum. With thirteen nominations, no other movie came close.
The weakest part of Shape was its decent but clunky screenplay that never matched the charm of del Toro's story. This was the only nomination it possibly didn't warrant. Del Toro overcame this with vision, style, a crew that made a $20 million movie look like it cost five times that, and a perfect cast. Sally Hawkins never speaks a word and tells you more about her character than most actors can. Richard Jenkins is all heart and soul as her best friend/the film's narrator. And Octavia Spencer does what she always does, and she always does it well. Shape earned its places through awards season, but del Toro has been the only consistent winner. This might change.
Phantom Thread
For this writer, Phantom Thread provided the biggest surprise of the day. The sumptuous, challenging, twisted love story captivated audiences, but awards chatter was limited. Many expected three nominations: the titanic Daniel Day-Lewis, the costume design for a movie about fashion, and Jonny Greenwood's lush score. It ended up with six, adding Picture, Supporting Actress for the cutting Lesley Manville, and Director.
Indeed, writer/director/cinematographer Paul Thomas Anderson is the only nominee in that category who's not a first-timer. I expect Thread to remain the favorite for Costume Design and Score, but with the surprise support, it may win more.
Dunkirk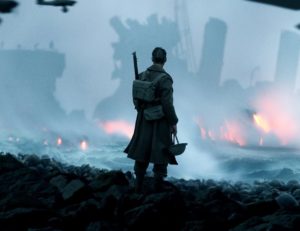 Believe it or not, Christopher Nolan received his first Best Director nomination ever for his heart-stopping wartime saga. Dunkirk's combination of acclaim, boffo box office, and serious subject matter made it an Oscar favorite from the start. It carried through with eight nominations, the second-highest total. Apart from Director and Picture, all of its nods came on the technical side. This makes sense: I still cannot tell all the characters in "The Mole" portion apart, and the screenplay is functional. But as a feat of moviemaking, Dunkirk is immaculate.
Two nominations stand out. Lee Smith edited the movie with terrifying precision and first-time nominee Hoyte van Hoytema makes carnage look beautiful with his cinematography—although whether or not he wins will be an open question. It is hard to favor Dunkirk, more admired than loved, for any trophy.
Three Billboards Outside Ebbing, Missouri
Three Billboards entered Oscar nomination morning as an unexpected favorite after sweeping the Golden Globes and SAG Awards. However, a backlash against Martin McDonagh's film started during the nominating period. Several critics, while justifiably praising Frances McDormand's brilliant turn in the lead, lambasted McDonagh's treatment of racism and sexual assault. Three Billboards remains in the hunt with seven nominations, including Picture, Actress, and Original Screenplay. But the Academy broke with the Globes and the DGA and denied McDonagh a Best Director spot. Then they reduced its chances to sweep by nominating the deeply moving Woody Harrelson for Supporting Actor against his co-star and awards season favorite Sam Rockwell, who is terrific in an almost impossible part. If this trend continues, Three Billboards might come up short, but its staunch defenders may end up heavily rewarding it.
Darkest Hour
Joe Wright made the most traditional piece of Oscar bait. It's another biopic of a great historical (and British at that) figure that risks little and aims to inspire. I put Darkest Hour on my Rogues Portal Oscar preview, but a lack of enthusiasm for all but Gary Oldman as Winston Churchill persuaded me to write it off. The Academy did not, awarding it six nominations, including Picture. Without directing and writing honors as well, it has little chance of winning. But Oldman and his makeup team are both forces to reckon with.
Lady Bird
The most acclaimed film of 2017. The most beloved film of 2017 for many, including this writer. Lady Bird's small budget and unflashy production shut it out of the technical awards. Its power is in the writing and acting, which transform the story of one girl's senior year of high school into a story that details all our dreams, fears, and passions. (And in only ninety minutes!)
Besides the top prize, Greta Gerwig is a double nominee for Original Screenplay and Director—only the fifth woman to be nominated in that category. Saoirse Ronan, 23, received her THIRD Oscar nod for the title role. Laurie Metcalf as Lady Bird's complex mother grabbed a Supporting Actress slot she should win. If you ask me, all of them should win, but that remains to be seen.
Blade Runner 2049
The most unexpected of the seven films to crack five nominations, Blade Runner 2049 is Lady Bird's mirror image. It cleaned up in the sound and vision fields. Picking winners is usually a fool's errand, but one nomination needs to be highlighted. Roger Deakins received his fourteenth nomination for Cinematography, and his panoramic, haunting vision of the future may finally earn him a long-denied Oscar.
---
OTHER NOTABLES
The Shape of Water and Lady Bird were two of three films to have the chance for Picture, Director, and (Original) Screenplay. The third is arguably the most discussed film of 2017, Get Out. Jordan Peele, as he should have, holds three nominations for his magnificent, darkly comic horror movie. Get Out finished with only one other nod, but that went to Daniel Kaluuya, who brought heart and brains to the one hero of this year you rooted for more than Wonder Woman.
The #MeToo movement, beyond hopefully bringing forth much-needed change in the industry, affected the nominations. After winning multiple awards, James Franco failed to join the Best Actor nominees, as accusations of sexual abuse emerged this month. (His The Disaster Artist was only nominated for Adapted Screenplay.) And 88-year-old Christopher Plummer pocketed a Supporting Actor slot after replacing Kevin Spacey at the midnight hour in All the Money in the World.
Plummer isn't even the oldest nominee this year. Two 89 year-olds are not only nominated but also favorited to win. Agnes Varda, already granted a lifetime achievement Oscar, now has a chance for a competitive award for her revered documentary Faces Places. And James Ivory's lovely adapted screenplay Call Me By Your Name outpaces its class. (Coincidentally, Timothée Chalamet became one of the youngest Best Actor nominees ever for the same film. It also is nominated for Picture and Song, the latter thanks to Sufjan Stevens.)
Rachel Morrison of Mudbound is the first woman in Oscars history to be nominated for Cinematography.
Steve James, one of the greatest documentary filmmakers ever, should have won Oscars for Hoop Dreams and The Interrupters. Amazingly, Abacus: Small Enough to Jail marks his first nomination, period.
Meryl Streep received her 21st nomination—the only other nod to the last Best Picture nominee, The Post—itself Steven Spielberg's fourth straight film to compete for the top prize. Meanwhile, Denzel Washington essayed the title role of Roman J. Israel, Esq. and got his 8th nomination.
Finally, this one's for us comic book lovers. James Mangold, Scott Frank, and Michael Green got a Best Adapted Screenplay nomination for Logan—the first time a superhero movie has ever been honored in that category.
Rogues Portal will definitely predict the winners before the March 4th ceremony.